Yeasayer have entered uncertain territory and their first slice of negative press, ahead of their rescheduled UK tour, Getintothis Sean Bradbury finds them in fighting form.

They may have been critically-acclaimed hypnotic hippies on All Hour Cymbals and futuristic funksters who safely negotiated the difficult second album with the sublime Odd Blood, but the received wisdom is that Yeasayer's effortless shift through the gears and genres has slid into neutral with the release of Fragrant World.
For the first time, they have well and truly divided opinion.
Fragrant World is a record The Quietus has branded 'occasionally flourishing, but largely frustrating and tedious', while Pitchfork suggests it 'rests in a tentative middle ground.'
Yet it is also a record Drowned In Sound see as the band's 'most immersive and consistent' while the BBC hail as 'a wonderful place to explore'.
For bassist Ira Wolf Tuton, it is another bold step on Yeasayer's restless journey of sonic exploration.
Getintothis caught up with him ahead of their rescheduled UK tour (put back for family reasons) to talk bold new directions, beats, basketball and The Beatles.
Getintothis: Hi Ira, where are you in the world at the moment?
Ira Wolf Tuton: I'm in my office right now in my house. We got a show tonight so I'm about to cut my hair and go.
Getintothis: Is this your usual pre-gig ritual?
Ira Wolf Tuton: Yeah, I haven't buzzed my head for a couple of weeks so I'm looking a little bit fuzzy.
Getintothis: Where are you gigging tonight?
Ira Wolf Tuton: We're doing a secret press show in Williamsburg Music Hall, mostly new stuff and a few old. It's a Youtube show so it'll be live streamed.

Getintothis: How much have you played the new material live, are you well set?
Ira Wolf Tuton: We're well set with it in the way that we are comfortable enough to understand how we need to continually work on the arrangements. We've been out playing it for a month and a half or so and we're tweaking things here and there – tonally wise, tempo wise, arrangement wise. We're continually working on the live show.
Getintothis: You've said in a few interviews recently some of the old stuff is getting reworked live. Is this a process that will continue, re-imagining your own songs?
Ira Wolf Tuton: I certainly think it's a way to continue to bring excitement to old material that you've played for such a long time. I also think it's a valuable exercise to revisit things and realise how many different ways you can go with the same material. And I'd like to think as a music listener it would be entertaining to hear the variance.
Getintothis: How would you compare Fragrant World to your previous albums? There seem to be more varied synths, more varied rhythms – are these conscious changes or has it been a more organic transition?
Ira Wolf Tuton: A little column A and a little column B. There's probably on this record more guitar than previously, just through different effects and disguised in different ways. We went with some different kinds of electronics and we're trying to be a little more forward-thinking in the tonality, a little less referential. We set out to create a different cohesive aesthetic and I think we accomplished that in some ways.
Getintothis: And why Fragrant World? What's the world smelling like to you right now?
Ira Wolf Tuton: Right now it's raining outside my window…so it kind of smells like fresh rain on dirt.
You can't box your sound into one or two genres, but would it be fair to say Fragrant World has got some strong funk/R&B elements to it? Especially that middle section with Devil And The Deed and No Bones…
Certainly. For us, we're always trying to create something new out of this third element. R&B elements were something we'd talked about in making this record. Yeah. Love to fuck.

Getintothis: Does the excitement still build for you close to the album's release or do you just want to get out there and play it?
Ira Wolf Tuton: I am so bored right now, I can't even begin to tell you. Nah I'm kidding…the process is so long from the time you finish the record to releasing it. I want it to get out there. We've been playing this material for a couple of months and I'm really interested to see the change between playing this music in front of an audience of people who've never heard it, to people that have heard the recording. It's a valuable thing to have both.
Getintothis: If you compare your first two records Odd Blood sounds more immediate than All Hour Cymbals, but not necessarily more rewarding over time; you get to love both albums. Where would you say Fragrant World lies on this scale?
Ira Wolf Tuton: At the base I still think it's a pop record, I don't think it's so out of left field. We're constantly trying to push our own boundaries and the boundaries that are out there in terms of production, arrangement and tonality. We layer a lot and sometimes that masks the simple intentions of the pop song and sometimes it can bring that to the fore.
Getintothis: You're heading over here for a mini-tour next month. How do you find reactions to your stuff compare from the US to the UK?
Ira Wolf Tuton: It depends what town you're in but I think now we're on our third record, our audience has found us. That's a comforting feeling. It's a strange kind of homecoming. I'm excited to come back with the new material and with a new live show.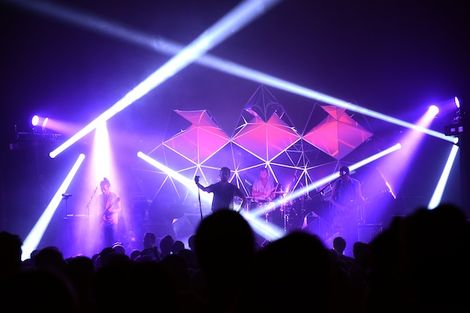 Yeasayer show off their new lighting rig
Getintothis: What can we expect from the live show?
Ira Wolf Tuton: It's going to be pretty epic man. That will probably debut in a couple of weeks but I'm really excited about the people we've been working with and where that's going. Keep your ear to the street, it's all under wraps right now. It's in tandem with what we're doing sonically but the visual stuff is a new level for us.
Getintothis: You've got a new band set-up with Cale Parks on drums. Was he involved with the recording process?
Ira Wolf Tuton: He came afterwards when we were putting together the live show. I see him as a great musician more than a drummer. I love playing with him. Even though you might have backing tracks that you play along to, there still is a feel that you have to have with the songs. Either you're playing ahead of the beat, right on it, or behind the beat. That creates the different emotions for all the songs. I've had a great time locking in with him around that. He's a great guy to play with, really talented musician.
Getintothis: How did you produce the rhythms without a drummer during the recording process? Session drummers?
Ira Wolf Tuton: There were a couple of times we brought in Brian McOmber, the old drummer for Dirty Projectors, and we also brought in the guys we used to play with… Jason Trammell… we had them play some kit stuff and then we'd go back and cut that up, loop it in certain places, use little hits here and there. Sometimes Chris would do some drum programming that we'd chop up. That's been a lot of the ways we've always done it. Even on the first record we did a lot of cutting up, but the tonality was an analogue kit.
Getintothis: I'm calling from Liverpool….I have to ask about The Beatles…
Ira Wolf Tuton: Worst. Band. Ever. I definitely don't have all of their albums!
Getintothis: I'm sure there's a bit of Strawberry Fields' mellotron creeping into Fragrant World?
Ira Wolf Tuton: Yeah we definitely have the mellotron in the studio. How can you not reference Strawberry Fields? I was just listening to Good Day Sunshine. The second half of that song has some crazy Moog synth tones in it. They add to the whole flavour of the song but you really don't notice until you really take another deeper listen. You're like, yeah whatever it's a children's song… but then you listen to it and woah, there's some really heavy synth shit going on. That's experimenting.
Getintothis: Were they any kind of influence on you at all? I've read Chris talk about A Day In The Life and how he admires the construction of the song…
Ira Wolf Tuton: Yeah, they're the best pop music band of all time arguably – how can they not feed into your music? They invented a certain kind of concise pop music but they also opened up this idea of experimentation within the pop realm. How much that was George Martin, he was the best…. that idea bleed all the way into Eno and so many other artists who took on this idea of experimenting with new technology, new sonic ideas, new tonality, new arrangement ideas but all within the popular song construct – verse, chorus, verse, hook – that's what leads to the music that I love that tends to be timeless.
Getintothis: Is that your blueprint as well? Pushing the boundaries within the pop construct?
Ira Wolf Tuton: Yeah at this point certainly. That's the overall character and we're trying to create new aesthetics from album to album, song to song, and push ourselves.

Getintothis: Lastly, I will move on from The Beatles, it's the 50th anniversary of their famous line-up soon. Any favourite tracks or albums?
Ira Wolf Tuton: Let me ask you a question – what's a bigger deal, the Queen's diamond jubilee or The Beatles' 50th anniversary.
Getintothis: Beatles and footballers are pretty much royalty here…
Ira Wolf Tuton: Cool. Well The Beatles… let me see. That's really tough. Don't Let Me Down is a great song that has a fantastic bass line, great melody, it switches up in the middle to a totally different song but still works so well and is seamless. It's just a creative way to write a song. I've always loved that song, along with a myriad of others.
Getintothis: Did you guys catch much of the Olympics over here?
Ira Wolf Tuton: I caught some on the TV every once in a while. My favourite part was Usain Bolt's speech, 'You know…I'm the best…I'll always be the best… nobody will ever beat me… cos I'm the best.' And you know what, he is the best. So he gets it.
Getintothis: What about Yeasayer's Baltimore boy Michael Phelps?
Ira Wolf Tuton: Well Anand and Chris are Baltimore, I'm Philadelphia. I don't know if there were any Philadelphia Olympians actually. I'm pretty sure one of the archers was. Or maybe one of the guys carrying a gun.
Getintothis: What sports do Yeasayer excel at?
Ira Wolf Tuton: You come at us with any sport and we will win. That's my challenge to anyone out there. I don't understand the rules of cricket, but I'll still win. Don't even come at us with a basketball dawg. We'll jump over you.
Getintothis: What is your personal highlight on Fragrant World? What will bring the biggest smile to your face when you're playing live in the UK next month?
Ira Wolf Tuton: That song between the first 20 seconds and the 52nd minute. That song. I like that song the best.
Getintothis: I'm coming to see you in Manchester in September, I'll bring the cricket set. Enjoy the gig tonight.
Ira Wolf Tuton: Thanks bro, appreciate it.
Getintothis: I hope the haircut goes well.
Ira Wolf Tuton: That's the most important part. Take it easy.

Yeasayer play Manchester Academy 2 on Monday December 3.
Getintothis editor Peter Guy interviews Yeasayer in Brooklyn ahead of Odd Blood release
Getintothis reviews Yeasayer at the O2 Academy, Liverpool.
Getintothis reviews Yeasayer at Manchester Academy.
Medieval school kids love Yeasayer.
Getintothis reviews Yeasayer at Liverpool Barfly 2007.
Comments
comments