'Hold me like before, hold me like you used to…'

Me and Yeasayer are officially having 'a break.' The time has been fast approaching and I'd be lying if we hadn't seen it coming. It's time.
Having acquainted in the autumn of '07, few of the 14 people present could have expected such a whirlwind affair to blossom. But the signs were always there.
Fleeting, heady liasons unwound as unbridled passion spew forth culminating in a mutual declaration of love.
But alas, all good things must come to an end, and much like Simon Cowell reached the precipice with Danyl Johnson, it is time for me to let go and for you to love them on your own.

And Lordy, do they have the love to give.
'This is the last time we'll be playing this kind of venue, so let's appreciate what we've got, tonight,' Chris Keating, all letterbox-grin, tells the deliciously-crammed Academy's mini rectangle.
Heat plumes skyward, discarded ticker tape spirals to the floor and the stage glows with a tangible fission as the five-piece exchange repeated laughs, nods and the kind of body language which only a blind fool would misinterpret as anything but 'we know we're on to a winner here.'
And Keating is surely right, as they surely are on to a winner. If debut All Hour Cymbals carved a path sprinkled with riches then follow up Odd Blood is a custom made golden altar ready for worship on the big stage.
Where on record the bolshy layers vie for attention and an over indulgence of ideas can lead to counter production, live it is simply staggering. Positively gushing in huge, projected pop.
Perhaps typifying this balance between overload and creative ingenuity is Love Me Girl, somewhat muddled and acting as an axis between the very marked two sides to Odd Blood, tonight it stands proud as a five-song strong run in of hurtling, beatdown grooves; all shimmering twangs, falsetto scats and frenetic neon pulses quickly followed by a blockbusting Rome as Keating tries his best to ruin his throat with high-pitched squeels amid Ira Wolf Tuton's four-string thud.
All of this is played out infront of five illuminated neon pods presumably designed to take out epileptic extraterrestrials.
As ever they mix it up. Breezeblock five-way percussion, searing intermittent guitar, innumerable buttons marked 'funk' and 'grind' and three-part vocals which overlap and entwine, it's little surprise differing sections of the crowd sing along to their favourite parts. There's school bells, jungle chirrups, backward loops and back-tracked sitars and a relentless cavalcade of clicks and clops.
Had Odd Blood been released several months – rather than weeks – later, the venue would surely have struggled to contain such interest. And thoughts can't help turn to how incredible – and tailormade – their current sound would lend itself to the enormadorms.
The early part of the set wisely loads fresh, BIG newies (Madder Red comes awash with wind-swept rockist mysticism in the vein of their earlier guise while I Remember is nothing short of beautiful, emotive brilliance – a quintessential crowd pleaser) with a sprinkling of the off-kilter (B-side Final Path), beguiling (Tightrope) and the genuinely odd (The Children – complete with otherwordly, gurgling vocals) before Wait For The Summer is unleashed and the crowd, already in a state of palpable fervour, decide it's finally time to unleash.
The sense of the grand arrival of something very special is amplified with the increased group dynamic at work.
Keating and Anand Wilder swap and share lead vocals as Tuton, together with touring party percussionists Jason Trammell and Ahmed Gallab, lend harmonies amid a multitude of complex time signatures.
And while Wilder's unmistakable influence on the relaxed Eastern grooves of Strange Reunions and Grizelda (the best bounty-hunter love-song these ears have ever come across) is somewhat in keeping to their early incantations, it's the cyclical, monumentally massive mantra of O.N.E. which shows just how big this group could really become.
They close, (inevitably omitting 2080 Yeasayer's very own …Teen Spirit/Creep), with the clangingly, propulsive Ambling Alp and a generously bombastic Sunrise.
The crowd waits stubbornly for a second encore that never arrives, the affair for so many has begun – lets hope the love spreads far and wide.


Anand Wilder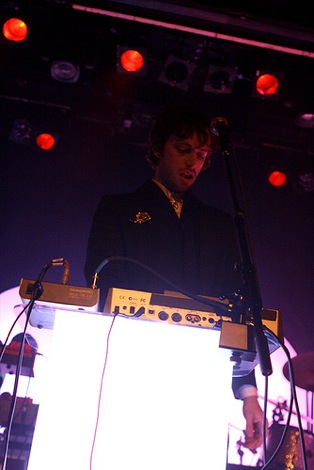 Chris Keating


Ira Wolf Tuton
Pictures courtesy of http://twitter.com/kDamo
Setlist

Comments
comments