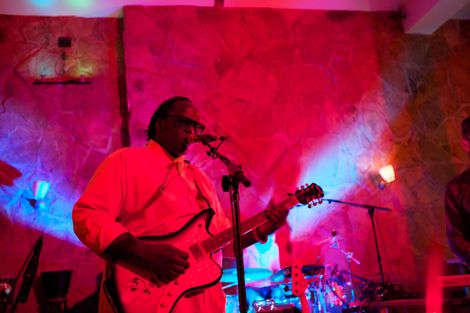 The Invisible bring music from a higher plane to Studio 2, Getintothis' Sean Bradbury surrenders to a set drenched in emotional resonance.

It was difficult to know what to expect from The Invisible ahead of this gig for reasons on vastly different planes.
How would the glistening studio polish of their two albums be translated into a live sound? This seemed a daunting task for just three people given the overwhelming breadth and depth of virtually every track they have committed to record.
And much more significantly, how would they be holding up after twelve months of tragedy in which Dave Okumu's mother passed away and he himself endured a near-death experience when he was electrocuted on stage in Nigeria?
There was no need to worry on either count. Tom Herbert told Getintothis earlier this month that the traumas of the past year had strengthened the bonds between the members of the band; this stunning, stoic, soulful session in Parr Street's Studio 2 was certainly testament to that.
While there is a powerful range of emotions emitted on Rispah, the album which bares the name of Okumu's late parent, much of the material strikes an understandably threnodic tone.
If the recording process was a permanent mark of remembrance and respect, the performance of the songs here was very much a celebration of a life.
The set began like the album. An instrumental intro gave way to Generational's understated lament of 'This is serious / so messed up' before sweeping forward into Wings, Leo Taylor's implausibly tight drums laying the foundation for the angelic harmony of Okumu's voice and guitar.
The illicit, industrial funk of London Girl from the band's debut made a swaggering appearance before more of Rispah; the controlled chaos of Protection chopped and delayed under Okumu's delicate vocals, Surrender shimmered with chorus and Lifeline locked into a more upbeat groove than on record.
The Wall was almost alive; coming into focus with a pounding heartbeat of drum and bass, swaying from side to side with beautiful panning guitars before hurtling into a lead break of Purple Rain proportions.
A rapturous, twenty-minute encore, surging with emotion in both band and audience, brought things to a triumphant close.
Members of support band Hejira, close friends of The Invisible, tearfully hugged during the latter stages of the headline set.
Earlier on they had impressed with a sound that blended The xx's dream pop with more immediate and visceral elements which, married to some impressively huge sounding drums, provided the perfect opening soundtrack to a night of sheer musical beauty.

Listen to the Invisible's Rispah in full here.
Getintothis' Top 100 of 2009 including The Invisible's debut.
Comments
comments