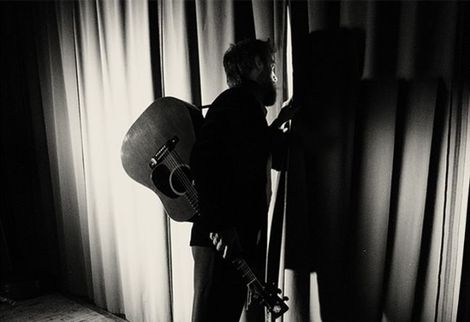 Ethan Johns steps from behind the super producer's desk to swing by Liverpool armed with a collection of tracks and industry tales, Getintothis' Alan O'Hare finds a man very much in love with music.

"Sing for the sake of the song," sings Ethan Johns.
And, surrounded by a gaggle of music lovers on a cold Thursday night in Liverpool's Music Consortium on Bold Street, you realise it is the only currency that counts.
A song, that is. And especially a good one. Johns is in town ostensibly to promote his debut album, dropping next year on Warner/Atlantic. But he's started the PR early to visit independent record stores across the UK and Ireland.
Why? Let's have a look at his story: the son of legendary record maker Glyn Johns (Beatles, Stones, need we go on?), the producer has decided to tell the tale personally of why he's stepping from behind the desk, to behind the mic.
Ethan is a great producer himself. Go through your records – his name will be there on the one by Laura Marling. Or Ray Lamontagne. Or The Vaccines. Or Kings of Leon.
Tom Jones' recent forays into roots music were helmed by Johns too, so, whatever your taste, he'll be there or thereabouts.

He's talking and singing his way around the country and telling tales about music. And those of us who still smell vinyl covers are hanging on his every word. You want to know what Emmylou Harris does first thing of a morning? Ethan will tell you (she sings, by the way). You want to hear a devastating take on Gillian Welch's Time (The Revelator)? Here's your man.
Fair enough, it might get a little too alt-country for a man born in the UK, but Johns is the real deal. He grew up not just with a piano (and occasionally Jimmy Page!) in the house – but an Appalachian dulcimer too. He lives and breathes this music.
His own songs? The signs are good. He plays a few from the record ready to drop and it's enough to get this writer in the mood for his full show next February at The Capstone Theatre (where a beat box will accompany the acoustic strum and breathy vocals).
But it's a local cover of Howie Payne's Lay Down Your Weary Tune that steals the night. I ignored the song upon release (on an album produced by, yes, Ethan himself) but I won't be any more. Johns gets to its dark heart and fins the cognitive melody located in the repeated chords and phrasing.
It's a big moment – revealing, as it does, that here is a musician with the Midas touch.
Do us a favour, keep your eyes and ears open for the man – something very special is coming.

Ethan Johns plays The Capstone Theatre, Liverpool on February 13 2013.
Comments
comments