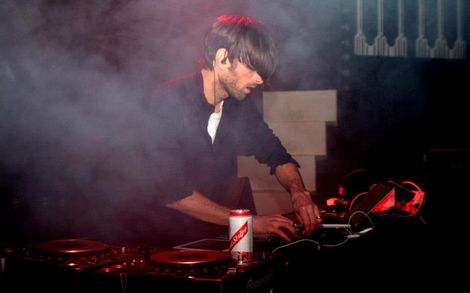 Dirty disco and dead good beats, Getintothis' Stephanie Heneghan dodges the Hallowe'en fake blood to get her groove on.

On a weekend when it seemed that every other night in Liverpool had a fancy dress theme as part of their entrance policy the Kazimier provided a welcome oasis of normality to those wanting to escape the zombies.
FYI it was the weekend before Hallowe'en which goes some way to explaining that particular quirk – although there's no excuse for the hen parties on Mathew St.
For some of us, there were more important concerns than adorning ourselves with Lili Bizarre's finest garb, as tonight was the night a fair few of Liverpool's music lovers would get to see a set by the elusive Lindstrøm – the grand master of cosmic disco and proprietor of the Feedelity label.
It is fair to say, we were all a bit excited.
First up though was Deep Space Orchestra, a grand title which conjures up images of 50 musicians clad in Star Trek outfits (well, it did to us, anyway) but in surprising fact consists of two blokes playing records, a rare sight in a club.
Playing warm up to a crowd who are clearly itching for the headliner to arrive can often be a thankless task but Chris and Si (we did our research and googled their names – that's quality journalism for you) handled it well.
In fact when Lindstrøm was proving to be a tardy arrival, they kept the pace of the night buoyant and the crowd mollified. Plus, they played some proper dead good tunes.
When Lindstrøm eventually took the stage (an hour late – let's just blame it on the clocks going back) he brought with him that familiar mix of disco, house and funk and played a slick set which was peppered with his own productions throughout.
The highlight was easily awarded when the recognisable sounds of I Feel Space filtered in and the crowd roared their approval.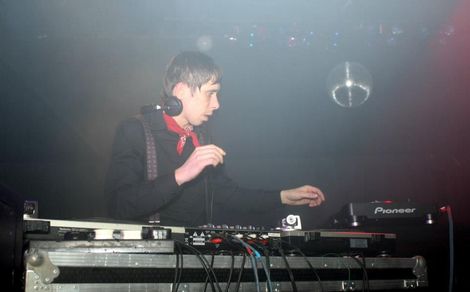 Mr Paul live at the Kazimier
As his set drew to an end, the night was far from over and resident DJ Mr Paul carried on, building up his set from techy house music to dropping dirty squelchy acid beats that you just have to dance to.
It could be argued that he played the set of the night; quite often the residents who know the crowd well can turn out performances that outclass the big name on the bill.
As nights with legends go, it definitely didn't disappoint, the only niggle is if he could have played for a bit longer (okay, we'll shut up about that now).
But as Hallowe'en (ish) nights out go, it's definitely the most fun we've ever had and we didn't even have to scrub off the dried fake blood the morning after. Result.
Pictures by Lauren Catherall.
Comments
comments