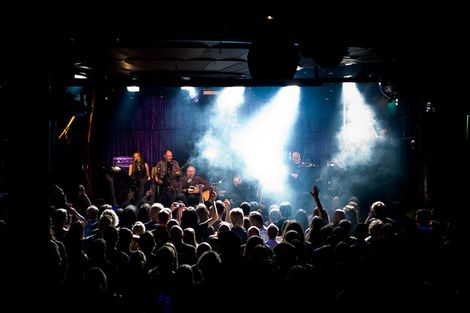 Songs of sacrifice, despair, violence, and psychosis are played out at The Kazimier as the cult of Comus descend upon Liverpool, Getintothis' Harry Sumnall worships at their altar.

On the face of it Comus' story seems a familiar one – talented band release debut album to critical, public and label disinterest.
Pressured by their record company to produce a commercially appealing follow up, the band split and cult obscurity followed.
However, the Comus story didn't end there, partly because the debut album in question, First Utterance, released in 1971, is one of the most extraordinary and strangest records ever produced by a UK band.
While modern interpretations of acid folk tend towards lazy appropriation of Wicker Man imagery, or drift towards the quaint cosiness of a Green Man festival line up, this is not a criticism that could ever be levelled at Comus, either then or now.
Since reforming in 2008, Comus (all original members save for newcomer John Seagrotte on percussion and woodwind) have only played a handful of live dates, and it is with thanks to local promoters Sound of Salvation that a small but appreciative audience at the Kazimier were able to enjoy this rare performance.
With complex instrumentation and song themes of sacrifice, derealisation, worship, despair, violence, and psychosis, Comus presents psychedelia in its purest form – music that reveals the complexity and often accompanying bewilderment of human nature.
The set consisted, unsurprisingly, of the whole of First Utterance, but also songs from their well-received 2012 album Out of the Coma.
New tracks such as The Sacrifice, while perhaps slightly lacking the unreal and elaborate nature of their 70s counterparts, put paid to fears that main song writers and guitarists Roger Wootton and Glenn Goring would take an easier nostalgia karaoke route to their performance (although we would love to go to the bar that had Comus on their SingStar).
Indeed, the entire band played and sang with an intensity and skill that suggested that the 40 years since their initial break up had not dented their passion for this music at all.
This was complex and creative music, not something to let wash over you, but which demanded attention. But lest this evoke images of prog rock pomposity then nothing could be further from the truth, these songs sound the way they do because no other form would reveal their message.

Supporting were Dominoes and Laura J Martin, both of whom will already be familiar to fans of Liverpool music.
Dominoes are certainly a fine band, and they often remind me of a less filthy Fugs, but something tonight seems to be missing from the vision – a golden choir, harpists, dancing doo-wop backing singers, a messianic producer with a (delusional) celestial plan? I don't know, but I guess support slots at the Kazimier don't pay that much.
We were only previously aware of Laura J Martin via her previous vocal work with analogue synth wizards The Simonsound, and while not to our taste, her engaging stage presence and clever, infectious writing on songs such as set closer Salamander certainly point the way to much deserved breakthrough success.

Hear Dominoes' The Elemental Suite here.
Comments
comments