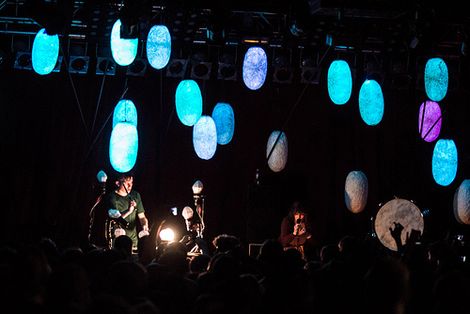 Purity Ring bring their Alien-infused landscapes and other-worldly sonics to the Kazimier.

For the first time in our lives we were able to experience what it was like being in John Hurt's moon boots.
Upon entering the darkness of the Kazimier we're met with the impressive sight of dozens of hanging cocoons, each glowing a pale iridescent light.
Unfortunately, Purity Ring's budget doesn't stretch to face-huggers or Xenomorph, instead these lantern-like floating ovals form the back drop for the Canadian's stage set.
Corin Roddick is encircled by a cocoon, himself. His mixing desk an array of octagonal beacons which light up pink, orange, green, blue and red each time he taps them – corresponding with the luminous objects above, while to his left Megan James spanks a big bass drum which glows a fierce yellow when given a crack.
Visually, it's stunning. And early on they've the soundtrack to match. Hypnotic low end rumbles, rolling bass shudders, hollow belly beats and James' whispery high-pitched vocal. The effect is akin to drifting in and out of sleep. Restful and soothing.
Highlight Crawlersout positively oozes aural hugs, massaging your innards. James' sugary vocal tickles the hairs on your neck while Roddick's mix of dub and glistening keys provides a morning slow sunrise of noise.
Fineshrine, perhaps, their most pop offering comes on like Fever Ray on ecstasy – as James' vocal trips gymnastic pirouettes while Roddick stop-starts the rhythm with gentle taps on his array of cute percussive devices.
Problem is they show their hand to early. After the initial wonder of the stage show and that raft of corking tunes their set plateaus. Magnetism turns to dream-state turns to mild indifference.
This being their major debut tour, on the back of their fine debut album Shrines, we're left feeling content, but wanting more – surely a good thing.

PURITY RING // KAZIMIER // 28 Nov from thekazimier on Vimeo.
Earlier, we walked head first into a steamy set by fellow Montreal trio Doldrums; all whirling percussion and androgynous vocals they display a frenetic synthesis of club beats and textured pop.
They're the guise of Airick Woodhead whose distinctive voice – somewhere between Grimes and James' Tim Booth – punctuates the fizzing electronics and ever-present rhythmic clatter.
Signed to Souterrain Transmissions (a stable that knows a good tune) this lot are worth keeping an eye on.


Comments
comments