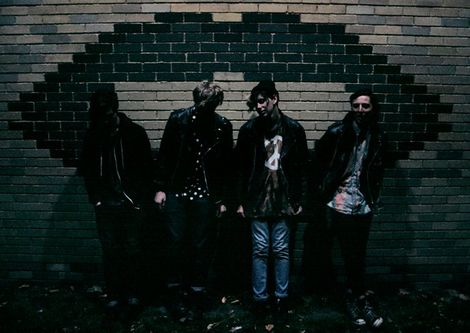 Riding the crest of a wave named buzz, Peace bring their rock and roll antics to the Kazimier, Getintothis' Dru Ryder dodges high-kicking teenage boys to see what all the fuss is about.

Brummie boys Peace have attracted quite a following.
Praise from all corners of the UK music press has seemingly given them a leg up, however, on tonight's showing at the Kazimier, they've the music, and effortlessly cool attitude, to match.
Persistent comparisons to WU LYF and Vampire Weekend, suggest just another indie bandwagon jumper, but this is certainly not the case.
Asking what they thought of the comparisons, they take it in their stride, as bassist Sam Koisser, tells Getintothis: 'I suppose they just hear one or two songs and base it on that, but wait until you hear the whole album.'

Previous visits to Liverpool include gigs at Bumper and at this year's Sound City, but they're clearly impressed by the Kazimier, with front man Harry (Sam's brother) comparing it's vibe to a Victorian brothel.
Taking to the stage, and the hysteria gets the better of two young teenage boys, who drunkenly scream the words to every song, before performing some over-zealous high jumps.
Tracks such as 1998 consume the crowd, as they lose themselves in a haze of psychedelic riffs, while California Daze proved another standout.
Earlier, touring support, Virals, played an extensive set with lead singer Shaun Hencher, from the band Lovvers, barely looking up through his exceptionally long fringe.
Leaving little room for interaction or pausing for breath, they fly through a set of indistinct power-pop before home-grown talent, The Liberty Vessels put on a show for the few early birds, lending a new romantic edge to proceedings.
But the night belonged to Peace; they may insist they love playing intimate venues like the Kazimier, but they may find themselves plying their trade in much bigger spaces in the near future.

Comments
comments