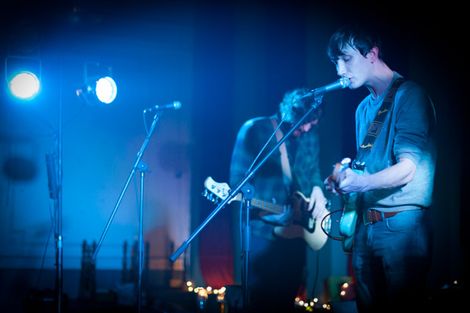 By The Sea return to Liverpool's stage armed with a clutch of new tracks and the same musical magic, Getintothis' Richard Lewis dives in.

With their outstanding debut LP released a mere two months ago, By the Sea would be forgiven for putting thoughts of new material on the back burner.
Why keep the new stuff under wraps however when the songs already seem fully-formed even at this early stage and an expectant audience is in attendance?
Despite the deliberately low-key announcement with the gig intended to road-test new material, a packed Leaf Cafe sees the Peninsula dwellers debut a quartet of new songs.
Armed with the best album to have come out of region last year to draw from, on the subject of geography the band seem to have had the Thames Valley on their collective minds of late.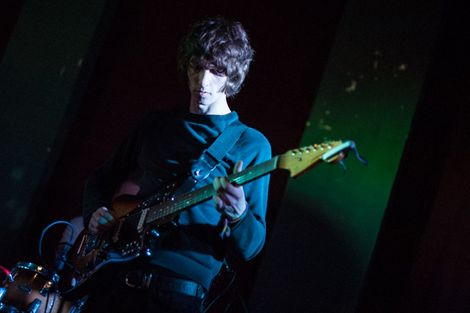 By The Sea's Mark Jackson in action at Leaf
Specifically the music that emanated from there in the early 1990s such as shoegazing denizens Slowdive, Chapterhouse and The House of Love, as the Wirral five-piece's shoegazing/dream pop hybrid sees them chart a course further towards swirling 4AD/early Creation Records territory.
Liam Power's gauze filtered vocals and Joe Edwards' enveloping keyboard washes bring a distant, mirage-like quality to Eveline amply showcasing how the easily the band's gorgeous noise converts to a live setting.
A brisk rendition of Dream Waters leads into a troika of new tracks played in succession, commencing with the swooning Endless Days.
Followed by Another Way and Holy Mountain Youth (possibly a reference to the cult 1973 flick) along with Wild September dropped into the set towards the close, all on first listen match and possibly even surpass the lofty peaks reached on the debut LP.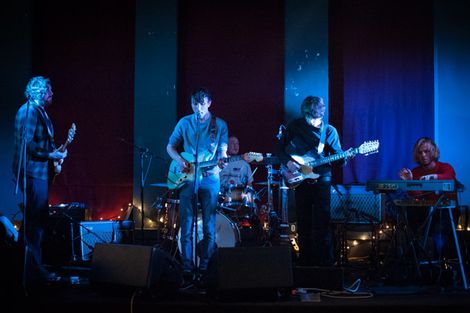 By The Sea's band of brothers live at Leaf
A chiming rendition of the wondrous Alone Together provides the standout moment of the evening, while a superb reading of Waltz Away is accentuated with a classic Phil Spector/Wall of Sound drum pattern by sticksman Andy Royden.
Appetites well and truly whetted, whatever form the By the Sea's new release takes, EP/album/other, it can't come soon enough.
Prior to the headliners, fellow Wirral-ites Filter Distortion explore the tougher end of the synthpop canon showcasing a cache of OMD/Depeche Mode inspired tracks.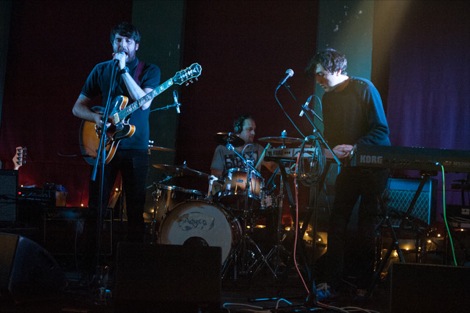 Demonstrating the city's resurgent interest in electronica the trio's thudding mixture of live and programmed drums supplemented with sparing axework effectively recall Songs of Faith and Devotion era 'Mode.

Pictures by John Johnson.
Comments
comments