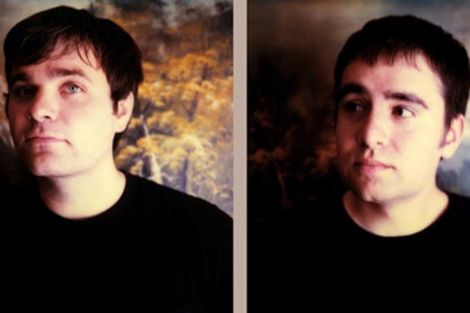 The Postal Service deliver a first-class return, Getintothis' Mike Doherty finds comfort in their effortless electronic pop.

Postal Service: A Tattered Line of String – Single of the Week
Eagerly awaited. Much anticipated. However you'd like to describe the general feeling for new material from the Postal Service, you have to admit they have not disappointed.
Ben Gibbard and Jimmy Tamborello seem to make their sound so effortless; their electronic pop manages to compel most people to say how they loved them from the start, and that Fireflies is their favourite song.
Oh, and if they weren't good enough already, they've hand picked Stealing Sheep to tour them on their return to the UK later this year.
Good job, all round.

Junip: Line Of Fire
A close second for Getintothis Single of the Week title comes from Junip. Everybody knows that Jose Gonzalez has a knack for melody, and with his bandmates Elias Araya on drums and Tobias Winterkorn on keys, the building chorus of Line of Fire may be their finest work yet. Expect their self-titled album to be equally pleasing.

Richard Hawley: Don't Stare At The Sun
Hawley may sound a little more sedate here, compared to previous singles from Standing At Sky's Edge. His political bent has taken a turn for a more familiar, forlorn croon. It makes sense to have this as his final single from perhaps his most successful album.

FaltyDL: She Sleeps (feat. Ed Macfarlane)
This must have been made for Ed Macfarlane. If you had no idea it was a Drew Lustman tune, it would be easy to mistake this for a new Friendly Fires one.

Feathers: Land Of The Innocent
It seems that every indie/electronic band has to mimic the Drive soundtrack at the moment. If that means 80's synth-pop must be replicated so heavily, from now on it has to sound as good as this.

Senses Fail: Mi Amor
For whatever reason, Senses Fail have released a song in Spanish. Now you can have difficulty hearing them in a second language. Joy.

The Invisible: Into Me
It seems a bit strange for such a forward-thinking band to reissue an album only a few years after it came out. The reissue of their self-titled album comes with a host of fine remixes (Hot Chip and Kwes among others), and this previously unreleased song.

Pete Kosanovich: Digging The Dirt
It's a good job this guy's name is Pete, it means you can file him next to Doherty as a fuckwit with no substance (no pun intended). Besides, this is about a minute and a half too long to be a worthy single.

CocoRosie: Gravedigress
This is a haunting new melody from the Casady sisters. Stealing Sheep may have taken a few pointers from this duo.

Woods: Size Meets The Sound
Woods have been releasing superb tracks which have pretty much gone under everyone's radar except those who by Uncut on a regular basis. This is another great one with an otherwise very scrappy DIY video. Ignore that and enjoy the tune.

Comments
comments