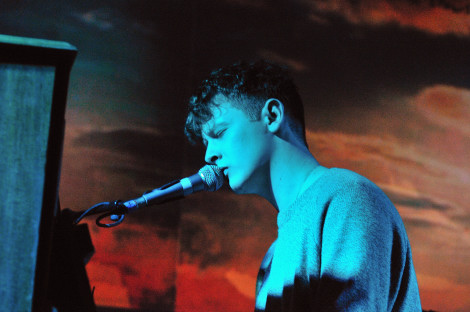 Bill Ryder-Jones plays a rare and truly special gig airing new material at the Camp and Furnace, amidst the chitter-chatter Getintothis' Alistair Houghton finds a talent worth truly shouting about.

He sings softly and plays shyly, but Bill Ryder-Jones' spellbinding performance demands your attention.
Ryder-Jones' first album, If…, was an imaginary film soundtrack and a largely instrumental affair that helped him to a GIT Award nomination last year.
But A Bad Wind Blows In My Heart, released next month, is his first 'singer-songwriter' record, as then soft Wirral tones only occasionally used on If… whisper through a set of beautifully melancholic numbers recorded upstairs at his mum's house.
Thursday night's Camp & Furnace showcase was only the second time The Coral's former guitarist had stepped out as a solo artist, and the first time he had played on home turf.
He swapped between guitar and his battered upright piano. And, while he may have won a reputation as one of the best guitarists of his generation, last night he stuck almost entirely to rhythm guitar so he could let his songs do the talking, softly.
'It's only our second gig,' he muttered as he walked onstage, nerves all too visible, 'so bear with us.' And with that he launched into A Bad Wind Blows In My Heart, the title track from his imminent album.
Straight away the tone was set as Ryder-Jones' distinctively Scouse-accented vocals were seldom raised above a mutter or a sigh, floating above stately swelling melodies. He rarely made eye contact with the audience, his eyes closed or staring down, focusing on the beauty of the songs.
Next was Hanging Song, with its swooping symphonic rush and Ryder Jones' mournful lines, 'Hanging onto things will only hurt your heart – hanging onto me will only hurt your heat.'
Most people in the crowd, including me, had only heard one song from A Bad Wind… – He Took You In His Arms, the Mersey-set video for which slipped online this month.
At Camp & Furnace he gave the song a tender, breathy reading, hunched at his piano, whispering the tale with his eyes fixed on his keyboard.
As the applause faded, Ryder-Jones grabbed his guitar and struck into Lemon Trees.
Musically it was as near as he was going to get to an indie-pop single, as the chiming guitars soared into a jangling riff just a few streets away from Up The Junction, even as his hushed vocals kept the minor chord melancholy rooted in sadness. It is quite simply a superb tune.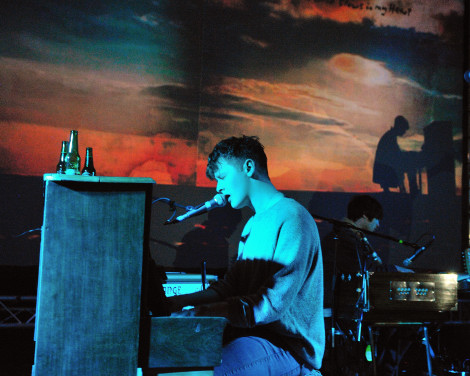 Whispering is all anyone should have been doing at this intimate, quiet gig. But this was a homecoming, and the echoing spaces of Camp & Furnace tend to encourage people at the back to think that their chat can't be heard at the front. But it can. And while that background babble was irritating to the audience, it was clearly infuriating to our leading man as repeated calls to keep the chat to a minimum were plainly, and sadly ignored.
There's A World Between Us was driven by Ryder-Jones' powerful rhythm guitar, though he took some lead lines on the soaring You're Getting Like Your Sister.
As that stopped, his shy irritation started to show. 'Are you ok,' he muttered, almost inaudibly. 'It's nearly over now.'
Thankfully, it wasn't as he took to hammering piano chords soaring above Nick Power's squeezebox drone on Anthony and Owen – 'We walked the shores and back again," he seemed to sing, a seaside image to match the stage album artwork backdrop of him at his piano on a beach.
It was brilliant stuff, winning warm applause from those who were listening. 'Thanks,' came the voice from the stage. 'Appreciate it. Especially for the talk.'
He paused. 'I'm starting another one now so keep quiet.' Another pause, as the background hum went on. 'Fuck you then.'
Thankfully, that irritation fuelled Christina, a song that sped up to as near as Ryder-Jones got to a crowded, yet understated Jack Prince beat from the far right of the stage. There was more rare lead guitar on the penultimate Wild Swans.
'It's not over til I say it's over', he muttered repeatedly throughout, hitting more melody- mirroring lead lines at the close. And soon it was over as the second part of A Bad Wind Blows… built to a crescendo and then, suddenly, stopped.
'Thanks very much appreciate it,' he muttered into the mic, almost as he was running offstage. And then he was gone.
The likes of Keane and The Chris Martin Band have given piano-fronted pop a bad name, but Ryder-Jones has used the same ingredients to power music of a delicate, tender beauty.
There are no piano flourishes here, and no heroics or flamboyant solos when he does pick up the guitar. It's all about the songs – and, on this evidence, they're songs that will make their way into many hearts once the album drops.
He's clearly, still, a nervous performer, and a talkative crowd didn't ease his storm. But away from the Liverpool scene, Getintothis suspect, gig-goers will be hushed into silence by Ryder-Jones and these beautiful songs.
Those listening at Camp & Furnace heard a set of majestic, delicate beauty, a teasing preview of what the new album will offer when it's listened to, as we suspect it should be, on headphones where every soft whisper and stroke of a piano can weave its way to your brain.
You don't have to shout to make a big noise.

Photography by Getintothis' Gaz Jones.
Further Bill Ryder-Jones reading on Getintothis
Getintothis on Bill Ryder-Jones' new album, video and single.
Getintothis talks to Bill Ryder-Jones post-GIT Award.
For a full interview with Bill Ryder-Jones and new music visit here.
Getintothis on The Catchers.
Getintothis on By The Sea.
Comments
comments