By The Sea have been sweeping serious Liverpool music lovers off their feet for 18 months. Melding the coastal tapestry of their Wirral landscape with a textured guitar groove which combines classic Mersey sounds with the dreamy washed out melancholy of US psych, they tell Getintothis' Tom Dani, about haring around Paris like five Del Boys and how making music to them is something which simply must be done.

A focal point of the Liverpool music scene for quite some time, By The Sea have transfixed the cold coastal city with their hazy, dream woven take on a classic guitar rock sound.
Hailing from the Wirral, the five-piece of Joe Edwards, Mark Jackson, Daniel O'Connell, Liam Power and Andy Royden came together through a mutual passion of iconic 1980s bands and an urge to quite simply create anything in the dormant peninsula that lies between Merseyside and North Wales.
'It is a cliché, but it's as a good a reason as any to form a band,' reminisces lead singer and guitarist Liam Power. 'Writing music is a natural past time as there really is fuck all else to do.'
'We'd all known each other for a long time, we were all in the same area and everything we were doing had sort of run its course and lead to this.'
The band went on to record a number of what would go on to be sell out singles, independently released through The Great Pop Supplement, firmly placing themselves on regional radars as ones to watch.
Blending airy vocals and shimmering guitar lines with experimental keys and drum production, By The Sea showcased from an early stage their ability to blend the nostalgia and delicacy of their influences with a contemporary sound that, intentionally or not, very much embodied the cold, dreary yet beautiful coastal landscape they were born in.
'Everything works as an inspiration,' Liam adds. 'Little things like John Fante novels; Blade Runner has become a big influence for the second album. As a band everyone's into their own sort of sounds so you get something new every day.'

In 2012 the band released their self-titled debut record, produced by close friend and previous GIT Award nominee Bill Ryder-Jones.
'I think that because he was a very good friend we didn't really see him as having an outside role, it always felt comfortable and fun,' notes Liam on working with Ryder-Jones.
'Bill had a really strong influence on the sound because he'd done it before, He knew how to take what we were doing to a professional level.
'At the time we were really skating around with ideas and he just knew how to kick it up the ass and put things into place.'
The influence of the former The Coral guitarist, turned film score composer is highly evident on the record, illuminating the subtle ambience of the bands dreamscape sound.
Recorded across a variety of unconventional spaces, from churches, to bedrooms and garages, the creative collaboration gave birth to a raw and delicate record woven from both joy and sorrow.
'If an engineer had seen some of the set ups we had, he would have flipped, I'm amazed none got blow up.'
It's this experimental approach that encapsulates the record, a body of work stripped back to its bare bones, recorded in a truly natural environment.
The bands debut offering received widespread critical acclaim, giving the band a platform to a national scale and beyond, introducing themselves to new audiences, a far cry from the isolation the Wirral.
'We went out to play our first show in Paris and it was one of the best experiences we've as a band. It makes it seem more real playing to new audiences.
'We did London to Paris in one go and it was like the Trotters', proper Del Boys. All the locks broke by the time we got to Paris so we had to climb through windows to get back into the van.'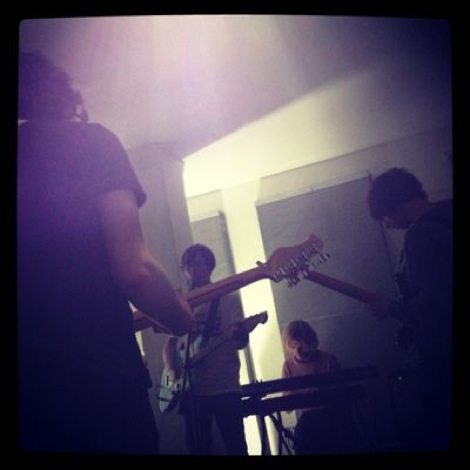 Returning to Liverpool to write the follow up to 2012's By The Sea, the band have found a new approach to their composition, returning again to work with Ryder-Jones with a sense of clarity and direction, in the illustrious Parr Street Studios.
'With the first album, nobody really knew what was going on. Liam would bring us tracks in the practice room we'd be playing and I'd be hearing parts I didn't even know existed,' laughs guitarist Daniel O'Connell.
'This time around we're having a lot more thought into writing and we all understand what's going on more clearly. We've been working on demos with Bill in Parr Street and it's been great to see how the tracks sound in a proper studio environment.'

Home to some of the most revered albums in modern music, from The Smiths' The Queen Is Dead, to Coldplay's Parachutes, one can assume that the end product will be something quite spectacular.
The city holds a deep significance to the Wirral five piece and while cementing themselves as one of the key draws on the live scene, they see themselves simply as part of the building blocks of the new music movement – embodying the ethos of the GIT Award.
Danny adds: 'I think the local scene is amazing right now, as strong as any other in the country. It's cool to be a part of it.
'We're really enjoying Nadine Carina at the moment
'Wave Machines and Stealing Sheep too, they're just weird. It's always good listening to a band and you can't pigeonhole – that's the great thing about the GIT Award and the bands it champions.
'Everyone's quite spread out so there's no 'cool' close knit scene, so everyone has there own style. It's not like six bands playing the same song.'
Hear, hear to that – and long may By The Sea enrich the modern day Mersey soundtrack.

Further By The Sea reading on Getintothis
By the Sea album launch at Leaf Cafe, Bold Street.
By The Sea named in Getintothis' Top Singes of 2013.
By The Sea named in Getintothis' Top 100 Albums of 2012.
By The Sea: By The Sea debut album first listen
By The Sea single launch with Echo Lake, Tear Talk: Leaf, Bold Street.
a.P.A.t.T., Stealing Sheep, By The Sea, White Bicycles, Silent Sleep: at the Kazimier – Getintothis' event of 2012.
By The Sea reviewed live at Liverpool Sound City 2012.
By The Sea: Dream Waters.
Veronica Falls reviewed with By The Sea: Leaf.
Elephant Stone, By The Sea, Lucky Beaches: The Kazimier.
Crystal Antlers, ChocoElectric, By The Sea, Hot Light Fiesta: MOJO, Liverpool.
Phantom Band, By The Sea: The Bluecoat, Liverpool.
Further GIT Award 2013 reading
GIT AWARD 2013 shortlist revealed ahead of April 19 Leaf showcase
The GIT Award 2013 the nominees: the shortlisted artists in detail
GIT Award 2013 at Leaf on Bold Street Friday April 19 with £1000 to winners.
For a full list of the GIT Award 2013 judges and their profiles read here.
The GIT Award 2013 returns championing the best of Merseyside music.
Comments
comments