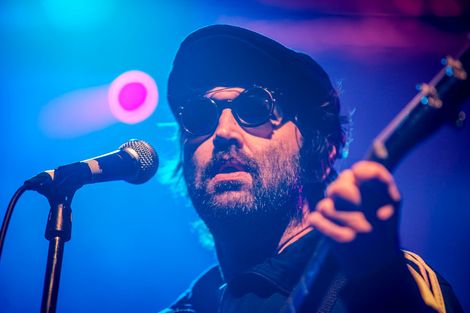 Blowing up amps while sporting vintage tracksuits, Eels leave Manchester and Getintothis' Alan O'Hare positively buzzing.

Eels make a fantastic racket.
Touring as a five piece for new album Wonderful, Glorious, Mark Everett – aka E – includes a line-up which now offers three electric guitars, thunderous bass and drums pushed to the front of the stage.
So deep is the bottom end in fact, that the bass amp blows up during Bombs Away early on! It was that type of night.
An early Sunday curfew meant that the group tore through a set dominated by the new record. Its glam stomps are fashioned for the live arena, with the guitars each doing something (or at least sounding on some tunes) different throughout.
Kinda Fuzzy rocked like Marc Bolan on ecstasy (get it? Sorry..), while the title track sounded like an Oasis comeback pile driver – made even more vivid with each of the band dressed in retro Adidas Firebird tracksuits!
Thoughts that some of the more introspective tunes might miss the colour of keys, strings or organ were soon put aside, as the three man guitar attack played some of the most tasteful lines you could wish to hear. Harmonies were from the top drawer too and the gig provided lots of light and shade.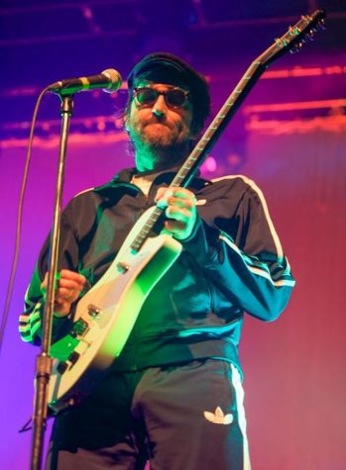 With E stood on a 'lead singer riser' and the kit pushed to the front, the night had a different feel. The main man's banter was fantastic – bringing each member to the front for an individual hug after each of the first few tunes – and, in these days when artists have to make each gig feel extra special, he pulled off a master class in charisma and grace.
Surprise covers included a stunning take on Fleetwood Mac's Oh Well and a slightly indulgent version of The Small Faces' Itchycoo Park.
The group nailed it – but on a night when many of E's better known tunes had to be left out, perhaps one cover would have sufficed.
That minor gripe aside, we got a stunning, full-throated attack on the fabulous Dirty Girl, a delicious I'm Your Brave Little Soldier and a howling Souljacker, Part 1.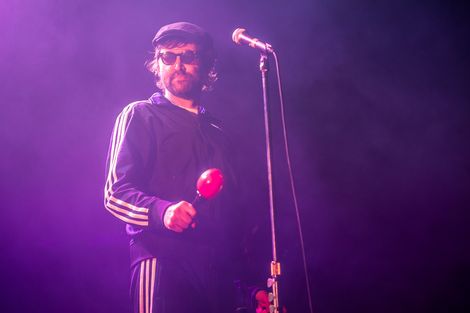 Metallic riffs dominated, E's voice reverberated around the big room and the band sounded ace.
A mash up of My Beautiful Monster and Mr E's Beautiful Blues brought the house down and we all went home with a tuneful buzzing in our ears.
Tuneful buzzing? That might just be the perfect description of Eels in 2013.
Photography by Getintothis' John Johnson.
Comments
comments