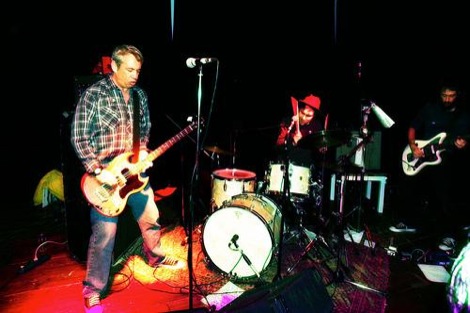 Mike Watt's Il Sogno del Marinaio fuse dystopian atmospherics with straight-up rock, Getintothis' Will Fitzpatrick enjoys a hugely cinematic episode down at Erics.

Things were different last time Mike Watt came to Liverpool, in support of his fourth solo album Hyphenated-Man.
A collection of herky-jerky spasms in the vein of the Minutemen, his legendary 80s outfit that expanded the horizons of hardcore, the record was a simultaneous rediscovery and affirmation of the idiomatic singularity that defined his early career.
With new 'uns captivatingly despatched, we were then treated to an encore of fan favourites from his former band's catalogue – a punk-funk dance party with nostalgia as the icing, not the cake.
This time, Watt may be the draw, but whatever it says on the poster, he ain't the whole of the act.
Il Sogno del Marinaio's Stefano Pilia originally approached San Pedro's favourite son about the prospect of recording and touring Italy together way back in 2009, and it's only now that we're seeing the fruits of their endeavours.
But that's enough context – what does it do? Well, quite simply, as much as it possibly can. This is incredible music, lurching from dissonant post-punk racket to funked-out groove to free jazz-inspired dexterity and more.
Zoom rolls by on a gently loping bassline, while Pilia uses a bow to tease freakish atonality from his guitar, and Andrea Belfi skips subtly across the kit with elastic-limbed rapidity.
Partisan Song just plain rocks, sounding like a riff Tim Kinsella and Sam Zurick might have dreamed up for one of their mathletic Joan of Arc spin-offs. Every song gives voice to a collective imagination set free and doing what the hell it wants.
The effect is wonderful. Il Sogno del Marinaio project movies onto the canvas of my mind: one minute I'm in a scuzzy backstreet bar straight out of dystopian cyberpunk anime. Next I'm wandering the desert of a western as directed by Jim Jarmusch; poignant in its monochrome starkness.
Suddenly I'm lying in a field, gazing at dark clouds overhanging the cold earth, feeling the rain tapping softy against my face. I'm Roberto Benigni singing sweet inanities behind bars. I'm Robert de Niro driving the diseased streets of New York. I'm everyone and everywhere, lost to the illustrative flow of the sound.
See, this music is cinematic and visual, not just noise but allegorical narrative, as emotive and viscerally beautiful as any words or physical action. I am so fucking in love with this band.
They round things off with a blistering cover of The Stooges' Fun House, which closes with the frontman holding his bass aloft to yell, "Start your own band!"
You can practically hear hearts being crossed as everyone present mentally promises to do so, while also suspecting that it couldn't possibly be as wonderful as what we've witnessed tonight.
If Mike Watt wants to play songs from his formidable back catalogue, we'll be there. But man, if he and his equally-impressive bandmates want to make new music as richly powerful as this, we'd almost be happy to never hear a note off Double Nickels On The Dime again. Il Sogno del Marinaio rule.

Comments
comments