Sense of Sound's artistic director Jennifer John talks to Getintothis' Peter Guy about the formation of the company, unearthing Liverpool talent and their new projects for 2013.

Established in 1992, Sense of Sound isn't just a vocal training agency – it's a cross-culture institution which has collaborated with some of pop music's finest, while unearthing some of Liverpool's vital new artists.
Getintothis has long championed the vocal skills of Kof, Esco Williams and Jetta – Sense of Sound was their first – either collaborating with, artistically developing or mentoring them, alongside a whole host of others.
Sense Of Sound kicked off 2013 collaborating with Patrick Wolf at the Epstein Theatre, a show which highlighted their vocalists' range, diversity and gift at working alongside artists that specialise in the unique.
Throughout the year, they're holding monthly masterclass workshops to share they skills with budding vocalists. The next masterclass will be led by Sense of Sounds' artistic director, Jennifer John, a name synonymous with Liverpool contemporary music, and one which is always open to partnership and collaboration.
And it was this shared vision that Jennifer brought to setting up Sense of Sound 21 years ago. Together with her colleagues, Saphena Aziz, Juliet Russell and Perri Alleyne-Hughes they set about forming this Liverpool music institution.
"We wanted to create and produce amazing ways to celebrate singing. We all came from extremely different musical routes but our shared desire was to use music and especially singing to create a platform on which people could have a voice and comfortably express themselves," Jennifer says.
"This happens across the spectrum of our work from beginners workshop, through our Artistic Development programmes, our enticement of the corporate sector into our creative one, our Health and Wellbeing strategy led by Saphena Aziz, our kick-arse representation within the commercial music industry and our ever-expanding choirs; our youth choir in London, Ultraviolet, under the Musical Direction of Juliet Russell and Flexie, and the wonderful Liverpool choir under the musical direction of Perri Alleyne-Hughes."
But everyone has to start somewhere. And Sense Of Sound's communal ties to the the city of Liverpool is perhaps a direct link to how Jennifer herself fell into music.
Strong ties with family and those around her led to a natural progression into performing and singing. There was encouragement and always the chance to play. Something which is an embodiment of the group's ethos.
"I remember very clearly realising just how lucky I was as a child to have an upright piano with its lid permanently up and open, except on Sundays when it was my job to dust it, John says.
"Having a family who loved to listen (or did an excellent job of pretending) to whatever racket my brother and me made while learning to play the said piano, violin, cello, accordion, recorder, guitar, sing in choirs etc… filled me with a real sense of surety and confidence about who I was and what I wanted to be.
"Couple this with the Greater London Council in the 70s and 80s offering free music education to talented children who showed a passion for music, the proactive support of my parents who encouraged me to attend Newham Academy of Music throughout my school life and – hey presto, Bob's your uncle – my creative destiny was sealed… By the way, does anybody know who Bob actually is?"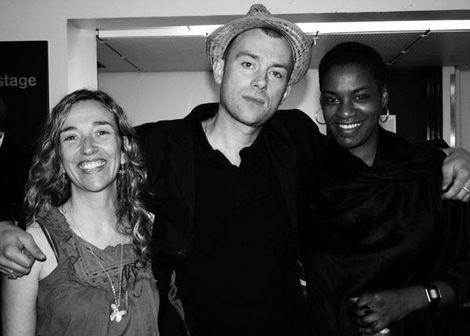 Sense of Sound collaborated on Damon Albarn's opera, Monkey: Journey to the West
But Sense of Sound is not tied to any highfalutin, ostentatious ideals nor does it set itself apart from any forms of music.
For as Jennifer waxes lyrical about the very essence about what and who they are; it's clear that not only do they specialise in something integral to music – but it's integral to our being – and it's simple: singing, something so natural as communicating though song.
"Singing, that universal language that transcends borders, isms, evokes emotional responses, triggers memory, comforts, is powerful, energising, contemplative, rebellious and spiritual and unites more than divides because it gives us permission to feel, is what this company is immersed in and continues to champion," John says.
"Our musical journey has been abundant. We've created new work, collaborated with some incredible artists, watched our alumni blossom into who they desire to be, struggled with being able to sustain ourselves and refused to stop going. 2012 was a fab year.
"In partnerships with The Beatles' Story, we orchestrated the succesful world record attempt for the most number of people singing in a round in celebration of 50 years since The Beatles' first single release, Love Me Do was the song. We will be in the Guinness Book of World Records this year, folks – how cool is that!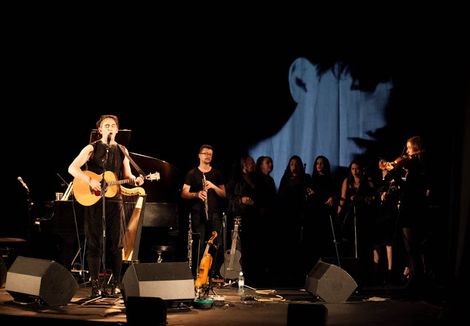 Sense of Sound choir with Patrick Wolf at the Epstein
But this wasn't all, their second a cappella festival, Voices, showcased a stunning three-day celebration of all things vocal; ranging from a national conference for Singing and Health, special guest artist acclaimed beatboxer, Shlomo, a free day of singing workshops from Barbershop to Mongolian throat singing plus the delivery of a unique tribute to Joni Mitchell – an artist who truly understood the power of the voice – where they presented an a cappella interpretations of eight of her tracks to the public were performed by their Liverpool choir.
They also resurrected an original commission written by the four founding Sense of Sound members called Stargazing. They debuted the piece with a full Liverpool choir at The Walker Art Gallery as part of the Liverpool 2012 Biennial celebrations for Late Night.
They added partnerships with the incredible Welsh school choir, Ysgol Glanaethwy which saw performances in Liverpool's Anglican Cathedral and at Venue Cymru in Llandudno in North Wales.
Jennifer added: "Our year culminated in the Christmas concert, Winter Clear at The Bluecoat in Liverpool and incorporated bits of all of the aforementioned shows. It also showcased our Wedding Singers who under the musical direction of Emily Jackson have been going from strength to strength.
They can be seen performing at Camp and Furnace on Sunday June 24 as part of the Vintage Wedding Festival. The plan for 2013 is to create bigger and better challenges."
A quick reflection on what Sense Of Sound have achieved thus far leaves little room for doubt that they'll continue with considerable aplomb.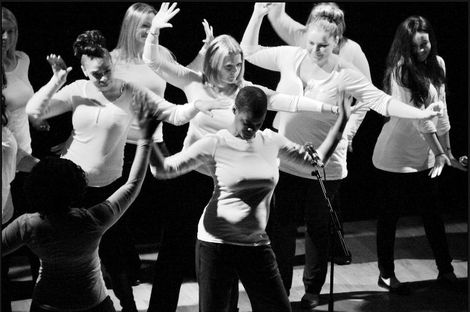 Sense of Sounds' Singing in Harmony masterclass led by Jennifer John is on March 23. For more details call the Bluecoat box office on 0151 702 5346 or visit the event page here.
Comments
comments