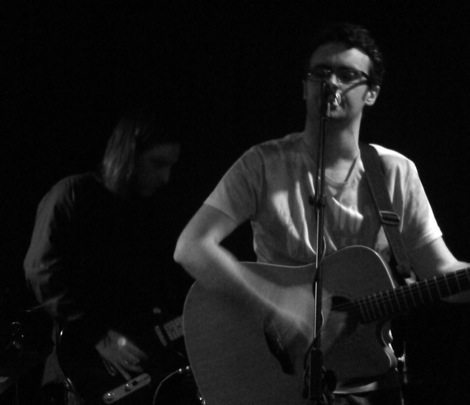 Former Trestles men inject vitality and chainsaw wielding lumberjack guitar moves to an appreciative Mello Mello crowd, Getintothis' Matthew Crist revels in the drama.

For those wanting to escape the usual goings on of town on Grand National day, Mello Mello offered an oasis of calm in a desert of mayhem.
Ok, it wasn't exactly tranquillity. A storming set from Fallen Streams saw to that. They may have been recently thrown together but these guys are no novices when it comes to performance.
"Some of these songs are so new they haven't even got names," announced front man and former Trestle Mark Dawson. He would later admit that he hadn't been on stage for almost a year, though you wouldn't have known it from the way he caressed his guitar like a chainsaw wielding lumberjack.
Backed up by fellow Trestles veteran Tom Carroll, the set grew in energy with the band exuding confidence by the second as they belted out tracks at an impressive rate of knots.
Of the songs that did have names the magnificently melodic Lady Rose stood out as a real highlight.
Following a rare Steve Pilgrim cover the thunderous Let it Go brought the curtain down on a fine performance with an energetic flourish that suggested there was still plenty more in the tank.
The eagle eyed will have noticed the aforementioned Carroll had taken to the stage earlier in the night. Following a rousing acoustic set from Chris Elliot, who was announcing the release of his second album, Carroll's other involvement was with Silens.
The London based outfit make a habit of playing in Liverpool. Their passion and energy seems to go down a treat every time they are in town and this performance was no exception.
There has been much talk about the future of Mello Mello in recent weeks. Let's hope it is just that, because on nights like this there are few better places to be.

Comments
comments