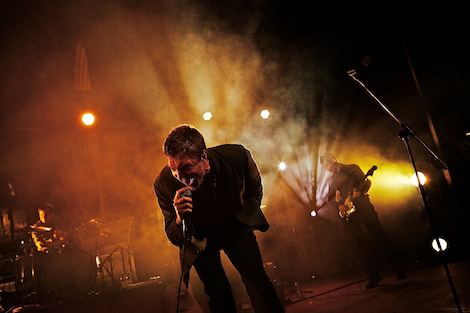 The Walkmen deliver godlike genius as Liverpool Sound City welcomes in one of the festival's defining performances, Getintothis' Andy Kelly bows down.

'We played the O2 in London last night, that place is just dumb. Thank you so much for letting us play here.'
The 'here' Hamilton Leithauser, frontman of The Walkmen, is talking about is Liverpool's Anglican Cathedral and what an awesome venue it is proving for Sound City (slow-moving bar queues aside).
A good bit of London-bashing will always go down well in these parts but it's the only easy win that the New York five-piece indie rockers, and their singer in particular, go for tonight.
The top of the Anglican Cathedral is a long way up but Leithauser throws himself vocally into every song so much you feel he's trying to reach those heights at every opportunity.
He's got an impressive set of lungs too, perfect for those edgy, yearning, almost desperation-filled tunes that have become so familiar from the band over the last decade.
'What's mine is yours, what's yours is yours,' he sings on Angela Surf City as guitars jangle and rattle somewhere on the more melodious side of Interpol.
Tonight's set is culled mostly from the band's last two records, 2010's Lisbon and last year's Heaven, and there's undoubtedly been a sea change in some of the themes, with the band seeemingly in a much more positive place these days.


The Walkmen – classic songs from a contemporary class act
While 'Woe is Me' from Lisbon is classic Walkmen 'downer' territory, it is preceded by Heartbreaker from Heaven where Leithauser refuses to believe he will be the one to let his beloved down and perhaps one of the band's most straight-forward songs ever.
This new more-content Walkmen is even more marked in the main set closer, the title track from Heaven – an instant classic by the way – where the singer tells his lover to 'stick with me, you're my best friend, all of my life, you've always been'.
There's no great clamour for an encore, primarily because tight running schedules usually mean you don't get one at festivals, but thank God we did (seems appropriate in a cathedral).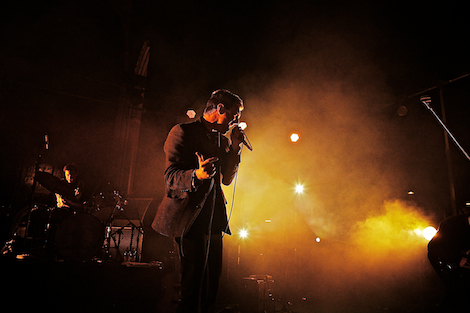 The Rat is just a phenomenal track, with it's 'You've got a nerve' message to the lover who has spurned him yet still wants a favour as the guitars spit out righteous indignation in a glorious maelstrom of bitterness.
Surely one of the best tracks of the last 10 years.
It would have been a perfect end but there was still time for a 'slowey' in the shape of Shovel in the Snow, an unnecessary addition for me, the sort of song indie discos put on at the end to get everyone off the dance floor.
Still this was a memorable set in a memorable venue from a band which continues to ooze quality.
Pictures by Getintothis' Matt Thomas.
Comments
comments