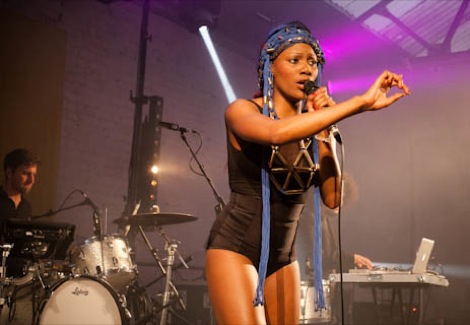 Getintothis' Emma Walsh takes a swig of Scrumpy and dives into Sound City day two. Expect to hear about band break-ups, midgets dressed as Mario and some fine, fine tunes.

The evening was still bright as the Kazimier Garden welcomed Cub Scouts on stage, but the sunny optimism of yesterday had faded after quite so many hiccups in the Sound City flow.
The Aussies did their very best to restore the faith with beachy rock, carnival-esq organ and sunny melodies, the waft of barbeque from the Garden Kitchen surely making them feel right at home (if we're to believe the strereotypes).
But to no avail. On reaching the Heebies Courtyard I learned that The Excitements had in fact split up that afternoon, leaving me with another cancelled set. There was no denying it any longer. I must be the bad omen.
Lulu James thankfully did make it on stage, be it in an odd shroud to begin with but after the slightly flawed big reveal her stage presence couldn't be denied. With a style akin to The Noisettes and Paloma Faith, James brought a bit of life to the early evening, though she did have to compete with the Concrete Knives giving it dixie in the Art Academy opposite.


Concrete Knives – edgy in the Academy
Continuing to ease into the evening, a rich acoustic set from Johnny Sands at the Epstein Theatre's bar followed, but all ideas of easing into anything were thrashed to pieces by Mutiny at the Bounty who managed to bring me right back to my loud and shouty youth with a belter set at Screenadelica. Epileptic fit-inducing lights as standard.
From Seel Street to the square once again, a brief moment of Dan Croll stolen at The Garage, just in time to witness the beautiful Home. A perfect festival moment as lights, harmonies and atmosphere all clicked into place, the Sound City stars finally aligned.
Romantic idealism restored, it was back to the Kazimier Garden where a perfect combination of BBQ chicken wings, scrumpy and fairy lights provided a welcome backdrop to The Loud. With punky vocals, a sound not unlike The Pixies and ample reference to pop classics such as Blondie's One Way or Another, the four piece were on to a winner.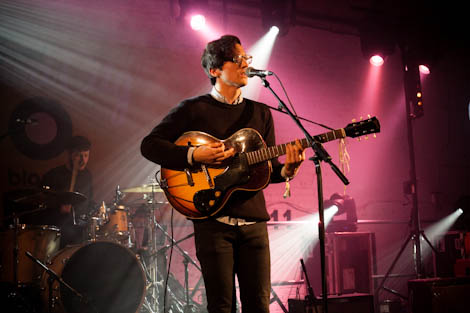 Dan Croll – oh Danny boy
There was still a smell of fresh paint hanging around the newly opened East Village Arts Club, but London Grammar provided the only high the audience needed. With euphoric vocals, atmospheric beats that crawl right up inside your ribcage and the occasional lick of a guitar we would locally associate with Coffee and Cakes for Funerals, it was inconceivable what else the crowd needed to hold their attention. Determined not to be outdone by mindless chatter, London Grammar gave it full pelt on the drums to leave everyone suitably speechless.
From Sound City gold to the Krazyhouse and even the walk down Wood Street had set the tone, as I passed a group singing along to 212 in French, accompanied by a midget dressed as Mario. Odd. And odder still being in the K after the age of 19 and reasonably sober.
The crowd were just as unsettling with a mix of K clientele bounding around the empty floor adorned with glowsticks and flashing bunny ears. Sea of Keys brought us all back to reality with some half decent tunes, sung with closed eyes and accompanied by ukulele. There wasn't exactly anything to get excited about but they were tolerable, unlike the cloud of fake smoke I was being suffocated by.
To the Kazimier!
On And On were late in the day for most, but they were certainly worth the wait, providing the perfect lull into the night. Not quite a lullaby though, there was still a twang in the guitars and a kick in the beat but nothing too challenging for the weary Sound City goer, a gentle sway would suffice. Full credit to those who had shapes left in them to throw, but for this bad omen it was hometime!
Pictures by Getintothis' Marie Hazelwood
Comments
comments