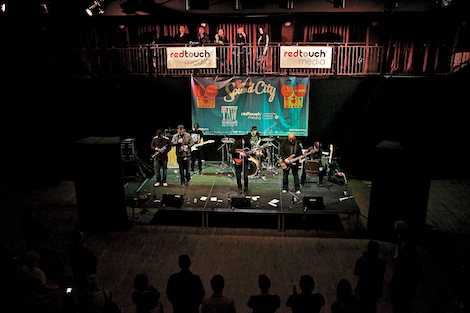 Getintothis' Orla Foster boshed some Bad Meds, made some Best Friends and had a memorable Sound City moment as Silent Sleep came calling at the end of day two.

Day 2 of Sound City, along with hangovers and hastily-devoured bowls of fries, brings with it a chance to sample Taiwan's premier psychedelic band, Echo. They're a big deal back home and as a result there are nearly as many SLRs in the audience as people; diehard fans singing every word and waving devil horns. We can't compete, but find a soft spot for a song called The Secret Party Tonight – all about the "delight" that can be experienced in Amsterdam.
Next, it's to the Kazimier for Bad Meds.
"How has your delegation been? Has anyone got signed yet?" asks singer Paul Rafferty. He can afford to sneer, since his band are one of the sharpest, tightest punk bands in the city at the minute. A highlight is It's Grim Up North, a roll call of local towns which in its dreariness provides a welcome antidote to some of the cloying stage patter spouted by bands elsewhere in the festival. Bad Meds don't need you to like their Facebook page.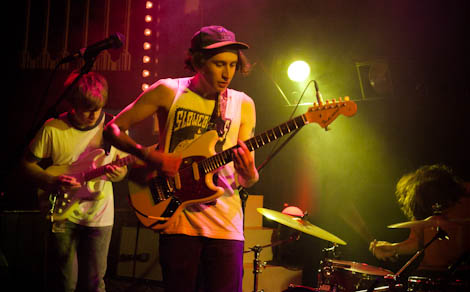 Best Friends – how to make friends and influence reviewers
They're followed by Sheffield's Best Friends; an act who, though they hide behind their hair, are seriously supercharged, like they've guzzled too much Sunny Delite. Their pulse-quickening brand of surf-punk is a signal that summer has to be on its way.
We're swept back into darkness, however, at the Epstein Theatre – a suitably portentous setting for Bird. Looking like a tableau of art nouveau muses, the band's sound might be described as an update of the Cocteau Twins, squeezing as much drama and sorcery into their set as they possibly can. They even entwine roses round their mic stands.
Afterwards, Leaf are hosting Still Corners, a SubPop duo whose synth-pop stylings align them neatly between the likes of Summer Camp and Blouse.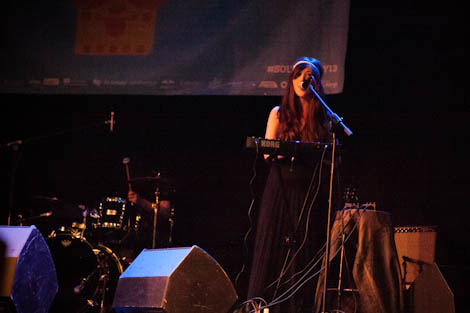 Bird – swooning theatrics
Unfortunately, they seem to have run out of steam this evening and, after a long, drawn-out soundcheck, a couple of the songs fall dismally flat. Things perk up a little eventually and singer Tessa Murray begins to match the pizazz of her resplendent golden cardigan, and they're just getting into their stride when they realise they've overrun and need to pull the plug on it all.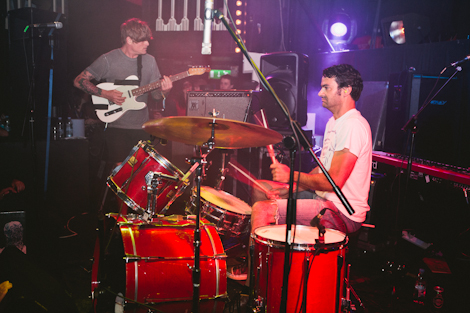 Thee Oh Sees – an oh my moment – if you managed to get in!
Which means that it's time to race to the Kazimier to start queuing for Thee Oh Sees. Until we bump into an acquaintance, that is, whose crestfallen demeanour tells us all we need to know.
"Don't even think about it," he says. "I've been stood outside for half an hour and I still didn't get anywhere near the entrance. The queue's twelve people wide and it's one in one out.
"They would have to kick out the whole audience just to fit half of the people waiting to go in."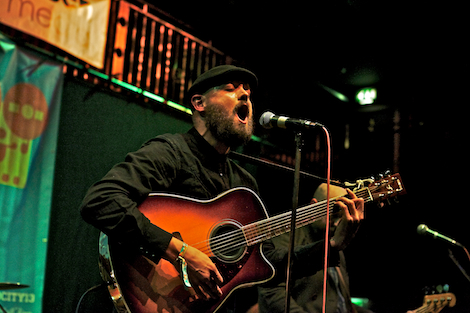 Silent Sleep – hearty roars
Momentarily flummoxed, we plump instead for the Black-E, where Silent Sleep are on. Singer Chris McIntosh is characteristically self-deprecating and funny, seeking the perfect sombre stage lighting and offering to lift the mood with a song about depression. Lastly, he asks the audience if they'll humour him on a certain fancy of his, which is to perform in the dome at the building's entrance.
As we all begin to line the grand staircase, he briefs us on the foot-stamping and hand-clapping that will be required of us once the song On the Steps of the Bombed Out Church reaches its crescendo. And everything falls beautifully into place. Glockenspiels ring, trumpets sound, and a gospel choir amplify the chorus. Golf balls, no doubt, have sprung to throats all around us.
It's clear we've experienced our Sound City "moment", and to taint it now by going to see something else would seem almost blasphemous. Instead, we leave the Black-E, humming discordantly.
Pictures by Getintothis' Marie Hazelwood and Matt Thomas
Comments
comments