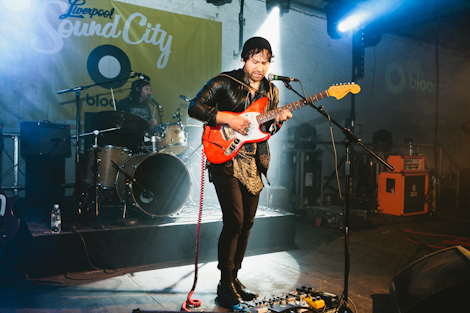 It's quiet. It's loud. It's Dutch. It's French. It's Getintothis' Jamie Bowman on day two of Liverpool Sound City.

We're watching a band called French Films but they're from Norway and they sound like The Cure…as usual Sound City is full of pleasant surprises and this fresh faced lot are the first of tonight's delights. There's a nice dream pop thing going on here which recalls those underrated masters of the genre The Radio Dept.
A similar Euro vibe is going down at the Arts Academy where French Bella Union signings Concrete Knives are playing tunes from their rather good Be Your Own King debut album.
The video to their recent Wallpaper single was a tad scary but in person the Knives are far less challenging. Some lovely harmonies and a sprinkling of Talking Head's Afro funk make them an intriguing and catchy proposition.
Over at the Black-E they seem to have sorted out the sound problems that plagued yesterday's line up. Footy fans the Anfield Wrap have been doing sterling work supporting Liverpool's finest on this stage and in The Thespians they've unearthed a gem of a talent.
Great melodies and a pure Scouse way of a tune they're Brit Rock at its best recalling all that was good about The Libertines and The Cribs.
Heading back across the Channel I come across German bohos WALL but they're just too quiet to hold my attention on this especially after I'd read a crass description of them as sounding like 'a V2 rocket filled with pink robots'.
Fantastically noisy relief comes in the form of the Unknown Mortal Orchestra who absolutely storm a rabid Garage crowd. Operating out of the Jagjaguwar stable is a usually a good trademark of quality but I have to say I'd been rather overwhelmed by these New Zealander's recent 'II' album.
Front man Ruban Nielson clearly has the tunes in spades but an underwhelming production job leaves them sounding muffled and unfocused. Live, however, Nielson is an unstoppable force with an incredible band to match.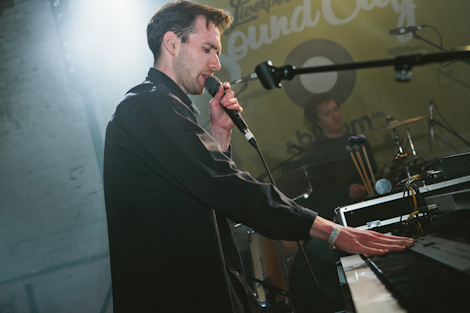 Dutch Uncles – not so clever, really
The wondrous psych-soul flash of tunes like Swim and Sleep (Like a Shark) recall the Jon Spencer Blues Explosion at their testifying best as Nielson straddles hard funk and lo-fi punk in equal measures and sometimes in the same guitar solo.
His guitar playing is mesmeric full of great hooks and riffs but never showy – if truth be told I'm a little bit blown away as it seems are many here judging by the outbreaks of delight in the crowd.
I was worried the boffiny Manc electro of Dutch Uncles would be slightly underwhelming in comparison and I was half right. At their best I can hear shades of Talk Talk but as with their contemporaries Everything Everything I'm left rather cold by this five piece's desperate need to be clever when a good pop song would suffice.
Comments
comments