Liverpool Sound City's rollercoaster takes Getintothis' Liam Fay on a topsy turvy ride, fortunately there's send off to remember from four lads who know how to start a party.

Getintothis has made it relatively unscathed, if a little tired, and we're more than ready for whatever Sound City's final day has to throw at me.
Expectations are running high after what was an outrageously good Friday.
After taking in some eastern delights at The Korean Rocks BBQ we hot footed our way over to the O2 Academy for Enter Shikari's supports bands at the 14+ event. It's nice to do something for the kids. They are the future after all.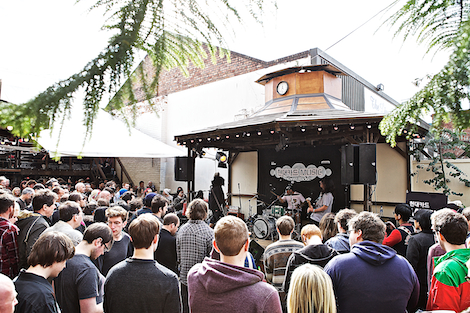 Apollo 18 thrilling the crowds at the Korean Rocks showcase in Kazimier Gardens
As soon as we arrive, we're thrown into a sea of baseball-capped youngsters moshing til their hearts content as Neck Deep warm up the crowd. There's not too much to say about this lot. They were vaguely loud yet unimpressive as we resort to reading a newspaper and cutting out the coupons.
Hacktivist are the real gems though, if only comparatively, with their 'anti-establishment' heavy metal meets grime. Being anti-establishment seems so passé. We'd kinda like to see a band that is of the establishment. That'd really piss everyone off.
Aside from constantly asking the crowd to bounce and mosh like boxing kangaroos Hacktivist's set was enjoyable, with a cameo appearance from Enter Shikari frontman Rou Reynolds nearly tearing the roof off the O2 as he shows the pretenders just how it's done.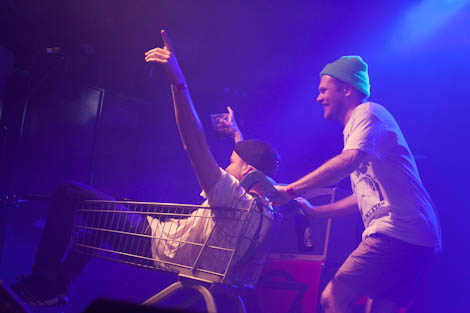 Enter Shikari getting trollied at the O2 Academy
A dirty version of Jay Z and Kanye West's Nigg*s In Paris offers an alternative to the embarrassing bars being spat. They should stick with the heavy metal element as their version of grime could easily be dealt with by some Domestos and a scourer.
After watching Willy Moon put in a performance that consisted of him masturbating over himself, figuratively, though it might have been more entertaining and produced less gurning from the Kiwi if not so, we were in the mood to have our spirits lifted.
This was not to be as D'lyfa Reilly laughably bombed at The Brooklyn Mixer. Sounding like a bunch of schoolchildren squabbling in a locked cupboard.
The vocals needed more rounded conviction. The whole affair felt massively uncomfortable. The 'moment' of the set for me came from the use of 'Catch 22' in a lyric. I'd lay a massive odds on price that the lad has never read Joseph Heller's satirical classic, never mind the fact that the rhyme was barely coherent.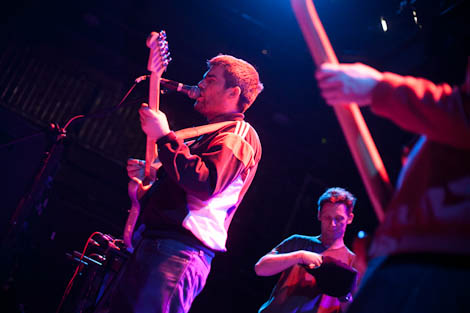 The Tea Street Band – knowing how to close a festival
Last year's Sound City was well rounded off by The Tea Street Band as they absolutely smashed The Garage while I missed out with a dicky tummy.
This year promised more of the same with the lads playing in the anaemic surroundings of The Black-E. Unfortunately The Black-E has been a nightmare this year with sound tech issues and a terrible environment marring several gigs.
And on this the final night of the festival, it came to pass again, that the last set of the festival was delayed by half an hour as the techs struggled to come to grips with the sound desk.
We were all here to have a party though, and The Tea Street Band duly delivered.
You can always count on the lads for some quality jackets, a smattering of vintage Adidas and an old school rave. There are few things better in life. Forty minutes of Scouse swagger meets Balearic ballistic beats (yes, that's some tasty alliteration right there) had the crowd moving with furious delight.
The band departs, the lights come up and everyone politely shuffles out with a slight air of the anti-climax in the air. There's no question that The Tea Street Band produced an effervescent high quality set – it was the day overall that was a damp squib.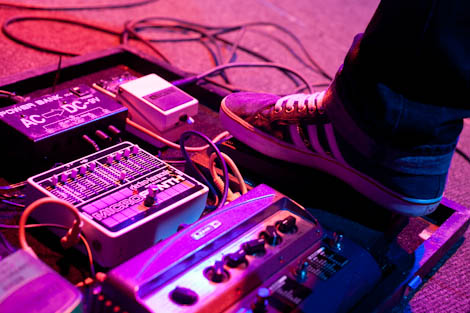 Photography by Getintothis' Marie Hazelwood and Matt Thomas.
Comments
comments