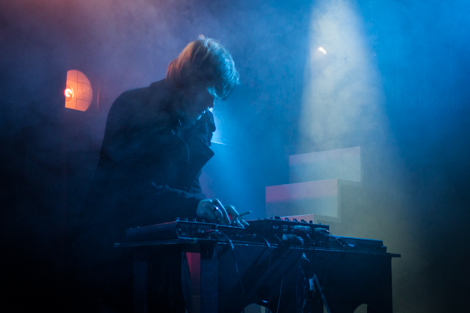 Bombastic beats and intense industrial landscapes arrive at the Kazimier, Getintothis' Joseph Viney joins the small throng who enjoyed a blockbuster evening.

Like most every other genre, there's a time and place for electronic music. Funerals? Not too often. Bridge meetings? Nah. Caribbean cruise? Maybe. A warm Thursday night in a venue that consistently delivers? Well, yeah.
Alas, the memo must have become lost somewhere in the mix. A very sparse crowd in attendance that night was a disappointment intensified by the great performances of all of the artists involved. The notion that many missed out was palpable. For a reasonably promoted show, perhaps we can chalk it up to bad luck; one of those nights.


The Slow Revolt live at the Kazimier
Undeterred, with no choice in the matter anyway, opening act The Slow Revolt kicked things off with a confident and curious set. A one man band, brandishing a guitar and with a vast array of computer and sound equipment at his fingertips, Slow Revolt set the pace early on
A combination of hazy machines punctuated by very handsome guitar work and earnest lyrics, the Londoner appears to convey a degree of refreshing candour. With some energetic stage moves to match, his latest record, May's Doldrums, was very much off-radar but in need of some listener's TLC.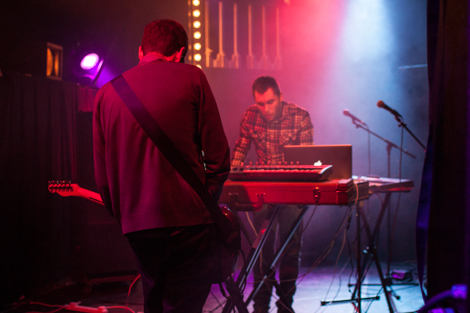 Ghosting Season live at the Kazimier
Manchester duo Ghosting Season ramped things up with a display of real intensity.
Their set was akin to an electronic stream of consciousness; long, winding passages that brought to mind images of abandoned industrial landscapes.
With sounds as bombastic as a film score, it was accompanied by guitar solos and powerful drumming; the two members taking matters into their own hands when necessary.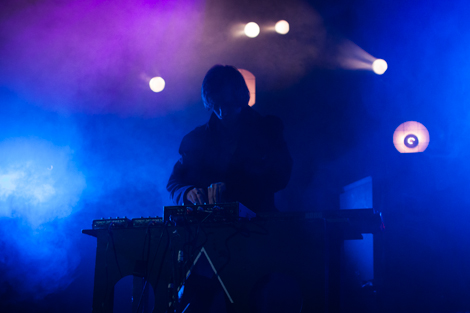 D/R/U/G/S live at the Kazimier
D/R/U/G/S, the pseudonym of Callum Wright, is an entirely different prospect.
He brings together a heady dose of warped ambience with all manner of tricks up his sleeve. He brought big beats and thudding rhythms that got under your skin.
He plays his soundboard like one of those 'Find The Queen' cardsharks you only ever see in b-movies; sleights of hand turning his sound on a sixpence.
As the fading crunch of his set ended, Wright came off stage to say thank you to audience members and shake some hands.
No mean feat at that point, but a nice gesture otherwise. It was an oddly polite way of concluding a night that had real potential to go with a bang.

Pictures by Getintothis' Rachel Brockley.
Comments
comments