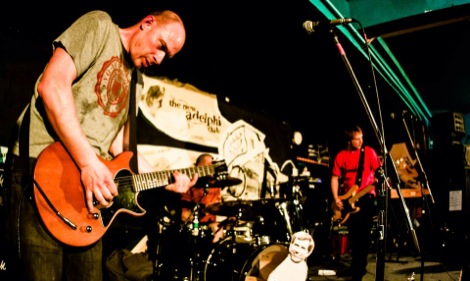 Southport head up another of Antipop's Mello Mello punk and reggae gatherings, Getintothis' Ste Lingard engages in a spot of death jigging and leaves positively alive and kicking.

Southport's front man and guitarist Simon Wells is a cult hero.
Having co-founded Brit punk alt-legends Snuff in 1986 and played on their classic Snuff Said album it's a mini triumph to catch them in the cosy surrounds of Mello Mello.
Ably backed by drummer Dec Kelly and bassist Dan Goatham – who mouthed every word, to every song, clearly enjoying every moment, Wells delivered a masterclass in punk guitar ferocity; blending open chords with chugging power and neatly picked arpeggios.
His distinctive vocals and sharp southern wit fixed the crowd's attention, and his thoughtful perspective on everyday issues – including getting up for work, prison and life as a painter and decorator – was a refreshing contrast to the excited posturing that others in the punk scene rely on.
Snakes and Ladders, Optimism and Little by Little stood out, and were fully appreciated by the faithful, who demanded a well deserved two song encore.
Indeed, Southport were indicative of a rounded, cohesive evening at Liverpool's most popular 'jazz cafe' as promoters Antipop deserve credit for consistently bringing quality original punk, ska and reggae to to the city while maintaining the do-it-yourself ethic central to the scene.
Earlier, delayed by a potentially embarrassing costume malfunction, Getintothis arrive at Mello Mello just as Mancunian openers Droves closed their set; as bracing punk wins a gaggle of new admirers proving we're the loser and that punctuality is needed next time round.
Eight piece reggae and dub collective Rasta4eyes, fronted by charismatic Sintelliner Billy McKelvie, filled the stage and the dancefloor.
New tracks Break the Spell and Lioness fitted smoothly into their monstrous set.
Next up were Acid Drop, four sweaty herberts from Leeds. With vocals reminiscent of Leftöver Crack their catchy uptempo punk drew an energetic young crowd that loved every moment – especially the 'jig of death' – a Riverdance take on the traditional hardcore 'wall of death'.

Comments
comments