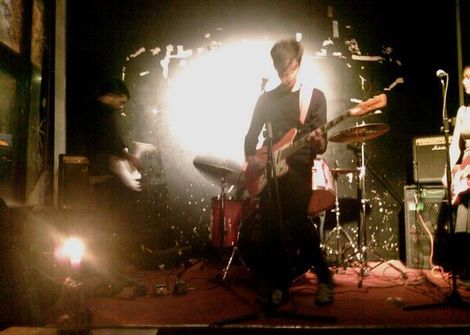 Dead Wolf Club's punishing ferocity shakes up Mello Mello and almost induces Getintothis' Laurie Cheeseman into a seizure. Almost.

Take one-half Pixies (thundering, end-of-days bass), one quarter Jawbreaker (screams aplenty) and a quarter Archer of Loaf (squalling guitar) and what do you get? Dead Wolf Club, that's who.
The energy on stage was almost too much at times, despite the rather… err select number of people in the audience. This disappointing lack of people also means their explosive brand of jangly lo-fi could not be appreciated in the proper way; you can't slam dance on your own can you – that would just look like a seizure.
Despite that, the pace never relented with barely a beat missed between tracks and clearly the 'Club know when to hold back, and exactly the right moment to release the tension and let all hell rip loose on stage.
Earlier, Liverpool's Enamel Animal's blend of throbbing bass, thundering riffs and yowling reflect a new band Jack White would be proud to produce.
Mercifully, their excellent riffage compensate for their initial lack of stage presence, providing the necessary character. It's early days and while there's potential, at this stage variety is needed as the majority of tracks blurred into one amorphous lump.
Fellow Scousers, The Shadow Theatre really get things going; it's so easy to tell when a band just… works. Like, you know when everything just gels together just right and they're in tune with each other.
Even when it feels like you've heard the songs a million times before, now that Joy Division and their ilk are de rigueur influences once more for lads with guitars just starting out, one can't help but be captivated by them.
Their gorgeous ringing guitars, fluid rhythms and the bastard offspring of Ian Curtis' and Howard Devoto's vocals are the order of the day.
In doing so, they sum up rather nicely the progress of the last decade or so of guitar-led Britrock and putting it in a live setting exciting enough for it to stand out from the crowd – it takes some skill… we commend thee, Shadow Theatre.

Comments
comments