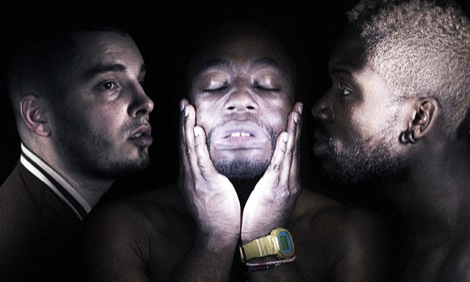 This week's Singles Club finds Getintothis' Liam Fay taking a bath while off his head on gin, snarling on public transport, bopping to Syrian Techno and finding the musical equivalent to warm celery. It's been emotional.

Young Fathers: Queen Is Dead – Single of the Week
Angry. This is like sifting through the bleakest treacle for a lost pound coin that you are destined to never find. Laden with dank, heavy electronica and dark lyrics these lads have really peaked my interest.
The video is a full on, intense and infectious affair. Imagine what they'd be like live and in the flesh. Fortunately you don't have to as they play FestEvol on Saturday August 10. We're there, with bells on.

Full line up, details and discounted FestEvol wristband here.
Maps: A.M.A.
Summat electronic and synthy to push into your lug holes. Now, this video is ok but did remind me that my windows could do with a good clean.
This yearning for a piece of chamois leather and some green spray was brought about by the child that smudges his grubby little digits down a pristine pane of glass. But then the video ended and my urge faded. Shame, my room hasn't seen natural light since 2007.

Widowspeak: True Believer
Lovely, dreamy loveliness. Like taking a warm bath while buzzing off a few gins… but not in a Saturday Night, Sunday Morning sort of way. True Believer slots into this folky, country, melodious, shoegazing thing that's going on.
Who cares about these musical tags though unless you want to erect some shelves and file this away neatly and give something else for your maid to have to dust. You make me sick.

Dizzee Rascal: I Don't Need A Reason
Dizzee is back, though in reality he's never been away, he's more omnipresent than those Gideon Bibles you always get in hotel bedside table drawers, and there's no sight nor sound of Florence Welch wailing all over this so I can relax.
This feels familiar as Dizzee's signature '"Woop" can be heard playfully bellowed throughout like a teeny bopper who's been given a thousand blue Smarties…who is also saying "Woop".
Only listen once though or you'll want to punch the wall with your face. This is a bit like warm celery. Lacks any flavour, crunch and is terrible for dipping.

Joanna Gruesome: Secret Surprise
This tastes a bit like a marriage of Sonic Youth and Veronica Falls. In a good way of course. That sentence does make me sound like some sort of matrimony cannibal though.
One for whacking on at full volume on public transport and snarling anyone who looks like they might sit within three rows of you. I did this. Though, I've also done this while listening to The Beach Boys and The Carpenters. Bad ass.

Little Nikki: Little Nikki Says
Here's your laugh of the week. Little Nikki Says is the sort of song that plays out when you're stumbling around town at 4am looking for somewhere that's still open. The room is pregnant with smoke and everywhere you look are men with questionable scars and motives and missing bits of ear.
"Skip, skip, skip to my loo bring me a cake and I'll eat it too," is a particular lyrical highlight. Though to be fair I did take my hips down low. I'd be a liar if I tried to pretend that I did not.

Ballet School: Heartbeat Overdrive
This is a little piece of fun right here. Not out of place on a 80s jukebox selection. Just try not to sing along to the chorus. I did and felt outrageous.

Pure Bathing Culture: Dream The Dare
Dream The Dare meanders on invitingly like a sweet lullaby. You get the feeling you're being lead somewhere sunbathed and peaceful. You never get there though perhaps the journey was worth it. It makes the head swim a touch.

Omar Souleyman: Wenu Wenu
I'll leave you with this.
I imagine this is what Flaming Lips' Wayne Coyne's dreams are like. Coming right at you like a mish mash of all of your favourite 'Boss Scenes' from you childhood Sega and Snes games, I give you Omar Souleyman the finest (and only) purveyor of Syrian Techno I have come across.
He's been described as hectic. This is mos def hectic, bro. Nuts and well worth a game. If you get a chance to see him live definitely take it.

Comments
comments