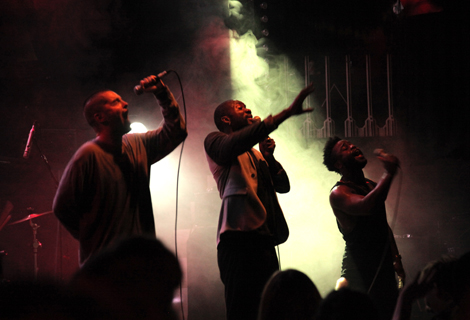 Young Fathers, fresh from their FestEVOL demolition, drop this heavy slab of aggro-hip hop.

It's fair to say Young Fathers were the new name on everyone's lips at the end of an audacious night of music at the Kazimier on Saturday.
While FestEVOL excelled in bringing the very best of new Liverpool sounds to the forefront, there was also a select stand out of future noise from acts further afield – and Edinburgh's Young Fathers were right at the front of the pack.
Decimating ear drums with their propulsive short, sharp sonic shocks, their lyrical bite was only matched by a stage ferocity few can conjure.
Getintothis had given good warning to their ones to watch status bagging our single of the week status back in July, but even we were taken aback by their mesmerising stew of slam-dunk beat-downs and verbal verbosity.
Anyways, timing's everything – and today they've volleyed out another winner in the shape of Effigy. May their fires keep on burning.

Standby for the full verdict and picture galleries from FestEVOL soon.
Picture by Getintothis' Ian Gamester.
Comments
comments