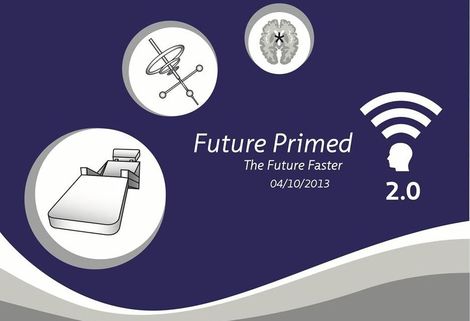 The Kazimier team up with Abandon Normal Devices for Future Primed – an enlightening voyage to safeguard your very being.

Sometimes something happens that is so rare and magical you wonder whether it happened in the first place.
We're thinking SWANS demolishing the senses at Manchester Sound Control (2012) or Prince's two-set four hour leviathan at the The O2 Arena (2006).
Add to that list, the Kazimier's quite remarkable ATALONIA staged in Liverpool back in 2011. A thematic 'world within a world' saw participants take a voyage into a fantastical land filled with enigmatic creatures, dazzling light displays and otherworldly music. It was simply breathtaking and a complete one-off.
For this year's AND Festival, several of the Kazimier team are staging a similar, if slightly more intimate and restrained, interactive experience called, Future Primed on October 4, which promises to be another not-to-be-missed artistic treat. Characteristically, details are sparse (that's the beauty of it) but what they have revealed once again fuses the futuristic with the fantastical, and is guaranteed to set the imagination whirring.
They say: 'Prepare to be enlightened with Future Primed, an experience which will safeguard you from future redundancy and encourage you to leave the more 'traditional' world behind.
'Join us at our specialist treatment facility for this one night only offer taking you on the first step to HUMAN 2.0.
'The first part of the evening will take place at our temporary 'experience centre' at 45-61 Duke Street Liverpool where small groups will be taken through bespoke services 'safe-guarding' against future redundancy.
'The second part of the evening will take place across the square in The Kazimier nightclub, with a networking and post-treatment drinks reception. There will also be a range of live entertainment on offer.
For Future Primed tickets visit here.

Further reading on Getintothis
ATALONIA named Getintothis' Event of 2011.
Getintothis interviews the Kazimier team.
Getintothis uncovers The Kazimier's ATALONIA – the world within a world
Atalonia: Inside Hollow Earth – the video.
The Kazimier: Atalonia Soundtrack.
Comments
comments