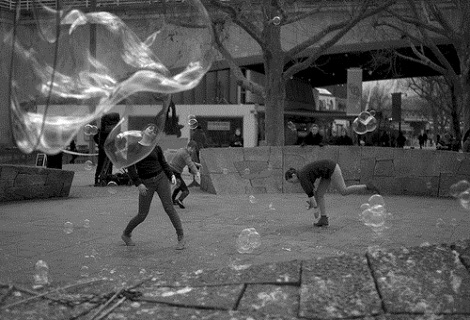 Analogue Bubbles bring a new regular night to Liverpool that promises futuristic sounds with a back-to-basics work ethic.

It probably hasn't escaped your attention that we live in a voraciously digital age. Everywhere you go it's stream this, download that, embed this. It can all be a little impersonal.
You don't have to be a Luddite to appreciate the more hands-on approach, particularly when it comes to music.
A brace of vinyl-only labels, Tusk Wax and Rothmans, are bringing the good citizens of Liverpool a night that errs away from the sweeping coverage of wholly digital DJ sets and brings us back, if only briefly, to a time where the only weapons were waxy black discs.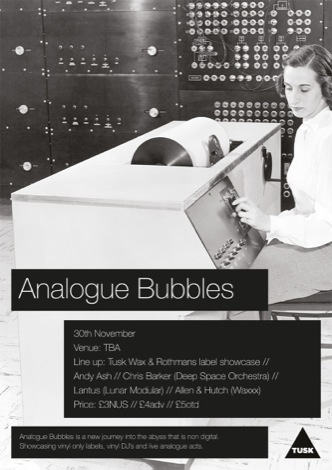 Their first monthly event takes place on Saturday November 30 at an as yet undisclosed location within the city's Baltic Triangle.
They're not playing games, but are just keeping tight-lipped about a venue that won't even open until mid-November. We've no doubt it will be special regardless.
The night will feature stellar sets from Lantus (of Lunar Modular), guest DJs Andy Ash and Chris Barker (of Deep Space Orchestra) and the sounds from newly-designated resident noise-makers Allen & Hutch.
Another strong contender on a already bristling and energetic calendar. Don't waste time counting your lucky stars and just make sure you're there.
For further information click here.

Further reading on Getintothis:
Lindstrøm, Mr Paul, Deep Space Orchestra: The Kazimier, Liverpool
ARK02: Lunar Modular, Afternaut, Bantam Lions, GhostChant, Acrobat, Kepla, JULIAN: Drop the Dumbells, Liverpool
Four Tet: Shipping Forecast, Liverpool
Comments
comments