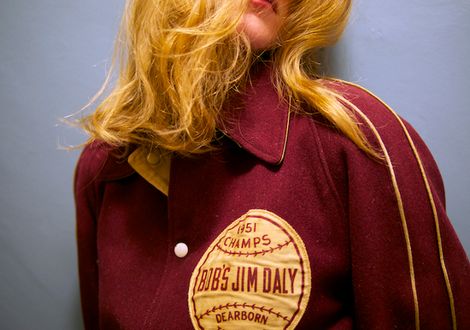 This week's Singles Club finds Getintothis' Chris Burgess decrying Paloma Faith's wackiness, complaining about the modern vernacular and somehow being repelled by Shakira's bum.

Karen Gwyer: Lay Claim To My Grub – Single of the Week
Weird title aside, this is a truly excellent and marvellously grand single from the London producer's New Roof EP, released on the always decent No Pain In Pop label.
At an ambitious 16 minutes long, there are a lot of interesting shifts and turns in this song, which has a lot more weight to it than her previous output. It's an extremely well produced and almost intimate slice of techno.

Thomas J. Speight: Just Where I Want To Be
Here's a truly uplifting tune from the ex-LIPA songwriter, who is sure to break out on a national scale before too long.
Speight has played several fantastic Liverpool shows over the past year, and has gained strong support from Sir Paul McCartney in the past – which illustrates the quality of his music making.
Just Where I Want To Be is a melodic tour de force, more direct than a lot of his previous work.
Speight has been touring with the likes of Mumford and Sons, Ed Sheeran and Travis, and it won't be long until he becomes the main attraction.

Death Vessel: Mercury Dime
Sub Pop's Death Vessel release the second track from their upcoming album Island Intervals, and it magnificently shows their ethereal, charming folk nature.
Singer Joel Thibodeau's falsetto vocals are perfectly underscored by a mix of world-music percussion, layered instrumentation and effortless guitar licks that turn this simple song into something much more intriguing.

Dominique Young Unique: Throw It Down
A gigantic statement of intent from the young Florida rapper here, produced by DJ Fresh and Benga and released by Sony.
This is a riot of energetic beats and bass, with Dominique's fast, machine-gun delivery.
Fresh and Benga are two producers at the top of their game right now, and Dominique appears to be stepping up her game from her previous mixtape offerings. Long may this partnership continue.

Black Submarine: Here So Rain
Former members of The Verve, Nick McCabe and Simon Jones have been putting out music under the Black Ships/Black Submarine name for a good few years now.
They've taken the winning Verve formula of luscious soundscapes and glorious vocals and made it their own. This is truly epic, in the traditional sense of the word, not the 'slightly better than average' way that the kids now annoyingly use it.
This video is a cut down version of the album track, which clocks in at over nine minutes, and will be well worth checking out when it's released in March.

The Bohicas: Swarm/Crush Me
These guys make rock and roll look easy. Swarm sounds like the soundtrack to the best car chase ever. Crush Me sounds like the soundtrack to the barfight that preceded it.
The Essex-based four-piece are really making a name for themselves. These short, sharp stabs of lively rock showcase just why they're getting increasing radio play.
The video makes me want to hate them though, they're so damn cool.

Arc Isis: Singing So Sweetly
Life is a cabaret, old chum…
Former Low Anthem singer Jocie Adams returns with this debut single, evoking 1920s swinging nightclubs and jazz scenes.
This song just bounces along, highlighting Adams' poetic and at times delicate vocals. The video is stunning, a watercolour animation that sums up the cabaret appeal of the track.

The Notwist: Kong
Another terrific tune from the returning German indie heroes, taken from their upcoming album Close To The Glass.
Driven along by an bouncing beat and stunningly layered guitars and synths, Kong tells the true story of singer Markus Acher's experience of his family home being flooded, while he dreams of being saved by 'a mixture of King Kong and Superman'.
The song isn't just straight up indie fare though, twisting towards the end to something more otherworldly, with sweeping strings and crashing, anthemic guitar chords.

Young Rival: Black Is Good
I could describe the music, but although it's not bad, it's pretty much secondary to the video here. This is guaranteed to make some of you get frustrated and punch the screen, but for those who can see it, the magic eye music video is apparently the first of its kind.
You have to question whether this is a good thing though, as going slightly gozzy-eyed to watch this can start to hurt after a while, and it's probably just dolphins anyway. It always is with these things.

Girl Band: Lawman
Girl Band do exactly the opposite of what it says on the tin. This is scuzzy, distortion drenched noise-rock, a world away from The Nolans.
The Dublin quartet bring feedback, dischord and grungy, unintelligible vocals to the table, which they'll then probably flip over and set on fire. I like them.

Metronomy: Love Letters
This is the second single from their new album, and the south coast band have gone all 60s on us!
There are distinct flashes of Bowie (that sounds very wrong) in this track, with singer Joe Mount backed by Motown-esque singers and a backbeat that could have been taken wholesale from a Four Tops song. Overall, it's a nice move from the band, injecting a bit more soul into their work, which at times can be rather too polished, I find.
Metronomy play Liverpool O2 Academy on the Thursday March 13, so get a ticket if you can.

Paloma Faith: Can't Rely On You
I have a love/hate relationship with Ms. Faith.
Her 'zany', oddball personality rather puts me off her as a person – a little kookiness goes a long way – but then she'll drop something like this, a glorious song on every level.
This Motown-infused track is full of soul, and Faith's voice soars over the top, There are some good trumpets in this week's selection of singles, but these are probably the best of the lot. Don't watch the video though; it'll remind you how annoying she is.

Shakira: Can't Remember To Forget You
Shakira shows her bum again. This time Rhianna joins in. Dreadful.

Comments
comments