Drizzy spoon feeds hit after hit to the masses at the Echo Arena and his legion of fans lap it up, Getintothis' Alex Woo reflects on Canada's Mr Big and his rising protégé The Weeknd.

Few artists enjoyed a bigger 2013 than Drake, who's third solo album, Nothing Was The Same, was surprisingly enjoyable; a far cry from his previous two monotonous efforts. Accompanied by fellow countryman and close friend, The Weeknd, the two descended on a predominantly female crowd at the Echo Arena as they neared the end of their worldwide tour.
He's not Canada's most successful musical export of this millennium – that mantle belongs to the recalcitrant ex-teenage heartthrob Justin Bieber – but now Drake is over all the heartbreak he's beginning to show that perhaps he is deserving of some of the hype.
First up was Abel Tesfaye, better known as The Weeknd, who has made huge waves since breaking on to the scene in 2011. Starting his set surprisingly early – we're unsure as to whether that was a scheduling snafu – resulted in many disappointed fans missing the majority of his set; he was finished long before 8:30pm.
What we did see, though, was convincing enough to predict that, following the success of his debut album, Kiss Land, he is destined to return this very arena, but next time as a headline act rather than the support slot.
Playing a selection of songs from his already vast back catalogue (three mixtapes and an album in three years), including House Of Balloons, The Morning and High For This, Tesfaye's stunning vocals are even more entrancing in the flesh.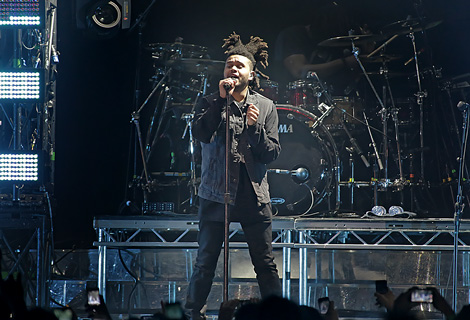 The Weeknd (Abel Tesfaye) live at the Echo Arena
It is impossible to ignore the Michael Jackson comparisons – such is the raw talent and vocal range The Weeknd possesses – but Tesfaye showed that he is still finding his feet as an artist and performer, which is not necessarily a bad thing.
His songs, at times, can meander along, and his lyrics are in danger of becoming repetitive; there are only so many sordid tales of drunken romance you can recount before it becomes tiresome and borderline misogynistic.
But this is an artist unfazed by success, and one who's experimental sound can only lead him to bigger and better things.
He ends his set with melancholic Wanderlust, but not before giving heartfelt thanks to Drake, who was instrumental in helping The Weeknd garner worldwide attention that really kick-started his career.
The lights dim, and the huge curtain surrounding the stage drops, unveiling an impressive stage design that rivals Kanye's live tour in its sheer ostentatiousness.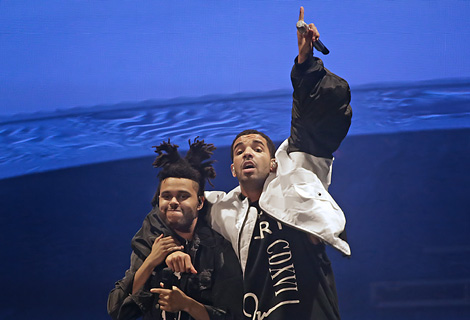 Kicking things off with Tuscan Leather, the opener from his latest record, before bringing The Weeknd back on stage for their collaboration Crew Love, 'Drizzy' is off to an auspicious start.
Drake is not a particularly unique or gifted rapper who will wow you with a mind-blowing cadence or thought-provoking lyrics, but he is an impressive showman, and showed his versatility with a surprisingly good voice when singing certain tracks.
Backed only by a DJ and drummer in the distance, and the odd set of lasers, pyro and fireworks, which were visually stunning if completely unnecessary, he owned the stage throughout.
Choosing to mostly play snippets of his plethora of hits – we lost track after about 30 – rather than play full songs, there is a clever balance between the slow jams and the party favourites, with a new tune, Days In The East, thrown in for good measure.
For the interlude before he returned for his encore, the DJ played a medley of old hits, asking the crowd if they had been fans from the start and knew his old songs; judging by their reaction, the answer was a resounding yes.
His constant interaction with the crowd, who he had in the palm of his hand from the off, played a prominent role throughout the show, and whilst everything he said had likely been repeated to other crowds on previous nights in rival cities, that didn't seem to matter.
As he returned to the stage for a special extended version of his massive hit, Hold On We're Going Home, bringing a girl from the crowd on stage to sing it to, that would have been a fitting end, but Drake had one more trick rolled up his sleeve(less vest).
Undetected up in the rafters, a giant second stage descended and hung above the crowd so he could walk across the sea of people, with him just perilously out of the reach of hundreds of screaming girls.


Drake live at the Echo Arena
Playing the left, right and centre of the crowd off against each other like hip-hop's Hulk Hogan, he spent well over ten minutes picking people out in the audience and giving them individual shout-outs.
While that time arguably could have been put to better use performing a few more tracks, the crowd certainly didn't care, and nobody could argue that Drake didn't put on a mightily impressive show.
Ending rather aptly on Started From The Bottom, a honest recollection of his rise to the top, it certainly looks like Drake is here to stay – and he might just be winning over some of his critics on the way.
Pictures by Getintothis' Sakura Zilla
Further reading on Getintothis:
Drake and The Weeknd plot Liverpool Echo Arena date
Drake: Apollo, Manchester – picture gallery
Top 40 Tracks of 2013 featuring Drake
GIT Award 2014: Artist nominee profile – Mad Brains
Comments
comments