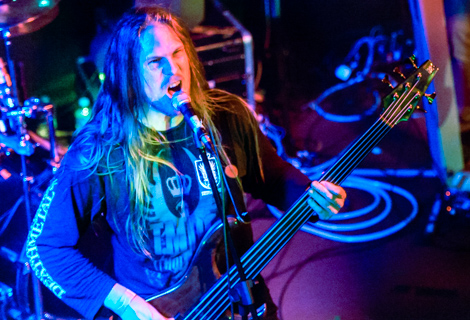 Deathwave Entertainment serves up a multi-layered sandwich of metal, Getintothis' Mark Greenwood, gorges on the offerings.

Getintothis like The Lomax. It's a relatively old school venue with friendly staff, decent beers and a good sound system. Though small, the upstairs is cosy, which means it's very easy to engage with a healthy gathering of fellow metal heads.
The Lomax and promoter Deathwave deserve credit as they regularly present Liverpool with a number of emerging and established metal acts, and for a fiver we're guaranteed value for money on each occasion we visit.
Manchester's Spires are the first band we catch and given their position on the bill they do pretty well to battle with a P.A system lacking volume. It's fairly obvious to us that the band are excellent musicians as they competently navigate through a complex set of progressive metal ordained with neat guitar work and a tight rhythm section.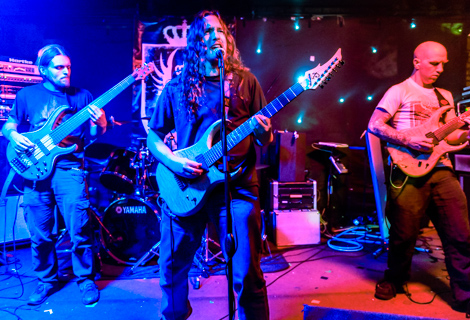 Spires live at The Lomax
The band untangle tapestries of dark metal around shifting time signatures and detailed acoustic sections reminding us of bands such as Opeth and Porcupine Tree.
Unfortunately the live sound of the band doesn't quite live up to their studio output, but given their proficiency of writing and musicianship we're willing to give them the benefit of the doubt. I'd much rather see these lads with a less muddy sound and maybe much further up on a bill.
Checkout their excellent Lucid Abstractions E.P as well as The Infinite Descent from their back catalogue where the band's talents are more accurately represented.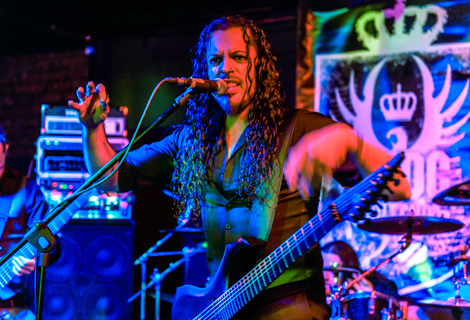 Talanas live at the The Lomax
Talanas are equally compelling in terms of studio output with an impressive pedigree of releases. However, the band have many lessons to learn when it comes to live performance.
The singer/guitarist Hal Sinder appears determined to frustrate the Lomax crowd with a series of boring anecdotes and inane drivel, coming across as a crap Russell Brand. His performance becomes even more implausible as he somehow manages to head bang out of time to a cacophonous din that resembles a broken washing machine full of bricks.
Sorry lads, but to Getintothis, metal is about much more than sharp suits and manicured eyebrows and it's a good job there's plenty of Newcastle Brown Ale to distract me from a poor set that only occasionally stirs the soul.
Fortunately, The Monolith Deathcult save the day with a delicious concoction of brutal death metal, bizzare electronica and lengthy sections of visceral doom, laden with outrageous guitar work and committed vocals.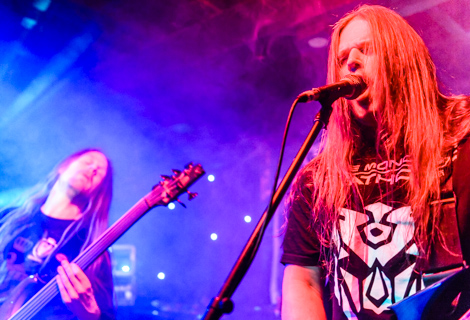 The Monolith Deathcult live at The Lomax
Mysteriously, the P.A system seems much louder and lucid and we're not complaining as the band showcase their brilliant Tetragrammaton album.
I'm guessing the album conceptualises the notion of insects ruling the earth and this works well in a material, live sense as it's easy to imagine hordes of cockroaches spewing from the Lomax stage, entering our cavities and metamorphosising Getintothis into some kind of indescribable alien insect.
These Dutch chaps are great musicians, heavy and fast, they match their talents with grim determination and hard labour resulting in an authentic and honest performance that has multiple heads banging.
Good stuff and respect to The Lomax and Deathwave for chancing their arms and continuing to bring metal to Liverpool.
I look forward to the next brutal instalment.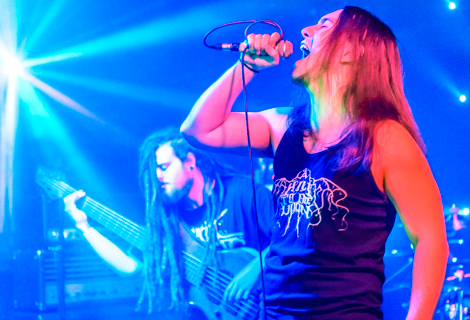 Additional support on the night, Beyond Grace live at The Lomax, Liverpool
Pictures by Getintothis' Simon Lewis.
Further reading on Getintothis:
Getintothis' reviews Gama Bomb, SSS, Divine Chaos, Visceral Attack live at The Kazimier.
Conan, Ninkharsag, Burden of the Noose, Coltsblood: Zanzibar.
The GIT Award 2014: the shortlisted nominees in detail
Getintothis teams up to find new music talent for Grand National 2014
Comments
comments