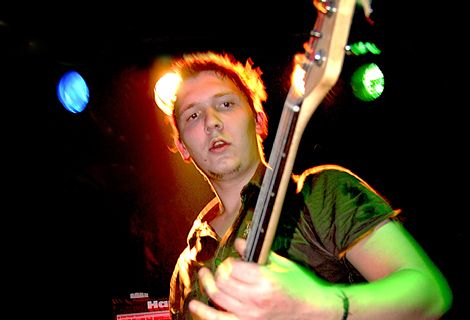 Benefit gig to be held for much-loved Liverpool musician Getintothis' Peter Guy reports.

Tributes have poured in for Liverpool musician Greg McDonnell who died suddenly at the weekend.
Mr McDonnelll, 31, from West Derby was found in his bedroom on Saturday afternoon by his sister Laura's boyfriend.
Mr McDonnell, who worked in the The Royal Liverpool University Hospital after volunteering for a year as a health care assistant, played bass in rock band Day With Mary.
Together with his four band mates, Greg toured Europe supporting the likes of Coheed and Cambria, Fightstar, Million Dead and Hundred Reasons.
Close friend and band mate, Andy Scott, said: "Between 2002 and 2007 we travelled around Europe having some of the best and strangest experiences you could imagine.
"Greg was widely regarded as one of the most caring, loyal, funny and most of all unique people you could ever hope to meet. We all miss him loads."
Sister Laura, added: "My baby brother who gave the best hugs in the whole world always smiling, love you always."
Former singer and guitarist with Liverpool band Go Faster, Rich Collingwood, described Greg as "the kind of guy who would give you his last quid, he was a very popular lad with everybody.
"Rest in peace mate. That time we played an important gig for Liverpool Music Week and he didn't realise his guitar wasn't plugged in…..until the third song!"
Friend, Kate Arnold, said: "I cannot believe this tragic, devastating news. I have many fond memories – Greg was such a sweet, sensitive and funny lad. I'm so so sorry to all his family and friends for their loss. Sleep well Greg, rest in peace sweet man, thank you for the giggles."
Friend Kat Smith said: "Words cant express how sad this is. The world is for sure missing one of its finest raconteurs – Greg could tell a story to rival Jackanory – true gent and silliest souls."
Liverpool gig photographer, Sakura Henderson, who photographed Day With Mary on various occasions and became good friends with Mr McDonnell, added: "Greg was a cheeky, funny, genuine guy and he will be really missed by us all."
Andy Cesar, said: "Greg, gentle giant, funny, kind (would give you the shirt off his back, but it would be too big on you), daft as anything, always late and loved by everyone. Be at peace mate x"
A tribute gig is being set up for Mr McDonnell at Liverpool venue East Village Arts Club on Saturday March 29 to raise money towards funeral costs and an epilepsy charity.
Andy added: "Due to Greg's love of wearing false moustache at any given opportunity, we will be selling them at the gig for people to wear.
"I cannot express enough how much that is what he would have wanted! A room full of people wearing ridiculous moustaches while Day With Mary played. He would be one happy chap."
Those who cannot attend can donate via  www.paypal.com  to the email address gigforgreg@gmail.com
* Anybody wishing to pay their respects to Greg, can do so on Thursday March 27 at St Luke's Church, Princess Drive at 1pm.
UPDATE:
Additional raffle prizes have been added to Saturday's gig – tickets are available at East Village box office. Amongst the prizes are:
x2 tickets for Kings Of Leon at Manchester Arena
x2 tickets for Gary Barlow at Liverpool Arena
A very rare numbered and signed vinyl of the last every Joe Strummer gig.
A 'golden ticket' for any Liverpool East Village Arts club show and meal for 2 in their restaurant
** For more updates visit the Tribute gig event page.
Comments
comments