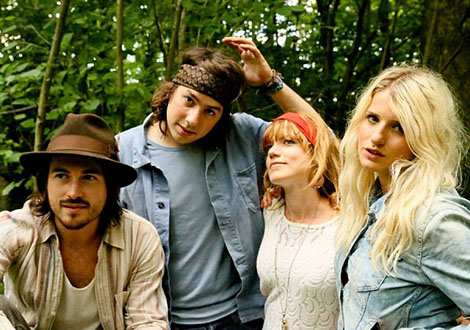 The latest installment of Singles Club sees Getintothis' Chris Burgess take a roller coaster of emotions finishing with a surprise package.

Wildflowers: Let It Go – Single of the Week
This is possibly the most uplifiting song of this week's choices, full of positivity and heartening lyrics. You can't help but feel invigorated and…well…happy!
Usually these kind of songs annoy the crap out of me – sunshine, rainbows and lollipops gets annoying very quickly – but Wildflowers have completely won me over with their Kirsty MacColl-esque melodies.
The video sees the band playing in a rainy forest, which juxtaposes well with the song's positive message. Not sure about that umbrella, though.
They play The Korova on April 30 – well worth going to see.

Perfect Pussy: Interference Fits
Distortion abounds on this solid piece of jangly noise-punk. Singer Meredith Graves' vocals awash with feedback and the interference the title suggests. The Syracuse-based band at times sound like a female-fronted At The Drive in, which is certainly no bad thing.
There's a real urgency and spirit about Perfect Pussy, elevating them above a lot of their contemporaries at the moment.

The Phantom Band: The Wind That Cried The World
Ahead of their hugely anticipated third album Strange Friend, the Glaswegian Robofolk six-piece have released this epically uplifting track. Imagine a robot invasion at Woodstock and you're halfway there!
With a fantastically joyous chorus and pulsating synths, The Wind That Cried The World is a quite frankly monumental song, and bodes very well for their new material.

Pixies : Greens And Blues
Back to form, following their excellent last single Blue Eyed Hexe, the mighty Black Francis and Co spoil us again with their latest track, taken from their upcoming studio album (their first in more than 20 years) Indie Cindy.
Greens and Blues continues their return to full form – rattling along with sweeping and anthemic guitar lines and massively meaty chorus.
Stop reading this and listen to it IMMEDIATELY!

31Ø8: Go To Hell
Go To Hell is, opposite to its title, a nice and shiny little tune, shimmering along with driving synths and minimal beats. It's a very neon poppy track, sitting alongside the likes of OMD.
The brains behind 31Ø8 is Londoner Tyler Zypreska, who appears adept at nailing down that 1980s film soundtrack sound.
Go To Hell is a great introduction to 31Ø8's new self-titled album.

Molotov Jukebox: Neon Lights
Chances are you'll recognise the singer from Molotov Jukebox, but not know where from. Natalia Tena plays Osha in Game of Thrones, usually covered in a film of grime and dirt.
This is a pretty self-assured track from the gypsy-dub outfit, mixing up several genres at once. Great horn section, too. Molotov Jukebox play The Kazimier on Thursday.

Alice Boman: What
The first single from the Scandinavian singer's new EP , What is a beautiful and moving piece, haunting and ethereal.
This is the sort of song that makes the hairs on the back of your neck stand on end. Lovely and heartwarming.

Haunted Hearts: Johnny Jupiter
Haunted Hearts are the side project of Dee Dee Penny (Dum Dum Girls) & Brandon Welchez (Crocodiles). This is a laid back tune, with no real substance to it.
The video is too 80s, trying way too hard to be cool and retro, but just ending up looking rather boring and dated. A female Joey Ramone and male Annie Lennox dancing badly does not a good video make. I'm guessing that live they're a different proposition, except they don't tour as Haunted Hearts.
You can see whether Annie is any good at least, as The Crocodiles play The Korova on the May 22.

Howling Bells: Slowburn
Slowburn is grungey and melodic, with a sexy chorus and loud guitars. Singer Juanita Stein's vocals are playful and powerful at the same time. The London-based band are a cut above.
The video is all slow motion, instrgram-filtered, psychedelic goodness. Can't wait to see them play Liverpool at EVAC on May 3.

Chaotic Five: Enter The Fallen (reprise)
Let's finish with a quick mention of Hawaii's Chaotic Five, who have released a superb rock track – with fantastic vocals, great rhythm section and fine guitar solo. Oh, and their average age is just 13!
Dairen, their bass player, is promoting the band through Twitter (@bassplayer808), and doing a bloody fine job at it. More bands should follow their lead.
Comments
comments