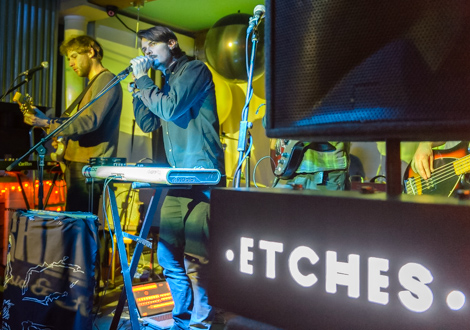 Threshold Festival 2014 unleashes a party-filled Saturday and slightly more sedate, if fitting Sunday, Getintothis' Chris Burgess, Peter Guy and Emma Walsh report back from a blistering two days in the Baltic Triangle.

Saturday at Threshold. And it's glorious. The sun is beaming, and the hangovers from Friday's action are being firmly shaken off.
Getintothis endeavours to avoid the early afternoon live music offerings to take in the arts programme while our legs will carry us. Palmer Hill's derelict shell houses a raft of new artwork; the installations proving the biggest treat a sprawling pink tree with bizarre falling fruit on one side of the warehouse in stark contrast with the monolithic loft insulation creation from ArchiPhonic.
Over in Baltic Social, Graham Smillie's photography of early 80s Echo & The Bunnymen, the Head brothers Mick and John, Ian Broudie and a whole host of other Scouse icons serve as a snapshot into an era rife with politics, cheek, deprivation, community and the sense of musicians rallying against a system which refused to acknowledge them. It's enlightening stuff.
Further up in the heavens of the old Elevator building we're treated to one of the highlights of Threshold's many artistic endeavours; Robyn Woolston's cassette tape exhibit. Having received an anonymous donation of old tapes, Woolston managed to rearrange them by colour (rather than genre, as they were previously) into a spectrum of colour offset by a smaller arrangement of black tapes set beside a small 'house'. It's fun and brimming with personality, and Getintothis can't help but find the mind and eyes flickering through the vast assortment of musical artists on offer. We could have stayed for much longer.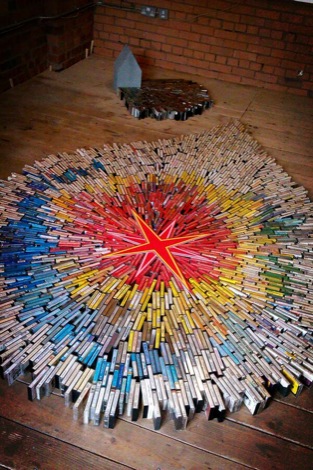 Robyn Woolston at Threshold
Down below, Baltic Social proved to be the hub of the festival throughout the weekend, awash with flat caps and beards (*the* festival look) as an assortment of musicians, artists and performers popped in and out on a regular basis.
Saturday afternoon at the venue saw smart sets from Caroline England and Three Minute Hero, both of whom were uplifting and the perfect set up for the festivities ahead.
Tiz McNamara soon followed, and it's evident that he's growing in confidence with every performance; no longer singing apologetically but with a real bite, thrashing out Hold On to a full house
Next stop for Getintothis was the Nordic Church for a choral performance from Moxie who filled every conclave with soulful harmonies. Far from your typical choir, complete with embittered lyrics and a heavy dose of agitated Spanish guitar. The flurry seemed to spark a bit of life into the sedate audience, which was a good thing, as the atmosphere recalled the church going of my youth – boring as sin.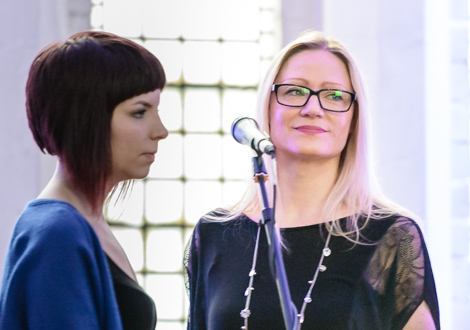 Moxie live at Threshold Festival 2014
There's never a dull moment with Silent Cities, even the atmospheric opening – a melodic transcendent flurry that bordered on the grandiose – led into some real acoustic magic; tickled strings and lullaby vocals. Think Guy Garvey does Jose Gonzalez. Letting loose with loops and tricks Silent Cities made full use of the room's echo, exuding noises which verged on the primal.
Souls suitably enlightened, from the Church to the Bakehouse for a brief but interesting glimpse of The Long Rays who married vocals and beats over pre-recorded tracks. A sweet interlude from these former Dass Unser dudes.
Siren saw the young punk upstarts Pyro performing strongly, although their Arctic Monkeys-esque Wallasey riffs also appeared somewhat at odds with the Siren's light and airy environs. They perhaps would have benefited from being at one of the more ramshackle stages set in the darkness of the red brick warehouses.
From there it was over to Unit 51 to see the far-too-talented-for-his-age Tyler Mensah. GIT Award 2013 nominee, Mensah is seemingly destined to be a star, and it was his characteristic smoothly textured soulful vocals which were once again a highlight.
Over in District, Mutant Vinyl have the foundations for something rare: a saxophone-led rock band. Stay with us. Band leader Edwin Pope fuses guitar, *big* vocals and sax while his well-honed cast exemplify exceptional musicianship all around him. And while the performance is incredible, it's let down ultimately by two key things: virtuosity overload and a memorable songs. It's early days for Mutant Vinyl, if they can rein in the soloing and add a few more winners to their arsenal they're a serious proposition.
With far too much time spent catching up with old friends, it was then over to see Spaceheads at 24 Kitchen Street – the perfect venue for the psychedelic duo, whose space age brand of trumpet loops, deep bass synths and otherworldly jazz beats made them the perfect fit for the festival's Retrofuturism theme.
With Mick Head collaborator, Andy Diagram on trumpet and whirling percussive demon Richard Harrison behind the kit, Spaceheads mounted a sonic attack which teed up the perfect Saturday night party; complete with the parping Cosmic Freight Train which chugged along at a steady groove.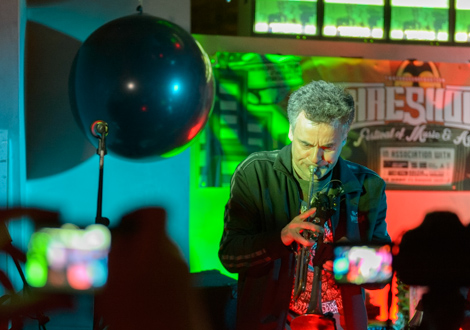 Spaceheads live at Threshold 2014
Kitchen Street, with its looping TV visuals, excellent lighting and great beer simply added to the effect of Spaceheads' interplanetary triumphalism. Best band of the weekend? They certainly were a strong contender, as the ever-growing crowd and spontaneous dancing could attest.
Harlequin Dynamite Marching Band continue the party vibe with a percussive-led kaleidoscopic performance. It's easy to dismiss the Dynamites as somewhat of a novelty, however, there's real craft and measured precision among the clatter and the joyful spirit on stage literally spills into the crowd as they're joined by a barrage of aliens and spacemen as balloons fill the room and everything goes a little Flaming Lips.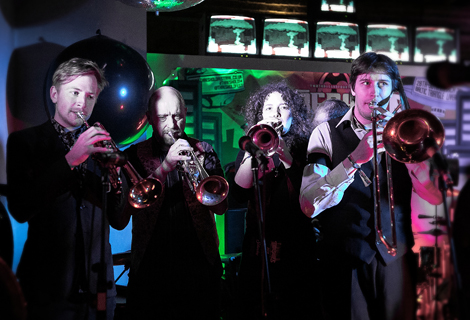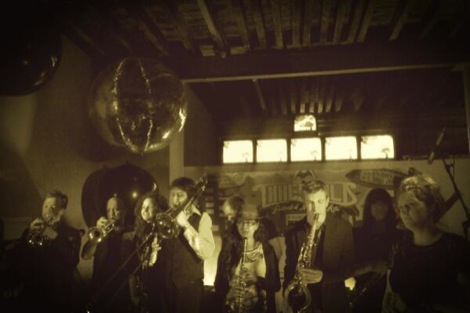 Harlequin Dynamite Marching Band at Threshold
Sadly, the same couldn't be said about the audience for KynchinLay shortly afterwards at District, where the photographers outnumbered the crowd by a good three to one ratio.
The band certainly gave it the bifters, as they say, despite this, playing as if in front of a full stadium. It has to be said though that their pretty standard rock sound, complete with Bon Jovi-alike basslines, wasn't ever going to set the crowd on fire. Even their drummer looked like he didn't really want to be there.
Leeds band DownRadio didn't really do much to improve things either, initially sounding like a Rage Against The Machine cover band, complete with angsty rap vocals, the four piece did manage to show some promise with their slower, more reggae tinged pieces, but the sparse crowd seemed to have lost interest by then.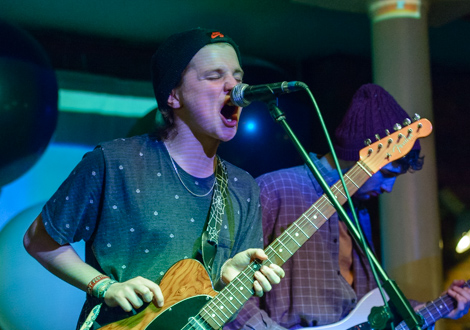 MOATS live at Threshold 2014
Back over at Baltic Social we were ready for MOATS, unique in the melodic intimacy they capture through pure chaotic, unadulterated noise. The baby-faced singer with the big lungs coughed his way between songs but was flawless on vocals, charisma and underlined their status as ones to watch. Props.
At 24 Kitchen Street, there was one of the most remarkable sights of the entire festival – The Part Time Heliocentric Cosmo Drama After School Club, resplendent in gold tunics and space age headgear. Musically, each member of the big band performed their hearts out, with Sun Ra's eclectic jazz numbers finding a great and appreciative cosmic audience.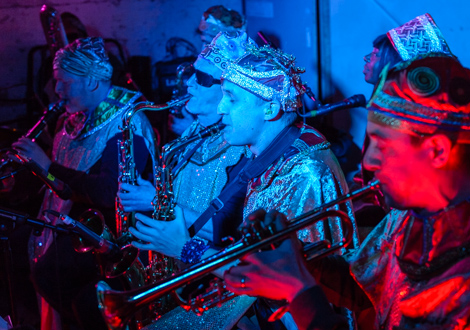 The Part Time Heliocentric Cosmo Drama After School Club live at Threshold 2014
Having previously performed at The Kazimier, the Sun Ra tribute band were on fine form throughout their fabulously epic set.
Continuing at The Baltic Social, Saturday night's Threshold staple, The Mono LPs, delivered a stellar performance to a full house.
Watching a band so tight and justifiably cocksure of themselves as these guys makes up for any mediocre crap you may have endured during the day. Pumping up the energy with tunes such as Look At Those Legs and Emelia, The Mono LPs ensured the day remained on a blustering trajectory.
Jumping on that buzz, Northern indie rockers Urban Empire monopolised on the high spirits of the audience and launched the first real dance floor of the festival.
There's something very 'lads lads lads' about this band, lots of wavy guitar riffs and loud mouth vocals. Departure was a stand out tune but the biggest crowd pleaser of the set was an instrumental cover of Fleetwood Mac's The Chain which closed the set and made way for the big boys of the night, Etches.
With some serious tambourine playing and a real 80s vice show vibe, gritty guitars and gratuitous cowbell Etches knocked The Baltic Social for six. Throw in a slow bass-heavy cover of Heard it through the Grapevine and you got yourself another set grappling for the 'best of the festival' crown.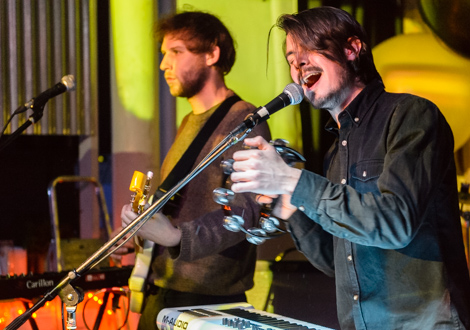 Etches live at Threshold 2014
Over at District Broken Men are in furious form. From the get-go they rip through the fuzz-induced garage blues before adding further backbone with Natalie McCool on guitar and vocals. Just when you feel the rivers of sweat oozing from the stage couldn't gush anymore, they roll out a brass trio and the dancefloor goes into overdrive. Impassioned, energetic and downright ballsy, Broken Men did the business.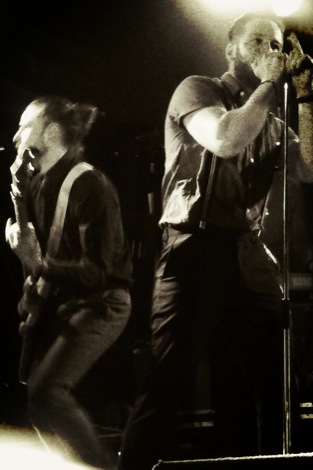 Broken Men at Threshold
There was another big band, where Merseyside gang The Fire Beneath The Sea gave a typically infectious and upbeat ska-rap-hip-hop performance. The District crowd, by now in full throng and high spirits, danced wildly (and badly, in our reviewers case) to each song as directed by the madcap mayhem on stage.
In comparison, the more sophisticated and groove-filled Bristolians, Dub Mafia, seemed rather tame. Marrying drum & bass, dubstep and the odd bit of reggae, singer Eva Lazarus' displayed versatile vocals, however, there was little to mark them out from the crowd – a triumph of over-zealous musicianship rather than genuine song-craft.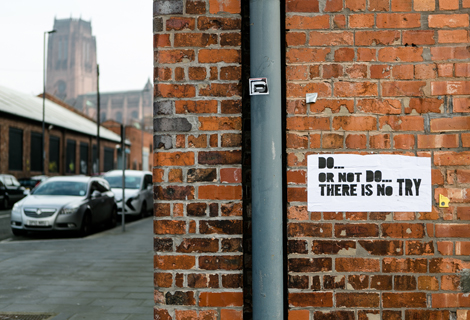 Sunday at Threshold
Sunday's more relaxed billing allowed Getintothis to venture away from the live music and explore the creative community unfold. From the hay bales in front of Unit 51 to the artists unloading and loading vans with their gear, to the array of arts within Palmer Hill, all the while the Sunday sunshine basked down upon this creative urban utopian village.
The length of Jamaica Street, covered in arty posters and small groups of people hanging around each venue's opening, seemed a world away from the rest of the city.
We arrived at Unit 51 just as two stalwarts took to the stage armed with guitars and harmonica. We were expecting some odes concerning fishing or gardening, instead we were treated to a song about "carnal frustration" – simply called Howl to the Moon, kindly inviting the Mother's Day audience to howl at will – if they were so inclined. There was at least one reluctant participant.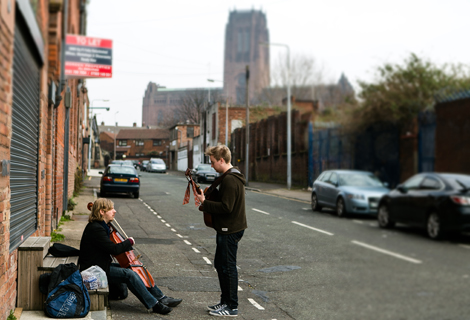 Meanwhile, over at The Baltic Bakehouse things were much more civilised where The Owls, a real 60s hippie folk duo, he in corduroy trousers and checked shirt, she in a white dress, were delivering Mamas and Papas style harmonies, finishing with a rendition of the classic American shanty song Shenandoah.
District, meanwhile, staged 14-year-old Eleanor Nelly, whose belting voice would blow the cobwebs out of any venue. Her take on The Lumineer's Hey Ho as remarkable as her original track, You're My Reason.
At The Baltic Social things had all gone a little Glee with an enthusiastic choral medley of feel-good pop songs complete with hand actions.
They were all so well dressed and clearly on a lot of valium, it woud have been rude to vomit really wouldn't it?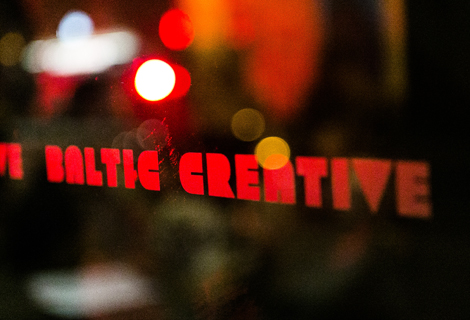 Back at District the rough had arrived. Half Left probably have very good singing voices individually but as a trio trying to harmonise, it's painful. One little boy had his ears covered for the entirety of their set. That kid knows.
Wrapping things up early at The Baltic Bakehouse a group of musicians who only met on Friday were giving it Dixie with some traditional mandolins, bodhrans, banjos and a folky cover of Summertime that hit all the right notes.
Over at District were two teenage diamonds: The Haze absolutely knocked it out of the park with a real rock & roll sound – amazing for a group so young.
The bands seemed subdued compared to the previous day, but listening to the wonderful Night & Days' close harmony mix of swing and jazz standards was a supreme way to ease a growing hangover. It was a stripped down version of the community group's full band, but the Andrews Sisters-style vocals were none the less powerful.
Koala Collective arrived next, with a similar mix of strong harmonies and acoustic guitars. Sadly the background noise of the busy Baltic Social threatened to drown the band out at times – just one minor complaint about the venue.
Heading over to Unit 51, to see the moody and atmospheric piano goodness of Anna Corcoran, she was backed by an outstanding double bass player and minimal percussion.
Corcoran's soaring and heartfelt vocals warmly washed over the assembled crowd with the minimal yet joyous piano accompaniment carrying wonderfully through the venue while her rendition of Horizons Waiting was one of the best moments of the festival. The appreciative audience gave Corcoran an affirming ovation.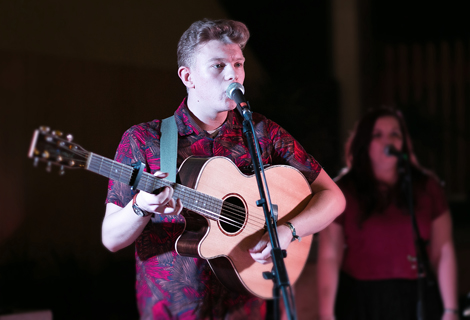 Dominic Dunn live at Threshold 2014
Stepping things up a gear was the ridiculously young and terrifyingly talented Dominic Dunn. The fresh-faced Liverpool teenager was joined expertly by a full band, including three superb backing singers. Dunn is certainly gathering a lot of interest at present and on the strength of this performance it's easy to see why.
Dunn gave an impassioned and incredibly strong vocal performance, storming through his set. From the slow build up of first song I'm On My Way, to the skiffle-imbued tracks lacing the latter part of his set, Dunn was in complete control and not phased by the growing crowd, who roared in appreciation after each number.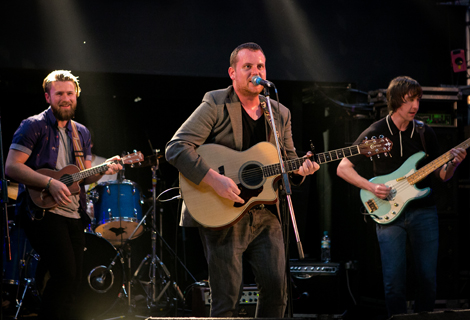 Doodah Farm live at Threshold 2014
Doodah Farm, meanwhile, ticked a range of Threshold Festival pre-requisite boxes: Beard? Check. Banjo? Check. Full of beans? Check. Rallying on full speed with a song about a Road Runner (complete with sound effects) and closing with 999 a song with rhyming so speedy it could have been written for Road Runner too.
Doodah Farm don't do things by half measure so it was a real shame the venue wasn't even half full. Over in District, after a quick bite to eat from the excellent jerk chicken van outside, Liverpool's own Run Tiger Run began to wind up the festival.
At first they appeared to be all haircuts and noise, but soon settled into a rhythm of jangly and textured post-rock indie that again deserved a bigger crowd. At one point there were eight photographers taking up the front row, while the gathered audience – noticeably fewer than previous nights – chose to loiter in the back of the club.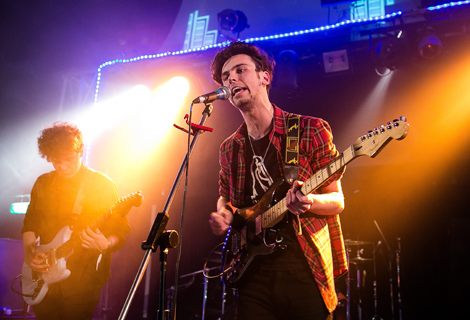 Run Tiger Run live at Threshold 2014
Gaining strength as they played, they soon had the place engaged and loosely dancing away, and you can see why they're making a name for themselves. Each track was better than the last, with the set building to a cracking finale.
The effort put into the festival by the relatively small team is remarkable, and they all gathered together to see the block party DJ Kid Blast close the festival. In many ways this was their one chance to finally let their hair down, and so, flagging, we made our excuses and left them to it.
From humble beginnings in the now-closed CUC, Threshold has staked a claim to be a serious cornerstone in the Merseyside music calender and with the rise of the Baltic Triangle we're more than intrigued to see how this furtive Liverpool communal offering marries ambition to an infectious, spirited vibe.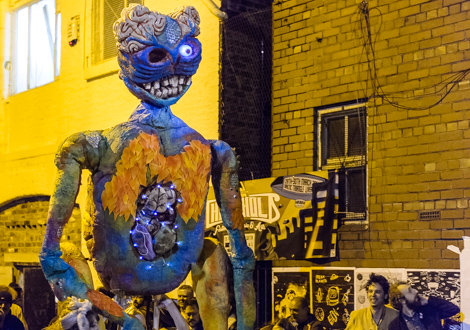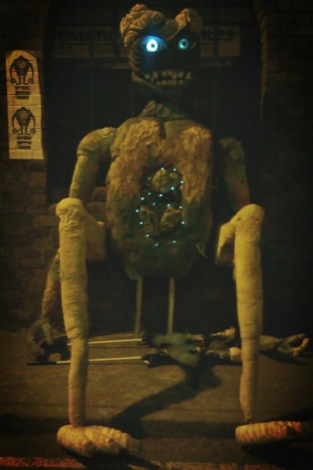 The aliens are in the Baltic Triangle

Pictures by Getintothis' Tom Adam, Peter Guy and Simon Lewis
Further reading on Getintothis:
Threshold Festival 2014 – review and pictures part one.
Threshold Festival 2013: Review and pictures part one
Threshold Festival 2013: Review and pictures part two
Threshold Festival 2013: Picture gallery
Woods, Suuns and Amen Dunes added to Psych Fest bill.
The GIT Award 2014: the shortlisted nominees in detail
Comments
comments