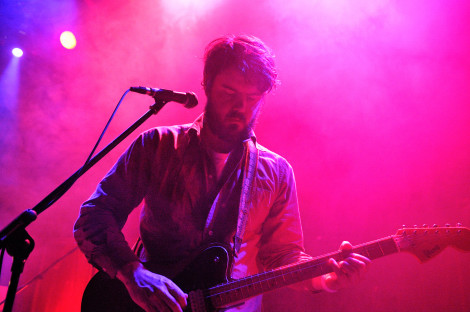 Liverpool Psych Fest 2014 adds heavyweights from around the globe for September Camp and Furance special.

Woods and Suuns have joined Goat as headliners of Liverpool International Festival of Psychedelia 2014 at Camp & Furnace on September 26-27 2014.
Amen Dunes, White Hills, Wolf People, Hills and Sleepy Sun have also been added to the bill.
Further additions are Al Lover's Sacred Drugs project, The Early Years, Holy Wave, Coves and Younghusband.
Amongst the DJ bill are The Chimes Of Big Ben, Andrew Weatherall, Justin Robertson, Bernie Connor and Richard Hector-Jones.
Stockholm-London label Pnkslm will be hosting a label showcase, as will Rocket Recordings who celebrate 15 years at the psych coal face with their already announced as 'Transmissions From The Outer Realms'.
For the full list of bands already announced see Getintothis' Psych Fest 2014 announcement.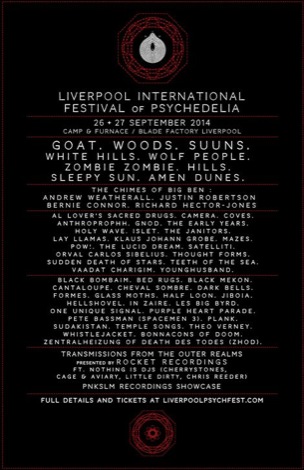 Further reading on Getintothis
Liverpool Psych Fest 2014 make first headline announcements.
Liverpool Psych Fest 2013 review, picture gallery and final thoughts
Liverpool International Festival of Psychedelia 2013: Camp and Furnace & Blade Factory, Liverpool – day one
Liverpool Psych Fest: Camp and Furnace, Liverpool – picture gallery part one
Liverpool International Festival of Psychedelia 2013: Camp and Furnace & Blade Factory, Liverpool – day two
Liverpool International Festival of Psychedelia 2013: Camp and Furnace & Blade Factory, Liverpool – picture gallery part two
Getintothis Top 100 Albums of 2012 feat. Goat's World Music at #2
Anthroprophh, ANTA: Blade Factory, Camp and Furnace
Teeth Of The Sea, Esben and the Witch, Thought Forms: The Kazimier, Liverpool
Comments
comments