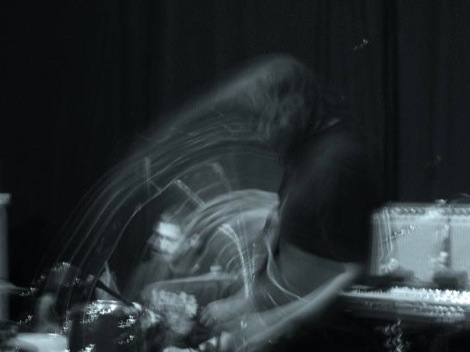 The Heads guitar cult icon Paul Allen brings new psych-beast Anthroprophh to Liverpool, Getintothis' Harry Sumnall finds a band who simultaneously beguile and frustrate while blurring the senses.

It was way back in the midsts of time (the 1990s), when the only way to discover obscure new bands was by leafing through the pages of printed mail order catalogues, that Getintothis first heard of Bristol's The Heads.
Admittedly, their heavy psych-rock sound didn't hold much appeal, as we were more entranced by the more delicate and weird psychedelic psounds emanating from the US underground.
However, 20 albums later they're still going strong, and with offshoot releases on Thrill Jockey (Kandodo), don't seem like stopping anytime soon.
Although we initially felt little interest upon learning that Heads' guitarist Paul Allen had released a solo record under the Anthroprophh guise (via Rocket Recordings – home to Goat, GNOD and Plastic Crimewave among others), once we finally got round to hearing it we was totally sold – at last, a UK equivalent to the Master Musicians of Bukake.
The album is a great distillation of the kind of drones heard on early 70s La Monte Young bootlegs, tweaked with an EMS Synthi AKS, and topped off with rumbling tribal percussion. Coupled with a few promising sounding live sets uploaded to Soundcloud meant we were looking forward to Allen's show for Behind the Wall of Sleep at Blade Factory.
Alas, proceedings didn't start off too well. Support band ANTA were quite an ordeal. This isn't a criticism of their talent, but rocking the sort of riffs we last heard shaking the walls of a Liverpool dockland rehearsal room, their appeal wasn't helped by the sparse, grating reflections of the Blade Factory performance room.
We've yet to hear a good sounding show here; the shape and structure of the room mean that most bands sound like they're playing through a broken Mattel Optigan speaker. Still, ANTA got a warm reception from an appreciative audience – as far as we could tell, while standing around the corner protecting our ears.
For Anthroprophh live shows Allen is joined by fellow Bristolians Big Naturals on bass/keys/tribal drums, and drumkit. Being a largely static instrumental performance (apart from a few assumed utterances to the great god Pan), and without the benefit of a lightshow, the band had to work hard to reproduce the transcendence of their recorded music, and in part it worked.
Their version of album highlight Ende could well have been produced by Bobby Beausoleil's Freedom Orchestra if they had access to Salvia Divinorum rather than prison hooch and the fading memories of psychedelic weirdness.
So too with what sounded like an amalgam of Precession & Entropy, which is where the band definitely deserves its glorious Agitation Free comparison bestowed by Julian Cope; a pulsating ring modulated drone underpinned by motorik tom-tom pounding and pinging electronics.
Where things began to disappoint, was when this subtlety and elegance were replaced with the over prominence of Allen's guitar. This is unfortunate for a band focused on a musician renown for his guitar playing, but on record Allen has the necessary resolve to avoid dominating the mix.
Again, this may be a room issue, but we've grown strangely intolerant of such sounds, regardless of how fuzzed up and wild they are. It's the default sound of many contemporary UK psychedelic bands (many inspired by The Heads), and it feels like we've been listening to the same riff and the same pedal antics for the last 20 years.
So much more perfect are the band's return to hypnotic otherworldly repetitions; an irresistible slow blurring of consciousness, and it's for this uniqueness, which is Anthroprophh's strength, that we'll remember this show.

Further reading on Getintothis
Getintothis on Master Musicians Of Bukkake glorious comeback – White Mountain Return.
Behind The Wall Of Sleep: The faceless spaceheads of Liverpool.
Getintothis reviews GNOD, Expo 70 at Mello Mello, Liverpool.
K-X-P, Gigantes, EYES: Blade Factory, Liverpool
NAAM, Mind Mountain, Big Naturals: Blade Factory, Camp and Furnace, Liverpool
Blade Factory: Cutting edge sounds from Liverpool's white room.
Comments
comments