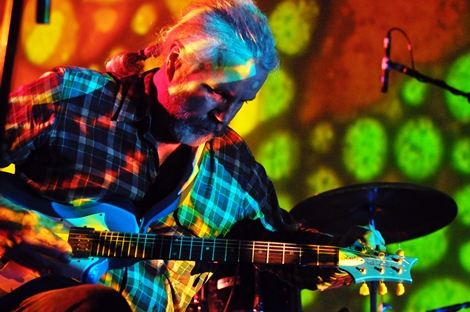 Liverpool Psych Fest opened a portal to new dimensions. Getintothis' Jamie Bowman, Mick Everett and Mark Greenwood report on altered visions, new perspectives and addled minds.

"To fathom hell or soar angelic, just take a pinch of psychedelic" was the advice once proffered by Dr. Humphrey Osmond, the British quack who invented the term 'psychedelic' and gave Aldous Huxley his first taste of mescaline.
But tonight we're on nothing stronger than Liverpool Craft Brewery's excellent Pzyk pale ale but thankfully the music itself still provides a chance to indulge in the spirit of the good doctor's prescription
It's still daylight as Mind Mountain take to the stage in a remodelled industrial Furnace.
The band are very loud and the mix is a bit sludgy as a first wave of freaks emerge in circles around the front of the stage. However, the sound slowly begins to sort itself out as the band emits the heavier dimensions of the psych/prog genus.
Repetitive riffs and extended guitar jams reveal a schizoid of Crimson-esque patterns expertly executed by Joe Hirons. Despite the daylight, the band are fuelled up, roaring through a familiar set and it's a little disappointing that the band weren't programmed later in the day such is the quality of their set.
Base Ventura kick proceedings off in the Blade Factory but unfortunately a marker isn't thrown down. Their garage racket feels uninspired, going through the motions. Psych by numbers. This is a pity as we've seen them perform on a level above this. If a template is to be stuck to then energy is a must. Sadly, this was lacking this time. By comparison, The Wild Eyes trace this familiar template with more spark, purpose and, dare we say it, tunes.
Manchester's Kult Country, who supported Dinosaur Jr. at East Village Arts Club in September provide a set that is psych by name only. Although the band do share certain thematic qualities with some of their contemporaries on their bill, their glacial, expansive soundscapes and bored vocals recall the early nineties luminaries of shoegazing.
When they explode with dramatic tension and a fair amount of tambourine shaking however, it's thrilling stuff indeed as the darker sound of 80s legends Loop is channeled into a pummeling and noisy racket.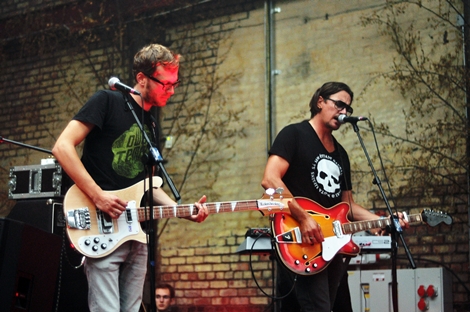 Dead Horse One at Liverpool Psych Fest, Camp and Furnace
Dead Horse One and Yeti Lane each offer different approaches to the psych genre, demarcating softer interpretations which are warmly acknowledged by an ever-growing gathering.
However, it's only when darkness descends that we begin to feel the full affect of the Furnace and its synaesthetic qualities. Given the passive nature of the psyche experience, we hope a generous portion of self-medication will coincide with the epiphanies of Lorelle Meets the Obsolete and we're not disappointed by a set that absorbs the amphetamine sweat of a darker psych movement.
"Do you want to see a real beard?"
As stage introductions go Cosmic Dead's opening line sounds more like a threat than an invitation and when it is backed up with some vicious route-one space rock the sense of dread only grows.
Describing themselves cheerily on their website as "Scotland's foremost Hawkwind tribute band", there's actually some truth in their self-deprecation as their oscillator burbles away over their primitive but hugely enjoyable Kraut-inflected boogie.
After the Dead's hyperactive heaviness, Carlton Melton bring us back to earth with a drone so steady you could set your cosmic clock to it. Their trip is all about the journey and as each elongated 'song' spreads its mandibles around the room, it's clear they are in no hurry to get there.
This Californian five piece came highly recommended by their label mates Mugstar and although their appeal makes itself known, they could perhaps have done with a bit of the Liverpool band's jet plane propulsion.
Still as the fourth pint of Pzyk begins to do its work, swaying seems a good thing to do.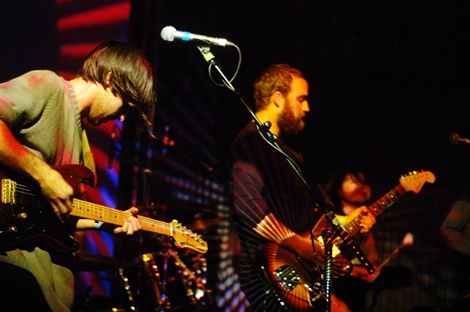 Kult Country at Liverpool Psych Fest, Camp and Furnace
Back in the Blade Factory, thrill jockeys Plankton Watt ripped the psych template up and started again with basic building blocks of prog, psych and folk.
Free of bass and drums the solo guitar player improvises his way efficaciously through the various genres that sit under the umbrella and catch-all term that is modern psych. It was nothing short of majestic.
The Oscillation had a layer and depth to them unmatched so far in the Blade Factory. Krautrock drums lead the way here and provides the bedrock for their wonderful sound. They call to mind a more intense Silver Apples, and that's no bad thing!
There's a strange formation of grey urinals on Greenland Street. It's a wee unsettling conversing with Germans about Dead Meadow while relieving yourself in full view of a mingling throng of dope smokers but nonetheless a seemingly effective way to control the abject dispersals of a messy crowd.
Meanwhile, back in the Furnace, Dead Meadow meet high expectations with a textured tapestry of wah guitars and stoner loops that set them apart from many of their contemporaries.
A short detour to try some excellent pizza and sample the atmosphere outside on this balmy autumn night brings us into contact with Spacemen 3 legend Sonic Boom's 'immersive audiovisual collaboration' Animorphia which is as mind bending as the great man's music.
Suitably refreshed we head back to Camp just in time to catch one of our favourite bands of the weekend, Seattle trio Night Beats.
Now when it comes to the kind of psych we like, the bible is the original Nuggets compilation – as great as all this droney, shoe gazing is sometimes you can't beat hearing some deranged fuzz guitar wrap its way around a lyric so snotty it should have an ASBO.
Thankfully Night Beats provide such a thrill with their hallucinogenic thrash through the back pages of every great garage band from the 13th Floor Elevators to the Electric Prunes.
There's a pleasing soul flash to their songs too which means they never overstay their welcome. When frontman Danny Lee Blackwell mounts the not insubstantial speaker stack for a bout of testifying it makes perfect sense but in all honesty he's preaching to the converted. Superb.
It's at this point in the evening where the mind starts wandering and it's difficult to focus as everyday objects appear to take on magical properties. As such, the heavy blues meanderings of the Psychic Ills evoke a trance-like state, with superb visuals in the space beginning to stimulate new cartographies of the Getintothis cerebrum.
Impressive sets from Moon Duo and Klaus Johann Grobe close the live aspects of the Furnace tonight, where prog/psych and kraut-rock collide in a kaleidoscope of textures and driving, synthetic rhythms.
The Psych Fest's organisers' tactic of placing heavy followed by gentle again strikes gold with the Holydrug Couple who, like many of the evening's bands, aren't ashamed to betray their influences with a catchy moniker.
Hailing from Chile, they combine a sunny optimism with gorgeous chiming reverb washes and dreamy grooves. It's beautiful, hummable music, made for sun dappled days in the park as the lovely Counting Sailboats suggests.
Sadly Warm Digits proved to be a psychedelic bridge too far as the swirling atmosphere of this wonderful event finally took its toll. Rarely has Liverpool ever seen a line up of such quality or consistency – and this was just one one stage of three.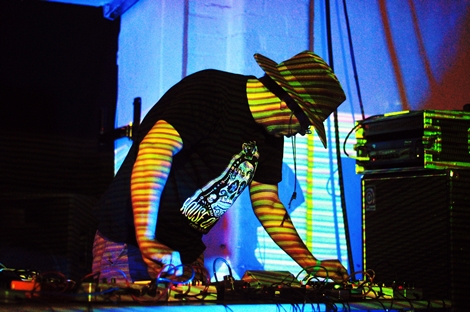 Mordant Music Miasma at Liverpool Psych Fest, Camp and Furnace
Now we come to Mordant Music Miasma, a frightening collective of fevered minds with savage intent. They plied a trade in dark electronica that was as confrontational as one of their entourage. A woman dressed in black screamed expletives to the small crowd for not being in the moment. I can assure you we were, if more out of fear than anything.
Slices of techno falling apart while jabbering of damned souls filled the Factory. They even got their dance on. No guitars here either. Baron Mordant, Ekoplekz, Vindicatrix, Zeke Clough and The Black Mariah; we salute you. They went the way of the weird.
Add in the lights, the food, the drink, friendly security and just the fact this is happening here in Liverpool and you have an event Dr. Humphrey would have been proud of.
It must be said that Camp and Furnace have worked hard to improve the festival from last year, where the aesthetic qualities of the space are utilised in a much more material sense, using a stockpile of technology to further enhance the psychedelic oeuvre.
As such, the overall experience, on this opening day feels complete and innovative. Roll day two. What do we seek? Oblivion.
Pictures by Getintothis' Nata Moraru.
Further reading on Getintothis:
Getintothis exclusive: Liverpool Psych Fest 2013 returns with two-dayer at Camp & Furnace.
Getintothis reviews the Liverpool International Festival of Psychedelia featuring The Time And Space Machine, Dead Skeletons, Wolf People and more at Camp and Furnace.
Getintothis' Liverpool International Festival of Psychedelia – picture gallery.
Getintothis talks to Will Sergeant on his love affair with psychedelic music.
Comments
comments