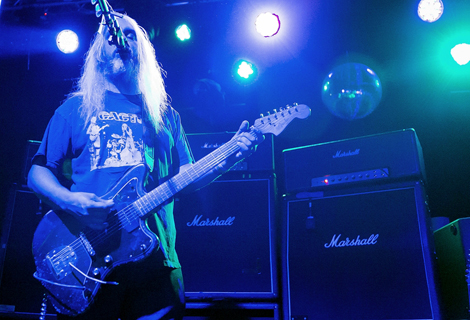 Dinosaur Jr stomped their way into Liverpool and left no stone unturned in their quest for noise. Getintothis' Joseph Viney did his best to stem the flow of bleeding ears.

It was Napoleon Bonaparte who asked, probably with a characteristic Gallic shrug, "what is history but a fable agreed upon?"
For all of his shortcomings (y'know, the whole prolonged war thing), the eventually-exiled one was onto something.
Music history tends to count the last ones standing, and after a long and dirty three decades of campaigning, Dinosaur Jr remain very much in rude health.
Not for nothing did their appearance at East Village Arts Club mean the venue was absolutely jammed to the rafters.
Burnt out crusties flitted in between younger types looking to see the work of their forebears. Any in attendance who didn't fit that description didn't know it, but they were in for a rude awakening.


Kult Country at East Village Arts Club, Liverpool
Able support on the night was provided by Manchester's Kult Country; a group very much cut from the same cloth as Dinosaur Jr.
Their inclusion in this month's Liverpool Psych Fest speaks volumes, for here is a band that deal in big noise and shattering effects.
Songs containing real power and focus such as Slowburn and Amongst The Dead Forever still contrived to catch the audience unawares.
On a night duly dedicated to the visceral, shock and awe power of music, Kult Country managed to lay down a very visible marker both for themselves and the style in which they plough a furrow in.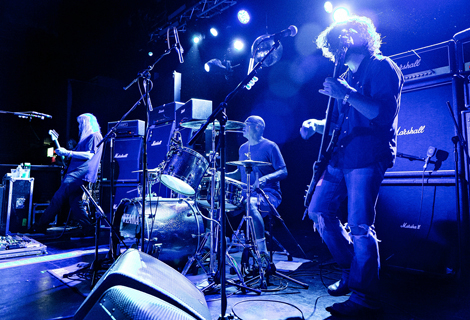 Dinosaur Jr at East Village Arts Club, Liverpool
Given their reputation and standing, Dinosaur Jr remain very much a low-key, no frills kinda group.
Dispensing with the art of stage patter (something few bands actually get right anyway), it was full throttle from the first wah-laden, distorted chord.
Opener In A Jar broke out of the traps like a starved greyhound with bassist Lou Barlow treating his bass almost as if it was unwanted; thrashing and smashing the strings with reckless abandon.
All the while vocalist, guitarist and band leader J. Mascis stood firm in one position all night, alternating between winding solos, loud noise and, well…even louder noise.
Although a muddier sound quality than your average gig was expected (Dinosaur Jr wield the power to blow speakers via CD if you let them), the one downside of the night was the relative absence of vocals in the mix.
Mascis' lyrics veer from the surreal, to lovelorn to just downright confrontational and to miss out on a great portion of them was something of a disappointment.
One contact of ours in the venue stated there were early walkouts citing "the worst sound they've ever heard". That's more than a little melodramatic and it turned out to be their loss on a big scale.
When you're dealing with twisted battering rams like Freak Scene and the always excellent Watch The Corners, you can forget any technical hitches. They make it all look so effortless and how just three people can make a noise like that we'll never know.
Set closer and encore is a recital of The Cure's Just Like Heaven; fitting really.
It's no secret that the trio have had various pitfalls in their personal relationships with each other, but it remained heartening to see a tight performance born from a near-lifetime of playing together.
Besides, in reality they have to keep it together anyway. What else can they do at this point? Is J. Mascis going to up sticks and work in a call centre? Will strong and silent drummer Murph suddenly apply to fill up the shelves at the local Wal-Mart?
Doubtful. For all of their faults, these are professionals we're dealing with and it shows.
Once we've been roughly dragged through the hedges of songs like Start Choppin' and Little Fury Things, there's not much time to think about such things anyway.
Pictures by Getintothis' Tomas Adam.
Further reading on Getintothis:
East Village Arts Club: Liverpool music is exciting – we want to be a part of it
Liverpool music 2013: Highs, lows and best of year so far
Liverpool's gig calendar 2013: Guide to essential gigs not to miss the rest of this year
Comments
comments