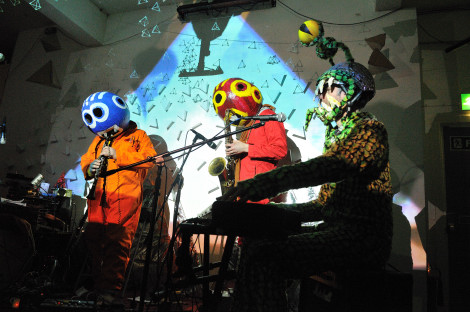 Threshold Festival 2013 concludes amid a sea of colour and a melting pot of music, Getintothis' Marie Boon and Emma Walsh are left exhausted but ever so slightly exhilarated.

Following Threshold Festival's opening day extravaganza, Saturday's 'Transformation' theme seemed an appropriate phrase for the sheer wonderment of Paddy Steer's Three Pronged Audio Bath.
What unfolded was without doubt the highlight of Getintothis' festival. The chaotic all star ensemble, especially put together for Threshold, consisted of Graham Massey of 808 State and Bjork's album producer on bass clarinet, Albaster DePlume on sax and Cinematic Orchestra collaborator, John Ellis on keys.
Not to mention the Mancunian genius himself, the mad musical scientist that is Paddy Steer. It's not the first time that Paddy has graced Liverpool with his loveable charm, enticing us into his recycled world of homemade synths, DIY percussion and exotic lap steel, but it was the debut for this particular blend of cacophonic masterpiece.
We were never quite sure whether the excess noise and stuttered feedback were intended, but it worked either way and as they went out with a bang in a unique rendition of Moon River, we were totally bowled over by their homemade experimental tropical groove.
The Gold Room – undoubtedly the most experimental stage of the festival – never ceased to offer intrigue and excitement thanks to host promoters, A Culture Less Ordinary.
Just when you thought it couldn't get any weirder as Paddy's cackle cleared the stage, Inc.A piled onto it. Dressed in military gear through the ages (yes, there was chain-mail), they hammered out a string and brass mash up of slightly Eastern influenced jazzy marching band madness. We loved it.

Esco Williams, meanwhile, drew a huge crowd on the beautiful paper garden stage, and gave a polished performance with some soulful backing singers.
With such an abundance of weird and wonderful musicians and artists to choose from though, Williams' r'n'b vibes weren't particularly enthralling alongside some of the originality and creative genius that the festival had to offer, but a bit of calm before the storm was welcome all the same.
Much more in tune with Threshold's reputation for showcasing Liverpool's grassroots talent, we felt, were We the Undersigned. They stormed the stage in tribal fashion, belting out their self-proclaimed 'stankh' with colourful gusto and imparting positive energy through the room.
Their reggae, funk and rap infused sounds was perfect festival music, and they followed smoothly from The Elementals, who had warmed us up with equally enthusiastic and entertaining jazz hip-hop fusion earlier on.
Stankh Records did a sterling job promoting the Circus Stage throughout the day, with Brouhaha and Fire Beneath the Sea giving it welly in the early evening and even succeeding in rounding up most of the MixNot crew in case there was anyone left not dancing by the earlier hours.
Finally we headed back over to the Picket, where gypsy jazz crew, The Long Finger Bandits had been another festival highlight earlier in the day. Now though it was time to get down and dirty with Skanky Panky all stars, Buddha and William Breakspear and celebrate another supremely eclectic day at Threshold Festival.

Sunday at Threshold

It's Threshold, it's Sunday and even the weather was baltic.
Gathered in the new creative quarter of the Baltic Triangle, and despite the threat of snow, the festival had brought the joys of spring with crocheted butterflies, bees and flowers decorating the shivery walk between venues.
Warming up at Elevator with a tea in hand, the first taste of Threshold had a distinctive acoustic feel with stripped back sets from Spoony Bard, The Terry Grey Band and the wonderful Oxtoby who saw the first dancing toddler of the day with a cover of REM's Losing My Religion, providing the gentlest easing into a Sunday afternoon anyone could have asked for.
Over at the Paper Garden stage in Camp and Furnace, Getintothis was lucky enough to catch the very sweet Simeon at Folk-e-oke, her beautiful voice and a beautiful cover to match of The Beatles' I Wanna Hold Your Hand demanding the full attention from the mumbling crowds.
Very little else managed the same feat until Brazuka, a combination of drummers and Movema dancers gathered the greatest crowd of the afternoon, unsurprisingly as they could be heard from every corner of Camp and Furnace, beating and dancing up a storm.
Sunday's Threshold theme of Collaboration, demonstrating the diversity of all Liverpool has to offer couldn't have been clearer as the booming drums of Brazuka gave way for the gritty, bluesy sounds of Dave O'Grady.
With shades of Foy Vance in his songwriting, O'Grady breathed a little life into the afternoon with a heartfelt rendition of Neil Young's Only Love Can Break Your Heart and Mother's Day dedication of his own My Oldest Friend.
With something ominously familiar about the name, the first sight of Frances Wood tottering on stage in huge shoes was enough to set the TALENT SHOW sirens off.
A former contestant on BBC's The Voice, there was something particularly manufactured about Woods' performance with a stream of poor covers, including Tracy Chapman's Fast Car (doesn't she know that's Ogo's territory?).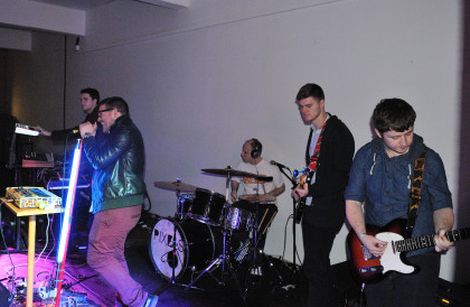 Pixels get busy live at Threshold Festival
Maybe in context Woods has the potential to wow, but at such a grassroots festival as Threshold, she stuck out like a sore thumb in a bowler hat.
From sore thumbs to sore heads, Getintothis was in need of an injection of LOUD. And ORANGE. Cue Jazzhands, who proceeded to wake us up from a Frances Wood-induced coma.
Naturally the prolonged set up and soundcheck involved the placement of dustbins, space hoppers and a quick costume change into balaclavas and dresses – although why any technical team wastes time trying to soundcheck Jazzhands is baffling, it's not like they play to any kind of rules, and how exactly do you get optimum sound from someone headbutting a dustbin?
Climbing back out of the rabbit hole, we nipped across to Camp where the performance offered from Creative Community Choir was much more Mother's Day.
Over at the Paper Garden stage Jessica's Ghost demonstrated the good, the bad and the ugly of country and western while Blade Factory served up ear-bursting heavy rock and strobe to boot.
For a band with such skinny arms they can really bang out such an epic sound, and with tunes like Red Eyes the more welly they give it the better.
Over at Elevator, a technical maze for nine-piece The Wretched Pearls – already a vocalist down – their pretty little singer was a lost in the mash of sounds, but with a bit of audience participation and the beautiful touch of a strings section, the white-clad gang struggled through.
Fresh-faced MiC Lowry took to the Paper Garden stage on the edge of the watershed; an odd stage timing considering their teeny-bopper following, but they charmed their entire audience back to blushing schoolgirls with their melodic mash-ups.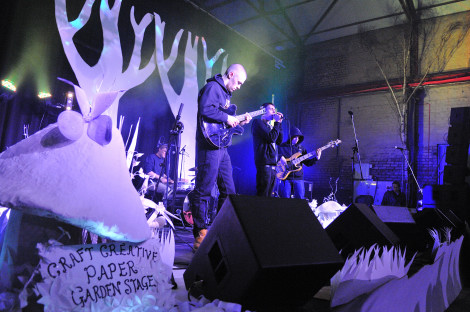 Coffee and Cakes For Funerals blend in among the plant life live at Threshold Festival
From clean cut R'n'B to Liverpool's own edgy sweetheart Natalie McCool brought her unique blend of haunting songwriting, mesmerizing guitar and heart pounding percussion.
McCool has a wealth of crowd pleasers in her own songbook with Size Zero and Dust and Coal, but her mashup of Nightcall and A Real Hero from the Drive soundtrack has every trace of her beautifully melancholic sound.
While sound checking delays usually grate on any reviewer at a festival, sometimes it has its perks, like turning up expecting to snatch the tail end of The Thespians' set but actually catching their entire belter set. The Elevator crowd, now suitably pumped to bring the festival to a close, were in for another treat from the Mono LPs, boasting the rockiest cello player in the business in the shape of Vicky Mutch, and in Daniel Beech, a drummer with the unwavering stamina of a monkey with a miniature symbol.
Charming the audience with tunes such as Flame and You Make Me Sick (a request from the crowd, not a heckle as initially believed), lead singer Ste Reid summed up the feel of the festival in its third year, 'Liverpool is still the capital of culture'.
Rumjig took up the closing ceremonies, swaying the beer-soaked crowd with their skanking reggae sounds, but things were never going to go out on a mellow note.
With the Threshold organisers and volunteers filling up the floor, Rumjig brought the tempo up with funky Latino beats that had the whole room shimmying.
It was an emotional end for directors Kaya and Chris having put in so much hard work and they received the greatest cheer of the weekend when they confirmed plans for Threshold 2014 were already underway. What better way to wrap up the festival.
Pictures by Getintothis' Gaz Jones.

Threshold 2013 by James Kirkham
Further reading on Getintothis.
Getintothis review and pictures of Threshold Festival 2013 – part one.
Getintothis Threshold Festival 2012 – review and pictures part one
Getintothis Threshold Festival 2012 – review and pictures part two.
Comments
comments