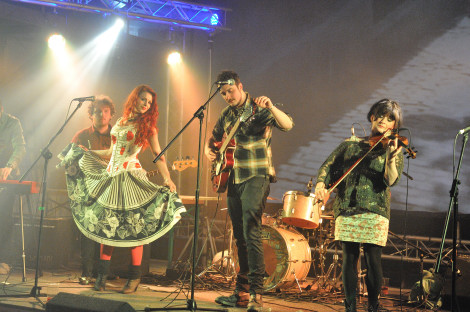 Threshold Festival 2013 poses serious cultural questions while thrusting Liverpool's finest grassroots arts, music and performance into the spotlight. Getintothis Eric Blair and Terri-Anne Baker absorb the riches.

The old industrial buildings that line Jamaica Street and its surrounding area bulge and remain as haphazard as broken teeth.
Though fear not for the safety and future of this once-bustling economic area, as some of Liverpool's finest creative dentists have stepped in to reclaim it.
Threshold Festival, now in its third year, and its 2013 event was a stark lesson in potential, variety and just plain old entertainment.
Based in and around the new, bright facades of Camp & Furnace, Elevator and the forever-in-our-hearts Picket, the three day creative jamboree promised much and delivered more. With hundreds of acts ranging from bands, escapologists, installation artists and interpretive performers, these large and once-neglected buildings were host to a multi-faceted, layered universe of anything and everything.
A typically cold night did little to deter the event's attendees, and the warmth on offer within Camp & Furnace provided by a roaring, open log fire was the first pleasant surprise of a vibrant and awe-inspiring evening.
The theme for Friday's shenanigans was Escapism and Getintothis was transported into a world full of optimistic promise.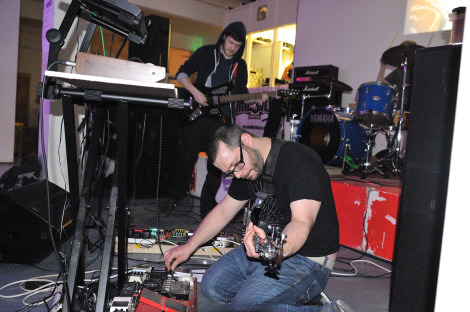 Alright The Captain at Threshold Festival 2013
The primary venue Camp and Furnace, which at first seemed to be a huge looming space – a blank white warehouse shaped canvas that seemed to reflect the innocence and infancy of this grass roots festival – on closer inspection took you beyond initial impressions and into a world of quirky, inspirational art installations.
"I tried to put myself in the position of someone locked in a white room with no human contact whatsoever; an environment where people's opinions don't concern you. However bit by bit it eats away at your sanity," suggested visual artist, Adam Collier.
Collier's words certainly struck a chord; here was a festival that did not try to be influenced by commercial branding, instead we felt invited to make of Threshold what we will and escape into an alternative world.
Early doors we take in, experimental folk band Avital Raz and The Chosen Ones inside the Furnace – which incidentally covered its picnic tables in white paper and coloured pens, inviting audiences to let loose their inner artist.
Avital Raz, raised in Israel and the US gave an ethereal performance effortlessly blending Western and Indian music with a clear message of love and harmony, pronouncing 'bring peace to the Middle East' – a subject clearly close to her heart.
Her velvety voice; beautiful but melancholic weaved a tapestry of sad love songs and stories, intensified by the Paper Garden Stage, a backdrop provided by Craft Creative. Transported into a garden of Zen, assisted by Avital's mad mop of blue hair the whole performance became a living work of art.
On the subject of art, Getintothis made our way up to the Art Attic in Camp and Furness to take in Robyn Woolston's installation Loci – Double Bind, her interpretation of environmental concerns and the truth of what we should be doing and what we are doing to the world today.
Her piece consisted of over 1000 electronic gift cards valued between £5-£10 which created a sea of colour – this beautiful sea of now worthless plastic lay strewn across the floor; much like the lasting stain and impact on our planet.
Her trees entwined in thread created an atmosphere of tension; you almost wanted to break through the strings and dip a toe into the gift card ocean but were ultimately forced to stay on one side. Robyn made a point of recycling her winning piece for the Liverpool Art Prize and echoed her installations from the previous three Threshold festivals. Provocative and philosophical; Robyn's work invites you to question your environmental responsibilities and think twice about engaging in a disposable society.
But what really druw us in was a performance art piece called Squelch – Julie Hill and Izzy Major transported the audience into a surreal world questioning the very essence of supposed womanliness, female stereotypes and all things pink.
Dressed in dishevelled tutus, girl guide uniforms and chintzy aprons, this piece had overtones of the loneliness one can encounter while trying to play up to and fit into the misconstrued mainstream media conception of what it is to be a woman.
This piece, created for International Woman's Day was a psychedelic lonely hearts; questioning the trappings of sexuality or 'the squelch of doom'; it was a Freudian critique, a rolling out of venereal pastry challenging and at the same time casting off the sexist notions of what it is to be a woman – and a strong independent one at that.
Highlights included the gunging of a Barbie doll with a strange mustard like substance and an abundance of glitter. Lovely.
Meanwhile, there was much noise to be found elsewhere. Local promoters Newpath staked their claim for hearts and minds early on at the venue's designated Blade Factory room, with Wired To Follow kicking off an excellent showcase.
The group, featuring members of the haunting MinionTV, offered a crash course in atmospherics and soundscapes of epic proportions; providing much in the way of imagery without having to say a word.
The sterile whiteness of their immediate surroundings played off well against their music, crashing like waves into an audience that couldn't help but sway and meditate along with them.
Cleft, the dizzying duo from Manchester, were something of a different proposition. Their relentless riffing, jagged time signatures and vibrant energy were akin to the last flashes of the resistance in a war-torn, dystopian wasteland.
Having being forced to give up the gentle swaying, those watching were sucked into a head-banging stop-start world. They have everything you should require in a band, and with an album on the horizon expect to hear a lot from and about this most intriguing of set-ups.
As Cleft packed away and many in the audience leaping at them for their pound of congratulatory flesh, the many oohs-and-aahs, followed by rabid bursts of applause coming from the main hall drifted through. Curiousity piqued sufficiently, the journey back through the swollen, maddening crowd was not with reward as a topsy-turvy acrobat show took place.
Normally associated with ye olde world circuses and the modern trappings of Cirque Du Soleil, the genuine art of acrobatics might seem a little off-putting to the common man; as high minded, impenetrable and dangerous as its practitioners.
But nobody seemed to care about that when they were in the moment. Watching lean, mean and well-schooled gymnasts performing what seemed like unimaginable feats, skirting the line between amazing athleticism and near-death experience, showed what virtues of physicality can be conjured up with stringent applications of dedication and hard work.


Book Thieves live Threshold Festival 2013
The short walk to the Picket on Jordan Street threw up Liverpool band, Bolshy. This plucky seven piece played to a sea of dreads, parka jackets and Dr Martins seemingly throwing down the gauntlet as Threshold heroes.
Their very own Bolshy Blitz took place on Monday last week to drum up support for the festival, 10 gigs in 10 locations inside 24 hours providing a racket that flits between chilled reggae to upbeat punk rife with political edge.
Injecting a youthful spirit combined with a dark brooding atmosphere the Picket stood in complete contrast to the serenity of the Camp and Furnace. As we headed back our path was decorated with knitted t-shirts strewn between the lamp-posts highlighting the creative nature of Threshold which couldn't help but draw a smile to my lips.
Checking our schedule, which was hopeless, as we were running at least an hour behind, we make our way upstairs past the wall of ladybird books and into the Gold Room.
A barren space save from the rows of tiny Lilliputian paper tents containing enchanting little shadow puppet scenes, origami animals and butterflies we're invited to take on the role of Gulliver shipwrecked on an island full of magical festivities.
However, we weren't here to befriend fairies or nymphs, but to check out two piece Statement Haircut.
Satirical hand drawn projections provided the backdrop to their performance, as Darren Reynolds and Michael Stevenson engage in dynamic electro-pop creating a cavalcade of sound of industrial techno, and soaring synths.
Threshold director Chris Carney even added a cameo as their set billowed into a crescendo of electric rain.
Later, the presciently-titled Gold Room lived up to its billing as So Sexual, addictive to watch and champions of the broken hearted, laid down the law with a set performed against a backdrop of pastoral shadow imagery.
Silhouettes of owls, crooked trees and mystical, mythical beasts stood and watched with the rest of us as the four-piece, gaining in confidence and wherewithal with every show, invited us to draw comparisons with groups of the calibre of Interpol and The Cure.
With EDiLS Recordings masterminds Phil Rourke and Jay Dyke taking their place among the groups ranks, it seems to be only a matter of time before So Sexual get their oats.
Over in Elevator – a more homely, intimate setting, saw The Book Thieves and Fidel Afro take to the stage. The latter's Led Zep, roots-rock had undertones of Hendrix with it's banshee guitars.
Book Thieves, meanwhile, were so loud we took pity on the band's amps, which were tottering precariously as flame-haired lead vocalist Will jumped energetically around the stage. Drummer Dan Marsh provided a dazzling base with his relentless pounding while the complementary goodie bag with the obligatory stickers, badges CD, fake beard and novelty glasses proved an added treat.
Back to Camp, and Johnny Panic and the Fever (main picture, top) blended infectious gypsy, folk rock and indie rhythms attracting a harem of belly dancers to the floor. A final trip to Elevator sees Broken Men unleash a baptism of sonic fire for these ears; stoic prose pours from the stage as they remain eerily disengaged with an emotional detachment that proves slightly unnerving.
Back into the Blade Factory and the fearfully excellent Kusanagi waged war against any number of invisible enemies with a catalogue of songs that displayed their strength, composure and vitality.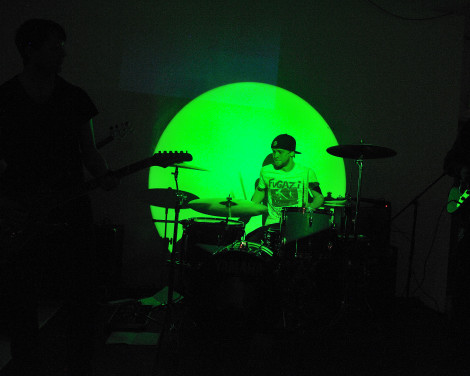 Kusanagi live at Threshold Festival 2013
All through each performance, Newpath and their charges beamed video images of wanton consumerism onto the walls behind them; the relentless work of factory production lines, people being good little consumers and the sheer facelessness of it all. Compared and contrasted with the combustible elements on stage, it was a curious mix of old and new, synthetic and organic, falsehood and truth.
Such juxtaposition proved to be the story of not just the night but Threshold Festival itself; underneath the same-old-story of an everyday reality that never seems to fit into place anyway, is something being fostered right under our noses.
It's a combination of factors that should be nurtured, cherished and most importantly, enjoyed. This year's qualified success should certainly ensure the return of Threshold in 2014 and the continued growth of the artistic community that surrounds it.
Part Two of Getintothis' Threshold Festival 2013 plus a picture gallery will follow Thursday.
Pictures by Getintothis' Gaz Jones.

Threshold 2013 by James Kirkham
Further reading on Getintothis.
Getintothis Threshold Festival 2012 – review and pictures part one
Getintothis Threshold Festival 2012 – review and pictures part two.
Comments
comments