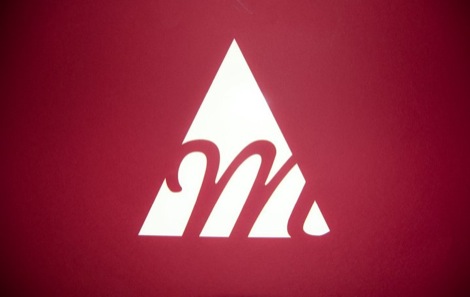 Milk:Presents are at the forefront of Liverpool's arts scene. Melding music, design and outrageous happenings, they're fast becoming one of the city's go-to agencies for innovation and ideas. 'We'd hold a party every day if we could,' they tell Getintothis' Peter Guy and Stephanie Heneghan.

Getintothis HQ has been aware of the talent that is Milk:Presents for sometime.
After all, they are the team that completely pulled it out of the bag at last year's GIT Award, providing us with phenomenal visuals, artist video montages, stepping up to the plate with production assistance and then rounding it all off by knocking up those mementoes for each of the nominees to take home with them.
Colour us impressed, so much so that they're getting stuck in again this year with The GIT Award 2013 edition at Leaf on April 19. We can only imagine what they've up their sleeves.
But away from our vested interests, it's pleasing to see them getting recognition around Liverpool and further parts of the UK for their hard work.
Starting off as a record label – or as managing director Mike Bennett more aptly puts it, 'a place to make some music and hang out' – it's developed into an all-encompassing movement – they're an ever-growing family of creatives; an organic progression.
They fuse music with design with conceptual art and progressive thinking and wrap it up in a psychedelic framework which is both punk in it's ideals and futuristic in it's contextualisation. They don't deal in bullshit, just passion. Assertive in approach, they're the very essence of doing it yourself – fiercely independent, all of the time.
They even have a Milk mascot: Zackor Odrah – a seven foot tall, dapper Roman rabbit with the head the size of a breeze block. He's prone to popping up unannounced at Milk events combining humour, philosophy and artistic proclamations on street art across Liverpool.
'Victory will belong only to those who have faith in the people, those who are immersed in the life-giving spring of popular creativity. Long live to the TEMPO CREATIVO!, ran his recent slogan.
Getintothis joined Zackor and several hundred revellers at Milk's recent launch party on Jordan Street (the site of the former Picket).And, having been regulars at their open mic Writers Club sessions at Bier for a while we thought we knew what we'd find – but it exceeded all expectations.
The perfect meld of a great line up, fantastic venue, impressive production and that kind of party vibe that it's impossible to fake.
It was one of the best nights out we've had in a long time.
So, we thought it was about time to sit down and have a proper chat with Michael, the head honcho behind Milk:Presents, and find out how it all came about, what they've got coming up and what they're looking forward to in Liverpool over the next year.


Milk's very own fresh produce laced with all kinds of vitamin goodness.
Getintothis: Give us a bit of background about Milk:Presents how did it come about?
Mike Bennett: In brief, we set up a label so we could release some of the music. We had a party to celebrate becoming a label – we never planned to keep them up but after the first we were hooked. People started talking and before long the parties were selling out.
Then we realised we could use the platform for anything we wanted while at the same time offering it up for others to do the same.
Getintothis: Yeah, it's not just music with you guys, you've got your fingers in loads of pies. Tell us a bit more about how this came about?
Mike Bennett: Record labels have to outsource a lot of the things that are essential to putting out a release. In our case we knew that with the right hands on deck we could have it all done in house.
From the recording itself, to the album artwork, from the music video to the launch party, we had it covered. We used the skills we had at that time to make money to pay the rent on the studio by harassing half Liverpool and basically making them believe in us!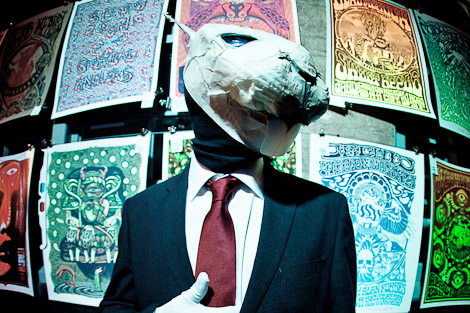 Milk's Zackor Odrah has become an omnipresent enigmatic feature of their events including a sinister presence at last year's Liverpool Psych festival
Getintothis: How do you choose who to work with? Whose part of the Milk family?
Mike Bennett: The Milk family grows (and shrinks) by the minute and I don't think it's by choice at all.
We're big believers in fate, in change, in adaptation. Our minds are open to anything and anyone really. If the piece fits, then it fits. We're currently working alongside Knot Design (graphics), C. More Smith (a craft and motion artist) and the photographer Dave Walker.
These are the cats behind the scenes at Milk. Other than our team we want to collaborate with as many of you as possible.
We love getting messages from people simply wanting to talk through an idea. Half the time we end up forming some form of relationship with them – even if it is just a nod in the street.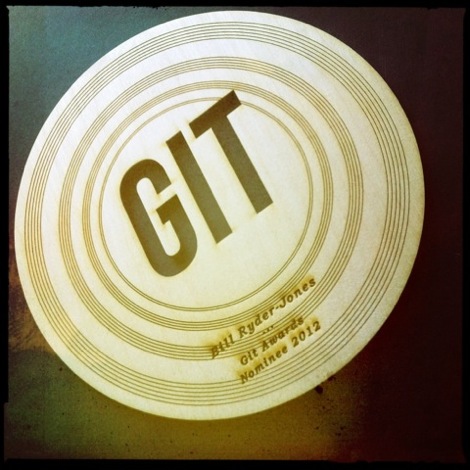 The magnificent mementoes produced by Milk:Presents for each of the 12 nominees at the GIT Award 2012 – Bill Ryder-Jones' pictured
Getintothis: Do you always make a concerted effort to keep it local?
No, not really. Someone said the other day 'I love the way you support the local scene…' it might be subconsciously happening. We're not going out of our way to support any certain 'scene' or keep it local.
Liverpool is tiny but it has so much to offer, not forgetting the amount of talent that comes from the Wirral and surrounding areas and the never ending stream of students bringing new sounds with them – you're spoilt for choice.
Getintothis: We went to the launch party, we LOVED the launch party. How do you think it went?
Mike Bennett: Insane. We'd have one every day if we could. We were testing the water and only dipped our toes. It can only get better.
Getintothis: Tell us about Zackor Odrah, the mysterious rabbit that pops up frequently at your events, what's he about, where do you keep him. And what does he eat?
Mike Bennett: Zackor is a messenger. We don't ask him to turn up, he just steals his time in sun when he can. He loves making humans question whether they're living their dream, whether they're alive or simply existing. So for that we raise a glass.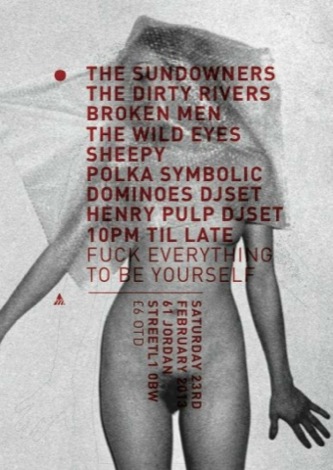 Milk's launch party poster proved a talking point around town
Getintothis: How did you go about choosing the line up for it?
Mike Bennett: It's just what we're into at that point in time, it'll always be like that.
Sheepy was a no brainer – he played a show at our old studio and nearly took the building to its knees. The Wild Eyes are probably one of our favourite bands full stop.
Broken Men are part of our label and needed some exercise. The Dirty Rivers are the angriest gang of bastards on stage and produce this energy like fire and The Sundowners are The Sundowners – what's not to love? It's like watching every one of your favourite bands play hits you've never heard.
For us its not all about the line up either. It's about the vibe.
You've just gotta trust us to pick something you'll enjoy and come for the fact that there is a party going on. Why would you want to a miss a party?!
Getintothis: Okay, we trust you. What have you got planned coming up then?
Mike Bennett: Next is the Sankofa record launch party on March 15.
Working with Eighties Vinyl Records and Freakbeat Films. We had the guys in shooting the music video for the new single a while back and they'll be screening the finished product on the night, we can't wait. Sankofa are one of our favourite bands at the moment.
We have a calendar full of goings on that'll we'll be dishing out over the year – some big plans and some bigger ideas. Can't be giving it all away now though can we?

Getintothis: Who's been on Milk's jukebox this year, give us some recommendations?
Mike Bennett: We've always got something on… The most recent we've been soaking up are METZ, Pond, Fidlar, White Denim (as always), Ducktails, R.Stevie Moore, Howlin Wolf, Sun House. We're always getting put onto new stuff from our resident DJ Calypso Bo – he's got a keen eye for a boss vibe.
Getintothis: What are you most excited about coming up in Liverpool that you're not directly involved in?
Mike Bennett: I'm hoping for another round of FestEVOL maybe? Best party last year if you ask us. The everisland team constantly do amazing things, so anything they're doing is worth getting excited about.
Also this year's Sound City looks shit hot, some of our favourite acts on the bill – that's inevitably going to be a messy weekend.
Getintothis: Finally, Milk's throwing a party – tell us your six guests, dead or alive/fact or fiction, that are on the invite list.
Mike Bennett: Tough question! We've just gone for the mainly famous or dead lot.
Tony Wilson, David Bowie, Charles Bukowski, Willis Earl Beal, Hunter S.Thompson, Peter Green. There's loads more we'd invite, but defo this lot.
Imagine the conversation at six in the morning…
Further reading on Getintothis
Getintothis on Milk's launch of the Writer's Club at Bier.
Getintothis on Milk and the GIT Award 2012 aftershow.
Getintothis reviews a Milk house party featuring the Wicked Whispers and Raw City.
Sankofa bring the noise to Eighties Vinyl Records launch.
Getintothis reviews Broken Men and Louis Berry live Edge Hill University.
Comments
comments