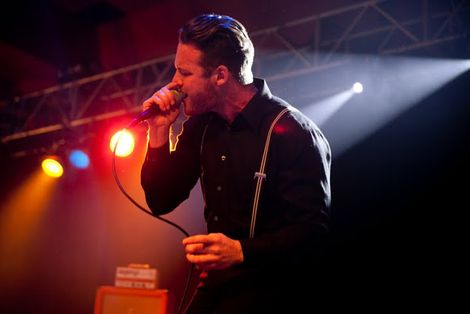 Broken Men bring their tempered malevolence to Edge Hill University, Getintothis' Nick Lodge finds himself wrapped up in their understated ultraviolence.

There's a point during Oversold, from Broken Men's debut EP Dogmeat, when the singer has his hands in his pockets, back to the audience.
It's a deliberate act of defiance, in the face of heartache. They didn't mind being let go, they just want – demand – to know why. They may be broken, but they are still, defiantly, men. It's a fitting end to a blistering set.
Defiantly sporting his own 'look', singer Bob Westhead has slicked back hair, a white shirt, and retro braces supporting beige trousers. He has an air of A Clockwork Orange's Alex.
An undercurrent of menace, if not quite ultra-violence, permeates. Behind him, the band are dressed in suits, ties and waistcoats. Their dapper image belies their sound.
It's lean and muscular and brings in elements of grunge and garage rock, and treads in a little Pixies dirt.
The vocals employ an effect that gives Westhead's voice an unvarnished, echoey quality, as if he is singing from the top of a council estate high rise.

Broken Men haven't been performing together for long, but following a short spell supporting Echo and the Bunnymen, they have developed into a tight unit.
Each instrument knows its role, they are never indulgent. The rhythm section drives the songs along, as the band follow the path of most resistance, powering through to their chosen destination.
There is no mincing of words or sugaring of pills. The effect is pretty compelling, if not compellingly pretty.
Broken Men are loud, committed, dirty, almost funky at times, but musically accomplished, and it's difficult to find easy reference points as a guide.
The band is a maelstrom of influences, but they are their own men, following a possibly solitary road to enlightenment.
They are full of possibilities, but will they get there? Right now, who knows, but it'll be a fascinating, if occasionally uncomfortable, journey.

Louis Berry's opening set didn't really prepare us for the power and presence of the main act, but was instead a soulful take on shuffling rockabilly and folk, and showcased a set of vocal cords seemingly born twenty years before the rest of him, carrying the world on their shoulders and nurturing a 40-a-day habit.
His set of covers and original numbers included stabs at the work of Ray Lamontagne, Whitney Houston (Whitney Houston!) and Bob Marley.
His own shuffling compositions bobbed and weaved, and evoked young hustling upstarts such as Jake Bugg, as much as those traditional folk touchstones Dylan, Guthrie, et al.
It'd be intriguing to see his songs fleshed out with a band, but he's definitely one to catch right now on the small venue circuit.

Getintothis reviews Broken Men at FestEVOL at the Kazimier.
Getintothis reviews Broken Men at NXNW at the Olympia.
Comments
comments