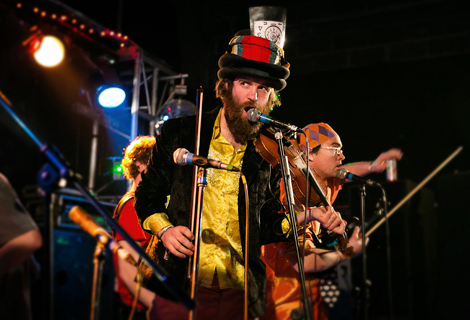 Threshold Festival 2014 promised a weightier billing for it's fourth annual festivities, Getintothis' Emma Walsh, Chris Burgess and Gaz Jones dived head first to report on the first of three balmy days in the Baltic Triangle.

Threshold Festival 2014 marked the fourth year of this predominantly Merseyside grassroots celebration of music, artistic craft, performing arts and live cabaret and comedy.
And while in the build up to the Festival there had been murmurs of unrest – quickly dealt with in emphatic fashion by the team – there was something of a transitional shift in the waters. With a strong core line up across all arts facets, Threshold no longer felt ever-so-slightly on the flimsy side, instead there was genuine reason to sit up and take notice. Here was a considered line up with strength in depth and a playful curation of new venues to explore and immerse yourself in.
So for three long days and night, Getintothis' team did just that, here's what unfolded across the myriad of stages and warehouses across the Baltic Triangle.
Beginning at the Rock Formations stage at the Nordic Church, the math-rock instrumentalists Singapore Strategy had already begun their set when we arrived. Sounding chaotically tight, their blend of riffy funk and delicate guitar lines were a superb opener to the festival.
At District, the crowd were being treated to an evening of reggae, punk and ska, with Leeds-based seven piece The Indecision providing an energetic set. Their up-tempo sound, riotous (and sexy, according to the ladies present) horn section and terrifyingly good bass deserved a much bigger crowd – not that they let that stop them from having a good time.
The weekend at the Baltic Bakehouse began with kitsch ukulele duo The Mersey Belles looking very much at home with their 1940s dresses and victory rolls, but they brought us back to the 21st Century with a beat and a fantastic cover of Pharrell's Happy, followed by an impromptu version of You Are My Sunshine with guest saxaphone to boot.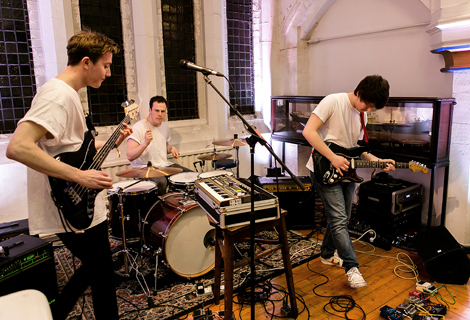 Singapore Strategy at the Nordic Church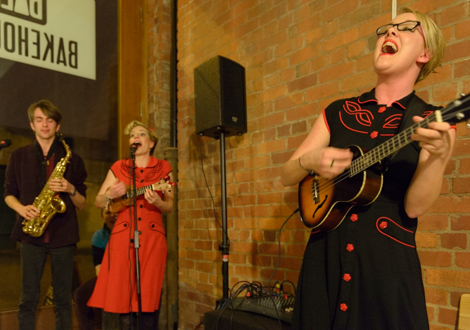 Mersey Belles live at Threshold 2014
Soon afterwards at the Bakehouse, the very handsome Chris Moore followed suit with a very sexy voice, that sounds like it's been dragged over gravel – Tom Waits eat your whiskey-sodden heart out. Chris had all our greatest sympathies as he soldiered on regardless of the constant buzz of conversation and the now-infamous photographer who for three days repeated his act of getting (too) up close and personal appearing to examine various artist's pores throughout their sets.
Over at 24 Kitchen Street (surely, a shout for venue of the festival?), Kirsty McGee had taken to the stage with her beloved guitar Fritz. Apparently he's been around since the 1960s and can get moody and out of tune on occasion. Thankfully he was on his best behaviour on the night, delivering a brilliantly bluesy beatnik set alongside an absolute beast of a double bass.
The Jakobins at Unit 51 was an altogether more laid back experience – the bustling smaller venue packed together to see them lay on a more stripped-down and atmospheric set than their usual fare, with slow building tunes and seriously strong vocals.
Despite being pretty boss, Hey Bulldog were always going to look a little drab following the theatrics provided during The Jakobins performance. The psych rockers put in a solid set but it just didn't have the jazzhands to keep our attention fixed.
Sheffield's Smiling Ivy, however, trod a more well-worn path, with an overdone and clunky ska-punk set that would have been more popular 10 or so years ago. A trend that did reoccur during Threshold; the old hat cliched brass-infused sets could grow a little tiresome. Failing to hit the highs of The Indecision, the crowd didn't seem too responsive, apart from those young enough not to know better. To be fair, when they slowed the pace down they gained a more expansive and interesting sound. Ultimately though the overplayed guitar solos and sixth form political rap were just too old hat.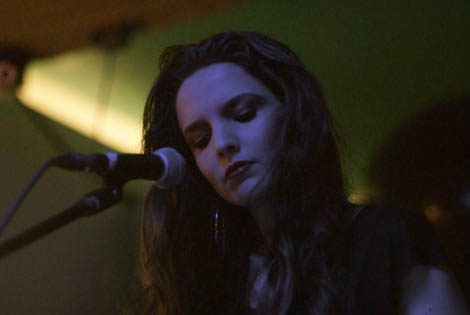 Sophia Ben-Yousef live at Threshold 2014
Over in Baltic Social, Sophia Ben-Yousef's set was a treat, for those who paid attention to it. As the majority of the audience treated her set almost as background music. A crying shame.
Getintothis and the chef cooking stage side enjoyed her performance. With the highlight being her cover of Drake's track Just Hold On We're Going Home. A powerful voice being a stark contrast to the original.
Arc Light's performance seemed very intent on volume, perhaps at the cost of quality it must be said. However, with an energetic performance from their frontman, who even jumped into the crowd for some head banging, most of the sparse crowd enjoyed it.
Their best track was Cherry Tree for anyone expecting something along the lines of KT Tunstall's track you'll be sadly disappointed.
Next up was a quick dash in the rain to see Gideon Conn. The upbeat and almost childlike wonder from Conn was the perfect backdrop to warm us all up. Introducing himself to the crowd at Baltic Bakehouse by exclaiming he 'loves bread'. We'll rise above any crude jokes.
Gideon's music infuses skat and rap music to the sound of his acoustic guitar. This with his cheerful smile is music to warm the soul.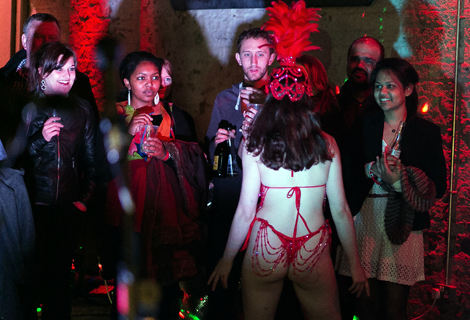 Exotic dancers at Kitchen Street
Meanwhile, Book Thieves were ripping up a storm down at Blade Factory. Asides from their bassist becoming one of the early contenders for Beard of the Festival, Book Thieves were a music highlight of the night. Amid all the rough and tumble of noise you can catch a standalone electro twang that adds a touch of drama to the set, heightened by the 1950s film projected behind them. The more intimate moments with tingling riffs over pindrop silences collapse into the sudden burst of bellowing energy again – a wonderfully exhausting experience.
Later in the night, back in District, China Shop Bull and their set of aggressive hybrid brand of ska-punk-rave and drum & bass was engaging and entertaining enough to get people dancing and modern enough to fully keep our interest.
Closing the night at Baltic Social was Natalie McCool. Natalie admitted the stage felt a bit bare without the company of her band and it was odd to see her standing solo but it was a welcome reminder of how damn good this girl is. Spellbinding from the beginning with Wondrous Place she followed it with Dust and Coal, and the wonderfully Celtic Fortune.
Practically every one of McCool's songs is now buried in the brain, the Drive mash up Nightcall/Hero being the perfect example – does anyone know those songs any other way now? A festival staple, McCool never fails to impress.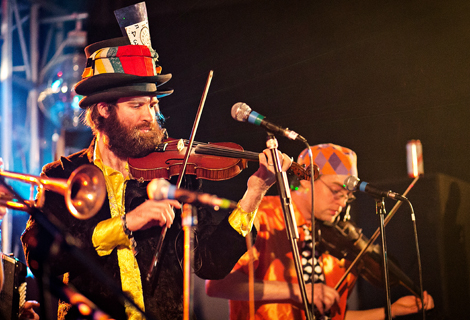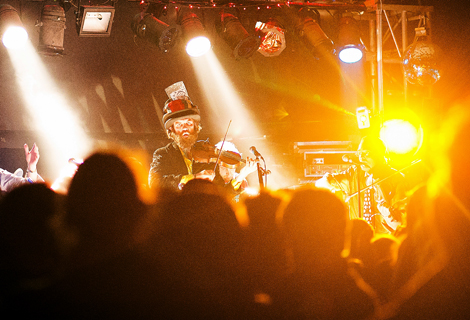 The Destroyers live at Threshold 2014
The stage was then set for the Friday's headline act, The Destroyers, and their brand of gypsy-folk chaos.
The 14-piece band of Brummies were certainly dressed for the occasion and kicked ass, setting the entire crowd jumping and providing an excellent soundtrack to a sea of balloons being bounced around the venue – almost as much fun as the music itself. Imagine The Flaming Lips in love with Balkan ragtime as opposed to Pink Floyd, and you're nearly there.
There was a mix of polka, folk, jazz and even a bit of Irish influenced sounds throughout, with tremendous raspy vocals from singer Paul Murphy to meld it all together.
It was a perfect end to the first day's events, leaving everyone in attendance with a goofy smile on their face and a balloon in their heart. Day one's promise delivered with aplomb.

Pictures by Getintothis' Gaz Jones, Tom Adam and Simon Lewis
Further reading on Getintothis:
Threshold Festival 2013: Review and pictures part one
Threshold Festival 2013: Review and pictures part two
Threshold Festival 2013: Picture gallery
Woods, Suuns and Amen Dunes added to Psych Fest bill.
The GIT Award 2014: the shortlisted nominees in detail
Mellowtone cook up series of intimate gems including I Am Kloots John Bramwell.
Parquet Courts set for Liverpool summer outing at Kazimier.
Brian Jonestown Massacre to decamp in East Village Arts Club.
Andrew WK to party hard in Liverpool's East Village Arts Club.
Comments
comments