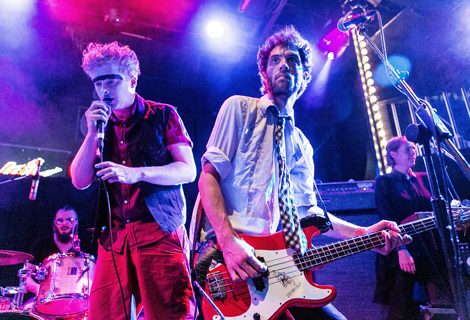 The latest chapter in the Singles Club finds Getintothis' Chris Burgess rising from the ashes only to end up staring at a big derrière, record reviewing can get awfully boring some days.

White Blacula: Pyramid Twist – Single of the Week
White Blacula are a complex, many-headed beast of a band, having risen from the ashes of Zombina and the Skeletones. Following in the grand tradition of bands like The Cardiacs, they choose to mix styles, genres and time signatures, seemingly within each song.
Following a rambunctious album launch party in Sound Food and Drink last week, the Liverpool band have released their debut, The Great All Knowing.
The highlight of the album is quite possibly Pyramid Twist, like a version of Love Buzz covered by a supergroup comprising members of The Cramps and Madness.

Led Zeppelin: Whole Lotta Love (Rough Mix With Vocal)
Released as part of the remastering of their second album, this is a much cleaner and rawer sounding cut of the iconic track, and adds a freshness to the original, especially in regards to Bonzo's drumming.
However, cutting the solo out is near to sacrilege in my book, so it doesn't quite make single of the week. Plus it's over 45 years old, so would kinda be hard to justify!

Shakira: Dare La La La (Brazil 2014)
It's a World Cup year, so there's bound to be a massive influx of samba-based tunes with big catchy choruses, manufactured to sell to TV shows around the world to use as the backing music for their coverage of the competition. There's also a subliminal promotional tie-in with Lego, apparently.
That may sound cynical, but listening to Shakira's new single, with a video full of carnival dancers, shots of footballers and fans from around the globe, you yearn for the days when the England or Scotland squads gathered woodenly on the Top of the Pops stage and mimed along badly to a dirge they'd recorded the week before.

Merchandise: Little Killer
The Tampa-based band Merchandise have been around for a few years now, but never seem able to catch the break into the mainstream they deserve, in our opinion. Little Killer is a whirlwind of Cure-meets-Bunnymen jangly riffs and effortlessly cool vocals.
The video isn't great, but with a tune this good, it doesn't really need to be.

Spaceheads: Cosmic Freight Train
The Manchester/London based duo of Andy Diagram and Richard Harrison have been touring and recording as Spaceheads for nearly 15 years now, and put in a truly mesmerising performance at this year's Threshold Festival.
Their unique brand of space age drum and bass and, erm, trumpet defies categorisation, but produces some of the most compelling and toe-tapping music around today. Cosmic Freight Train was a highlight of their Threshold set and sounds even better on record. Let them transport you to another world.

Sharon Van Etten: Every Time The Sun Comes Up
Taken from her new album Are We There, Van Etten conjures up a melancholic and emotive world on Every Time The Sun Comes Up, ostensibly a laid-back saloon bar tune but featuring some dirty vocal lines (and I mean that literally).
Van Etten's magnificently swaggering vocals float above the rolling bar Americana groove with ease. While not quite as country-cool as Caitlin Rose, Van Etten perhaps has more growl and character in her voice.

Linkin Park: Wastelands
Those rowdy boys of Linkin Park are back, with a slightly more raw sound than previous records. However, they still stick to the loud guitars and rap bloke/shouty bloke vocal formula.
Nothing new here, but their old fanbase might like it.

Kids On Bridges: Walls
Ormskirk's Kids On Bridges are going places. The band recently signed to the legendary Wall of Sound label and are soon to release new album Kidology, from which this single is taken.
Walls is a weird mix of glam rock, electro and a Kasabian-like chorus. The video is truly dreadful though. It looks like a sixth form media studies project.

King Creosote: For One Night Only
Taken from the new album From Scotland With Love, For One Night Only sweeps you along from start to finish, with swirling strings and driving guitar and keyboard parts. It's an emotional and celebratory track from Fife-born prolific songwriter Kenny Anderson.
From Scotland With Love was created in collaboration with director Virginia Heath and producer Grant Keir as an audio-accompaniment to a poetic documentary film of the same name, to be released for the Commonwealth Games this summer. This certainly isn't a cash-in on the tournament though.

Jennifer Lopez: First Love
Opening with a perfume advert-style voiceover and ending with an overlong sultry look to camera, the rest of this video is like an extended Diet Coke advert. There are several obligatory shots of J-Lo's big arse in there too, as you'd expect.
It's the worst kind of bland. The kind you instantly forget about until you see the single in a 50p bargain bin a few months down the line.

Comments
comments