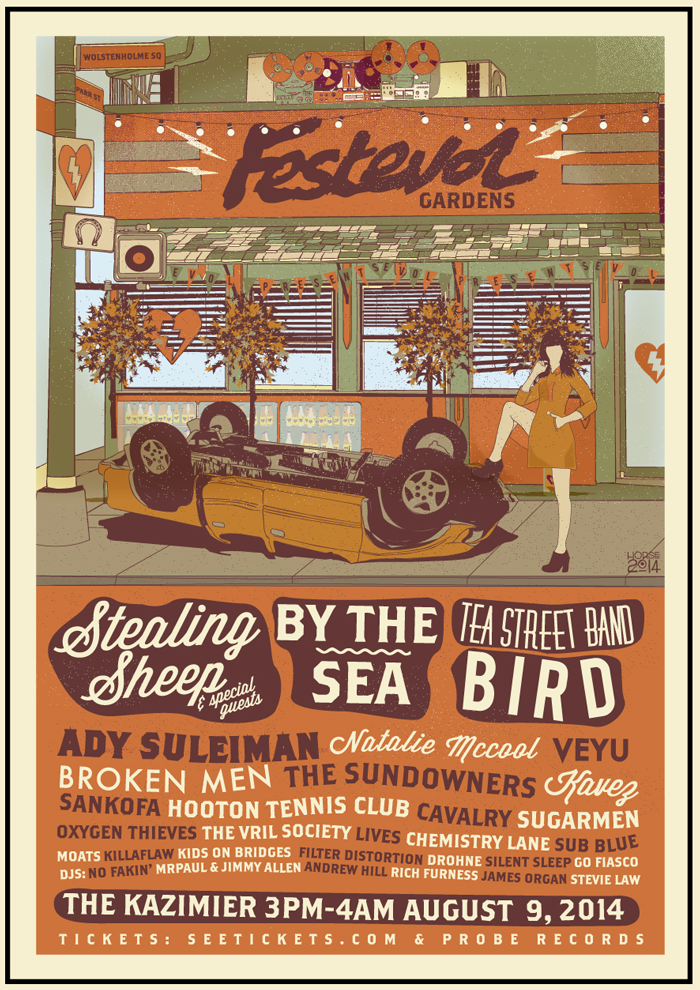 FestEVOL 2014 once again offers a platform to Merseyside's music's finest emerging acts, Getintothis' Adam Lowerson on what to expect at the casa del Kazimier. 

FestEVOL 2014 takes over the Kazimier and it's Garden on Saturday August 9 – and once again is offering a huge selection of Liverpool's finest talent.
Now in it's third year, the line up continues to impress, featuring some of the city's hottest new acts and those already making a considerable dent on the national scene.
Headliners Stealing Sheep have an acclaimed debut behind them and another in the pipeline for 2014, By The Sea are also set to release a second LP while Baltic label-mates Bird and The Tea Street Band have recent, impressive debut albums to boot. But it's the emergence of the new artists which makes FestEVOL such a draw with those further down the bill reflecting the promise of what's still to break through.
As organiser, and head of EVOL, Steve 'Revo' Miller explains, this is exactly what drew him to put on such a showcase, he said: "I love doing FestEvol, it's been the highlight of the summer for the last two years, everyone together in one place in high spirits enjoying the best bands from our local scene.
"I'm very happy to have Stealing Sheep headline this year, it's been a long chase and the girls have been working on a new record recently so we'll be privileged to be the first to watch it live. The quality of the line up just goes to show how strong the pool of talent is here, there are a lot of cities where you simply couldn't do this as the scene just isn't there, we're very fortunate in Liverpool."
And it's this pool of talent which gives the likes of newcomers the chance to shine, step forward Cavalry, Vril Society, The Chemistry Lane, Kavez and Lives – acts who haven't had a huge amount of exposure yet so it will be a real chance to get the ball rolling. When you're lacking in the recorded-tunes-online department (for all we know, Lives could have 13 multi-platinum LPs behind them by now but trying to Google them is like the Krypton Factor), making your name as a live outfit is key.
It's still early days for this lot, but if they impress at the shows coming up then who knows what the next year could hold for them. On the other hand, acts such as Kids On Bridges and producer-duo DROHNE, their online presence and radio exposure is certainly helping them make a name. Both already have what feels like an accomplished sound, and could really take off. The timing could be perfect for DROHNE, with the emergence of Merseyside's strong electronic scene, and if they can build on their current form, they could really ride the crest of this wave.
Hooton Tennis Club have had a good 12 months. The sloppy shoegaze sound of their debut EP I Was A Punk In Europe (But My Mum Didn't Mind) has certainly got some of the right people talking. They've been featured in the NME and on Louder Than War, played on BBC 6 Music, along with a couple of talked about performances at Sound City – things certainly seem to be starting to pick up for them. Likewise Cavalry have received airplay from several BBC radio stations on the back of two demo-tracks Leaves and Lament, and they're also set to support Stephen Malkmus and the Jicks.
There's a stellar supporting cast from familiar faces Natalie McCool, Broken Men, Bird and VEYU plus a whole lot more. See them here first before the nationals come running.
And if that ain't enough we've teamed up with EVOL to give a reader a pass for themselves and a friend – just answer the question below and tweet @Getintothis and add #FestEVOL.
* What is the name of By The Sea's new album called?
a) Endless Days, Crystal Sky
b) Crystal Maze, Endless Skies
c) Endless Journey, Magic Pie
d) Oh, I Do Like To Be Beside The Seaside
See you there.
Comments
comments