The Phantom Band bring new album Strange Friend to Liverpool, Getintothis Will Neville gives the lowdown on their hotly-anticipated Kazimier show in October.
Strange Friend, their third album on Chemikal Underground, was released in June. It has received glowing reviews from tastemakers like NME, Drowned In Sound and Uncut, with the latter describing them as "one of Britain's most inventive bands".
Rick Anthony, who released the wonderful No Selfish Heart as Rick Redbeard last year, sings a bit like Nick Cave and plays guitar. He is ably backed by Duncan Marquiss and Greg Sinclair also on guitar, Gerry Hart (bass), Andy Wake (keyboards), and Iain Stewart (drums), who is the sole new recruit on this year's release.
Although nominally an indie band, their eclectic sound incorporates more folky arrangements, undulating Krautrock rhythms, psych elements and a healthy dose of pop tunes. The new album is their most fully realised to date, kicking off with the opening single The Wind That Cried The World with its wailing chorus and pulsing rhythms. Doom Patrol comes over like an early Simple Minds album track (which is a good thing). The album closes in somewhat disappointing fashion with the somewhat noodling Women Of Ghent and the clattering slowie Galapagos, but there's plenty on here to enjoy.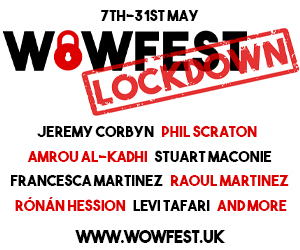 They took on their current moniker in 2006 after a series of other band names and debut album Checkmate Savage was produced by ex-Delgados drummer Paul Savage. It came out in 2009, with two singles being drawn from it, Throwing Bones with its doo wop coda and The Howling, with the album featuring in MOJO's end of year Top 20. It was followed by The Wants a year later.
Fans of Super Furry Animals, Stereolab or Grandaddy should consider coming along when Harvest Sun and EVOL bring The Phantom Band to the Kazimier on October 7. Tickets £9, support comes from Gulp.
UPDATE: Liverpool's rising band LIVES are confirmed as the third support, completing a stellar triple-header.
Comments
comments