Combining the old with the new, Getintothis' Paul Higham previews Utmost Good, All We Are's new video that provides a window into the Liverpool band's meteoric ascent.
With a debut album on Double Six garnering stellar reviews and a GIT Award nomination in the bag, Liverpool's All We Are look set to further capitalise on a growing reputation with the release of their latest single, Utmost Good.
The video of the track, taken from the band's acclaimed debut LP, is a reworking of a video originally made before the trio signed with Double Six. Combining new footage with old performances the video offers a tantalising glimpse into the group's rapid career trajectory and their growing self assurance.
Filmed by James Beale the video shows the band performing the track through 12 vintage television screens creating a captivatingly kaleidoscopic audio-visual experience that blends seamlessly with their music.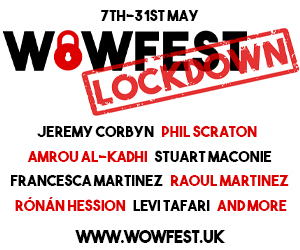 Speaking of the video, All We Are seem keen to stress their evolution without losing sight of their roots and the assistance of friends who helped them along the way. "The first Utmost Good video is really special to us because everyone in it is a mate of ours and some of our favourite artists in Liverpool were filmed for it.
"The new take on the video taps into a similar vibe – it nods to the new whilst including the old. Sit back, drop a diazepam and enjoy…"
Filmmaker Beale provided an insight into the production of the video, "Combining the old with the new was essential in this film. This mix was important for the band and something I love to do, so it was a perfect match for creation from the start.
"From linking VHS to computers and old televisions to cameras, to connecting 'All We Are' with their family and friends all in one performance video was the challenge and this is the result. I love it."
All We Are are currently touring Europe in support of their debut LP but will be returning to these shores for a string of high profile dates. A support slot with Mew at London's Roundhouse on 20 May will be preceded by an exposure-heavy tour supporting The Vaccines. The sold out show at Brixton Electric on 8 April will no doubt yield a legion of new fans.
As well as playing Liverpool's Sound City in May, the band will play a headline gig at London's Scala in the autumn after selling out their show at Corsica Studios this month.
Utmost Good is released on 20 April but is available as a digital download on iTunes now.
And just for old times, here's the original video – spot those familiar faces…
Comments
comments