Outfit return with a slice of lovelorn spectral pop from new album Slowness, Getintothis' Peter Guy looks ahead to one of the summer's key releases.
Liverpool art-pop collective Outfit have announced details of their highly-anticipated follow up to debut album Performance.
The quartet will release second album Slowness on June 15 through new label Memphis Industries and today unveil opening offering Genderless, a slab of ghostly propulsive romanticism (listen below).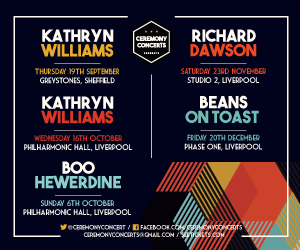 Stylistically Genderless retains the glacial cool akin to earlier tracks like Spraypaint yet builds to a sheet-metal like crescendo reminiscent of the ambient dissonance of the likes of Ben Frost as guitars, keyboards and David Berger's understated percussion fuse into primal white noise.
If musically there's a colder, progressive step away from the more hook-laden tracks of old, lyrically vocalist Andrew P M Hunt is in slightly more familiar territory, with themes of distance, isolation, unknowing and disconnect looming large over proceedings.
With the band separated from family, friends and partners, Hunt was left to reflect upon the tensions of touring, moving, and transatlantic relationships. He explains, "This song is about feeling disconnected from your body and your sexuality almost to the point where your self disappears completely."
But enough woe, already, here's Outfit looking cheery, signing their new deal. And they're back on Liverpool's live scene on June 18 at The Kazimier.
The album will be available to order on limited edition blue and white swirl colour gatefold vinyl.
Outfit play Lexington, London on May 13, Manchester's Parklife Festival June 6-7, Field Day on June 9 and The Kazimier on 18 June.
 Slowness tracklisting:
1. New Air
2. Slowness
3. Smart Thing
4. Boy
5. Happy Birthday
6. Wind or Vertigo
7. Genderless
8. On the Water On the Way
9. Cold Light Home
10. Swam Out
Oh, and while we're here, a reminder to listen to Andrew PM Hunt's solo project Dialect (here) – it really is worth your while.
UPDATED: Joining Outfit on their Slowness album launch at The Kazimier are VEYU and Gulf – completing a bill which should whet the appetites of all new music fans; the former nearing completion on their debut album while the latter are working on new material following their promising opening joints.
Listen to Outfit's latest track On The Water On The Way below.
Comments
comments