As if gatecrashing a private party of John Bramwell devotees, Getintothis' Jamie Carragher finds much to admire among the gallows gloom of I Am Kloot's uncertain twists of fate.
Although they have a name invented solely to make anyone who says it aloud sound stupid, for the best part of the 2000s, I Am Kloot and their singular brand of acoustic rock survived largely thanks to gushing word of mouth. Since their Mercury Award nomination in 2010 for the album Sky at Night, the I Am Kloot faithful has expanded somewhat, but even now you can't help but notice that those who are here tonight at the Liverpool 02 Academy feel like they're members of some exclusive chapter.
To open affairs, Andy Burrows takes to the stage armed with the melodies of his most recent album, Fall Together Again. Burrows' career thus far has certainly been a chequered one. In addition to being the drummer in Razorlight and co-writing many of their noughties hits, he has also had a stint playing with We Are Scientists, scored the Bafta nominated soundtrack to The Snowman and The Snowdog with IIan Eshkeri, and acted as musical director for the incomparable Foregone Conclusion, musical project of David Brent A.K.A, vis-à-vis, Ricky Gervais.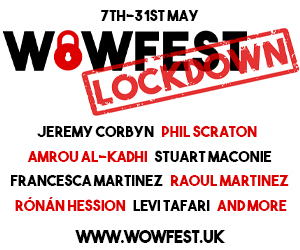 Though he might not have Free Love Freeway in his own repertoire, Burrows is clearly able to go it alone and his soft rock tunes translate very well live, even when removed from their natural home of recorded, polished pop production. He leaves the audience gently simmering in anticipation of the headlining act.
When they arrive, the Mancunian trio show no signs of faltering or fatigue, at this, the final stop on their UK tour. The band's kooky name is actually a reference to an obscure, left handed card game and, from the outset, I Am Kloot exude the confidence of a band who know just how strong a hand they hold: a formidable catalogue, a devoted core of followers, and a joker in singer-songwriter and lead guitarist, John Bramwell. Some of Bramwell's Alan Partridge-esque quips ("What an extraordinary guitar solo") won't be to everyone's taste, but he enjoyed them, so maybe that's enough.
When Bramwell fires out his echoing rasp for opening number One Man Brawl, he immediately addresses "Sweetness" in a deliberate nod to The Smiths' Bigmouth Strikes Again. Much like Morrissey, Bramwell's lyrics can be best described as threateningly poetic, and his dark and crafted words would not look out of place if scrawled on the walls of inner-city Manchester. Even the more upbeat songs are charged with a humorous gallows gloom, Dead Men's Cigarettes concerning itself with, funnily enough, "dead men's cigarettes" and "choking on bitter black regrets".
Performing live is I Am Kloot's speciality, and the understanding shared between Bramwell, Peter Jobson on bass, and Andrew Hargreaves on drums, shines through on 86 TVs and This House Is Haunted. That said, the gig suffers slightly from a lack of variation in terms of tempo and pace; as the night goes on, songs start to bleed into each other and it becomes harder to distinguish one tune from another. It's a refreshing change then, when Bramwell decides to delve into his impressive solo material.
The highlight of the night comes when the band launch into Northern Skies. As one of their better known singles, the sense of communion with the crowd is very real and Bramwell acknowledges as much at its conclusion. Like much of I Am Kloot's material, the song displays an almost Shakespearian fascination with the forces that govern our lives, those twists of fate and fortune that send us down one road rather than another. But here's a band whose success is no fluke or coincidence. It's the much deserved result of determination and toil.
Photos by Getintothis' John Johnson.
Comments
comments