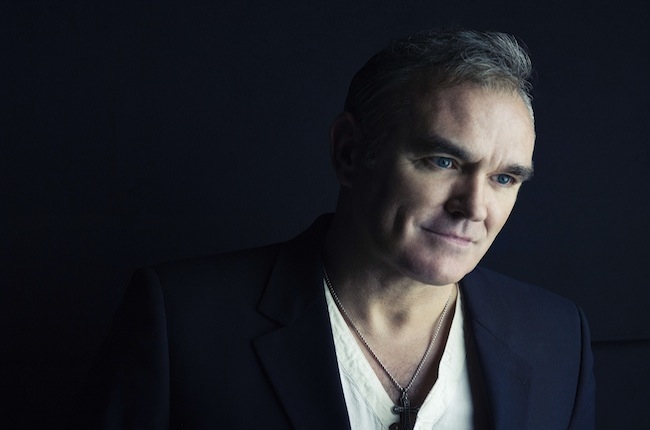 Morrissey has been dropped by Harvest Records, Getintothis resident Moz fanatic Dickie Felton laments his annus horribilis and insists it's time Manchester name their airport after him.
Morrissey has just been dumped by his record label – barely a month since the release of his new album. What should have been a triumphant 2014 for the legendary singer is threatening to turn into an annus horribilis.
The premature ending of Morrissey's record deal is the latest body blow in what has been a titanically turbulent three months. Since May there's been: illness forcing the cancellation of a US tour, a fallout with his support act, a lawsuit filed against the singer by a security guard, and a bitter snub of his new record from the TV media.
On Saturday August 9, when it seemed things couldn't get much worse, Morrissey announced that his new record label had dropped him. The relationship lasted just shy of 220 days. There's not been a single invite from a TV station anywhere on the planet for a Morrissey interview or live performance of songs from the new LP. Oh, and Ed Sheeran beat him to the top spot in the album charts here in Britain.
World Peace Is None Of Your Business – Morrissey's first new album in half a decade – is a stunning record. It's just a pity that no-one in Britain realises. Certainly not in the mainstream media anyway. They're far to busy reporting on Morrissey's latest strife to mention his new songs.
Thirty years since the release of The Smiths first album, life in August 2014 appears tough for the icon that is the Moz-Father. Sure, there's been an NME magazine special and decent airplay from BBC Radio Six Music but there's been little UK support elsewhere. Morrissey recently surged to the chart summit with his new album in countries across South America yet failed to land the top spot here in Blighty.
So while he's big in Brazil, and awesome in Argentina, he can't beat Ed Sheeran to the top spot in Ribchester or Rugby. Los Angeles – Morrissey's on-off-home-from-home has been christened "Moz-Angeles" by his legion of followers in California. In May, the star played three sold-out shows in the sunshine state, with zero media coverage back 'home' in England.
Fans in San Jose, Santa Ana and Los Angeles Sports Arena witnessed their idol at the very top of his game. I should know, I was there. I'd travelled 6,000 miles for the privilege. Of course as soon as said US tour met a premature end (due to illness) it was news everywhere. Morrissey Cancels Again!
It seems that the only 'interesting' Morrissey news story is a negative one. Sold out US shows – not news, his best ever solo record – not news. But should he dare be so 'controversial' to tackle the meat industry/ monarchy/ or governments the "Mad Morrissey" headlines scream out.
This summer marks 25 years since I first discovered Morrissey. Thanks entirely to my next door neighbour Ursula who spent August 1989 blaring out Viva Hate – his first solo record. I went next door, borrowed said album, and have been a fan ever since.
So while my baggy mates were hot-footing it to the Stone Roses' Spike Island love-in dressed in their paint-smitten flares, I was in my bedroom perfecting my quiff and building up my Marks and Spencer cardigan collection.
Me and pal Dan Gallagher were quite the outsiders in school. Singing about Bigmouths, Girlfriends in Comas and Boys With Thorns in Their Sides. We stuck out like sore thumbs. How dare we like a singer with originality, creativity, and no-nonsense approach to everything.
I don't think too much has changed in the last quarter of a century. When I 'admit' to being a Morrissey fan, it's a bit like stating your religion, the football team you support, or the colour of your underwear.
It exposes you to make or break judgements from total strangers. I've lost count of the number of conversations that have abruptly ended when the chat gets onto the tricky subject of music:
"I like Morrissey."
"Oh, give-over! He's a miserable twat."
Occasionally, very occasionally, you'd meet like-minded souls. Usually in America – especially in California. Los Angeles is where the singer's presence is most keenly felt. Quiffs, turn-ups, and Moz tattoos adorn most torsos. Morrissey sold-out the 20,000 capacity LA Sports Arena in minutes. World Peace Is None Of Your Business is a truly great record. Shall we talk about the album? I mean, this is what Morrissey does, sing.
Themes on the album include bridezillas, pushy parents, macho meat-eaters, grating governments. And death, plenty of death. Probably more death than in The Smiths' Strangeways Here We Come. But despite several appearances from the grim reaper, there's an upbeat South American vibe throughout. Even on Earth Is The Loneliest Planet a perfectly picked Spanish guitar gleams.
Morrissey is more vocal about animal rights now than at any stage in his career. I'm Not A Man, at 7 minutes and 49 seconds, is a lengthly attack on carnivorous wife-beating workaholics. The song starts slowly but rises to crescendo. A masterpiece. "Wolf down T-bone steak, wolf down cancer of the prostrate."
A last post trumpet is the opening sound for The Bullfighter Dies which sees matador come a cropper against victorious bull. It's all a bit Smiths' Panic, with Spanish cities getting shamefully name-checked for their bullfighting associations.
The Flamenco guitar outro on Staircase At The University is pure Cockney Rebel before turning into a take on the Velvet's Sunday Morning. Is this Morrissey's tribute to Lou Reed?
Kiss Me A Lot, complete with more trumpets and maracas, is the greatest pop song he's ever written (yes I include The Smiths in that). Oh to be in a dance hall when he sings this live. People will go crazy and probably kiss each other. A lot. Dare I call this one of Morrissey's best ever feel-good songs? It will find itself onto Now That's What I Call Happy Volume 27.
The playing of the instruments on this album is a sensation. And it's despairing that messers Boz Boorer and Jessie Tobias get so few mentions in reviews of this terrific album. Morrissey's band are in the form of their lives.
In May an academic from Moz-Angeles visited Liverpool to interview me about Morrissey fan culture. She happened to be in Manchester on the date of Morrissey's birthday but was shocked to find no nightclub celebration or party. The city not marking their most famous son's 55th with as much as a stale Eccles cake.
Meanwhile, on the other side of the globe there were Morrissey conventions, Smiths tribute nights and even a Burlesque Moz night. Like a long line of great English writers, Morrissey is loved far more in far foreign lands than he is at home. If England ever was his home.
I wonder if England has now completely turned its back on one of its most talented and influential exports? Here we have an artist at the height of his singing powers with a breathtakingly good new album – yet why isn't he on our TV screens?
Morrissey has announced one European tour date – October 6 in Portugal. Whether he returns to Britain to support his new record with a tour (or media appearance) is a mystery. Morrissey is no longer under the wing of Harvest Records. On his official site a statement on Saturday grimly read: "Three weeks after the release of Morrissey's World Peace Is None Of Your Business (#2 UK, #14 US), Capitol Records/Harvest have ended their relationship with Morrissey."
This has to be one of the quickest artist/record label break-downs in recent music history. But in the scheme of Morrissey's roller-coaster career it's pretty standard for him to be at odds with the world. He is again label-less. Of course it's not too late to show Morrissey some love. If Liverpool was prepared to name it's airport after a former Beatle.
Why can't Manchester do the same for a lad who rose from a semi in Stretford to become one of world music's most influential artists? Manchester, I think it's time to do the decent thing. Manchester Morrissey International Airport has a lovely ring to it.
Comments
comments